BLG's CEO says legal demand still strong, and firm is focused on purpose in its return to offices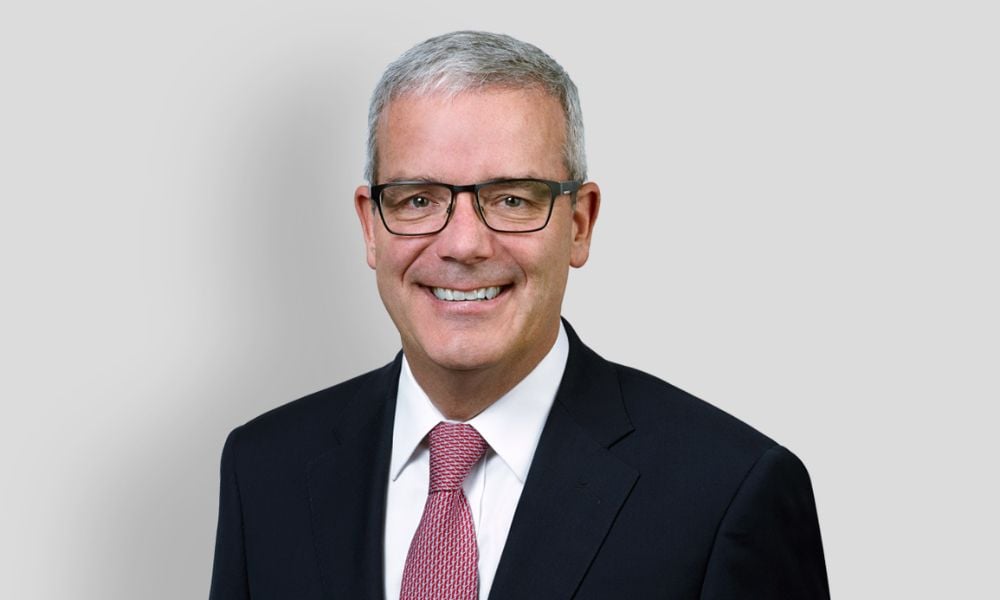 Canadian Lawyer spoke with John Murphy, National Managing Partner & CEO of Borden Ladner Gervais LLP (BLG), and one of the judges in the upcoming 2023 Canadian Law Awards.
Tell me about your role at BLG
I'm entering my fifth year as the national managing partner. When they asked me to do the job, I had no idea I would face a pandemic. So, it's been an interesting five years.
My role is to establish the firm's strategic priorities and ensure proper communication, internal alignment, cohesion and teamwork during these tumultuous times.
It hasn't been all bad by any stretch of the imagination. For example, I think we have achieved a "one firm" culture and mentality better than ever before, because of the use of technology like video conferencing.
What have been the significant developments at BLG in the last 12 months?
Despite high inflation, the war in Ukraine and the economic slowdown, our business side has been quite robust. There has been a good deal flow, and our corporate commercial side has been quite busy.
Having the largest service offering of any law firm in Canada allows us to pivot to those areas that are most in demand.
We were also preparing to celebrate our 200th anniversary this year. There has been a lot of work to prepare celebrations for being a continuous line of businesses since 1823.
What are your recent areas of growth?
We see a lot of opportunities in infrastructure and technology in the legal market. There was a downturn in the technology sector, but we have seen some significant developments in the last quarter. We still see a very good uptick in technology work. Fintech and the energy transition work have been very active.
We have had many ESG conversations with our investment management and public company clients. They are looking to benefit from those strategies and the transition to renewables.
What are your recent areas of challenge?
No areas have had a substantial across-the-board slowdown.
In the capital markets, we saw a slowdown in the economy. But for us, it just means pivoting to a different type of work for those public companies. We saw fewer IPOs and SPACs. But there is other work available in those industries and those practice groups.
Are you expecting a slowdown?
Predicting the economy is a mug's game. I recently met with a business leader in Montreal who had some of the best research in the Canadian market, and they did not feel they could predict the next six months.
For law firms, we may evolve to emphasize different areas of practice. Having a large service offering in 12 practice groups and five regions, with very substantial business in each of the five regions, really allows us to pivot. I don't think we will see a slowdown in our business. It is just realigning with where the economy is going.
What industry-specific trends are you seeing?
We have a four-sector strategy, including health, infrastructure, technology and financial services. These sectors are performing well for the firm.
The supply chain is also worth mentioning because we have substantial transportation expertise, including maritime, air, rail, and anything in between. The Canadian government wants to be self-sufficient in some areas, including agribusiness.
Tell me about your transition to the office.
We are focused on coming back for purpose. That is a new focus.
It used to be that you needed to be in five days a week, maybe even five and a half or six days a week. It's a highly demanding business.
We're seeing a shift now. We are coming in to meet with client teams when we need to have creative legal work done with brainstorming sessions. But we're also seeing that people can be very productive at home when they need to double down and focus on drafting or reviewing something, or perhaps even in virtual trial work.
But when you have a team and a negotiating strategy, those are best done in the office. There seems to be a very good acceptance of that across practice groups and regions. It could be for a town hall meeting, getting together with business services, or some of the associates in mentoring.
There are a whole host of things that lawyers should do in person. We have an apprenticeship model in the legal industry. You learn by seeing other people do it, not just doing it yourself in a remote setting at home.
Are there internal disagreements about where lawyers should work?
We have a policy that people come in two days a week. I think we're at the tail phase of the pandemic. So, we have established a national committee with significant stakeholders from the younger side of the firm to look at how we work going forward.
These consultations will be very time-consuming, with town halls and conversations with everybody in the organization. We've hired somebody to help us with that process. Hopefully, we'll be able to land somewhere in the first half of 2023, if not in the early fall.
What trends do you predict for your firm in the next 12 months?
I think the most significant recent win is the adoption of technology. We are looking to ensure that we use our technology investments as efficiently as possible to benefit clients.
BLG is one of the leaders in using technology. We've given all our lawyers iPads, another tool that allows them to be more proactive in visiting clients. It's a tool for efficiency and will enable us to be on the road more with our clients, which is a win, and our clients appreciate it.
You have been a judge on the Canadian Law Awards for several years – can you comment on the calibre of nominations in past years?
The quality is truly exceptional. The calibre of candidates applying just to join law firms nationally with a depth of talent is fantastic.
These are exciting times to be in the law. Technology is continuing to evolve our business, and ESG is taking hold in the business community and provides a swath of opportunities to interested young professionals.
Young lawyers in Canada should try to focus on an area they want to bring to the fore. With the internationalization of communications, if you're a leader in Canada, chances are somebody will reach out across the globe.
*Answers have been edited for length and clarity.