Build Your Book is trying to bring sales industry best practices to law, says Aaron Baer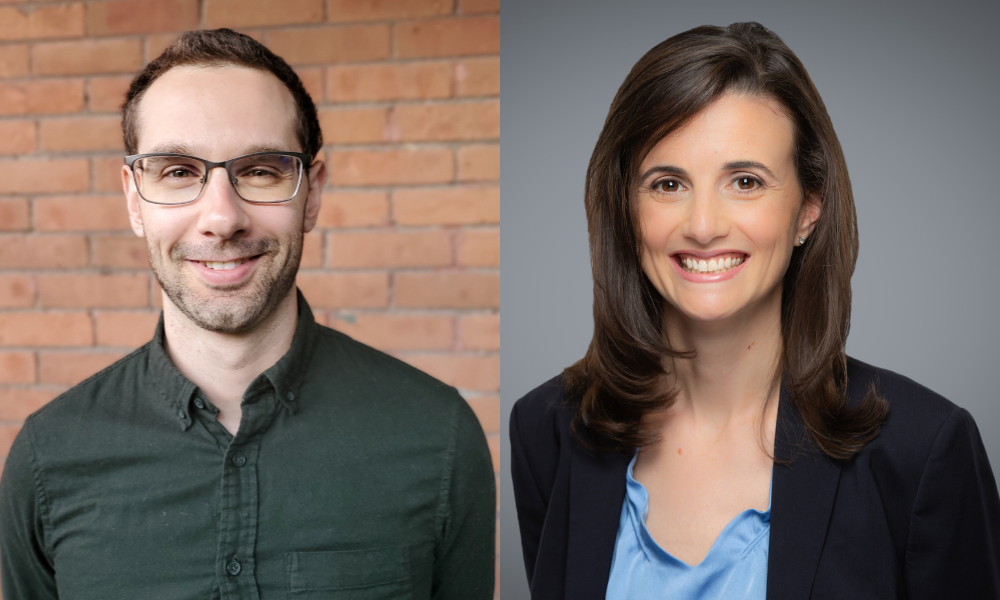 A new coaching program and podcast, launched by Aaron Baer and Dhawal Tank, is taking expertise from the sales industry to give practical training to lawyers looking to build their book of business.
Build Your Book recently concluded its first course and will launch its second cohort in October. Since May, Baer and Tank have also hosted a podcast by the same name, with weekly episodes featuring guests including Mitch Kowalski, Erin Durant and Norm Bacal.
Lawyers are trained to be experts in the law, not sales, says Baer, a partner at Renno & Co. whose practice is focused on M&A, technology, and privacy. But lawyers are still expected to attract and retain clients if they ever want to make partner or start their own firm, and firms spend significant resources to help their lawyers build books of business, he says.
But in imparting this know-how down the ranks, senior lawyers often provide, anecdotally, what worked for them, through their lens and in their particular circumstances, without reference to the systematic methods and best practices that have been developed in the sales industry, says Baer.
"There's people who their sole job is to sell, right? They do that for a living. And it turns out, they figured out a few tips and tricks. And when I looked around the legal space, there was just a complete absence of that. I never learned any of this stuff."
"We're literally just trying to bring best practices from the sale space into law," he says.
In their outreach with lawyers, Baer has learned that while many want to learn BD to make more money, major drivers also included a desire to control their own practice and to achieve greater fulfilment from work, he says.
"I see people who aren't the best lawyers, who aren't the best salespeople… I've seen them become really successful," says Baer. "And I figured there must be a method to the madness, and it turns out there is. And we can teach people that."
Faren Bogach is a construction litigator and partner at WeirFoulds LLP, who recently finished the Build Your Book Course.
Business development is one of many things that is not taught in law school, she says. And once lawyers join law firms, the standard advice is to build a network of clients through coffee and lunch dates. But there is more to it than that, says Bogach.
"I definitely think there's a need to talk about how to execute a strategy or how to use social media, and how to keep going with business development, right? It seems so overwhelming. I have a really busy practice."
"One of the things that I was taught is to spend five minutes a day. You have five minutes a day. And I do, even on the busiest days, I have five minutes. Reach out to someone. Post on someone's LinkedIn."
The program required Bogach to post personal stories on LinkedIn. Authenticity and vulnerability were stressed as effective ways to engage on social media, which was, at first, nerve-wracking and counter-intuitive for a lawyer trained to exude toughness, she says.
"The first thing, and probably the hardest thing, is working on being authentic and vulnerable," she says. "As lawyers, we're sort of taught that we have to be tough and strong, especially as litigators."
But one Saturday night, Bogach posted a story about the terror she felt as an articling student.
"The responses I got from people saying, 'That was me,' 'Me too, I felt this way,' or, 'I feel this way now,' was unbelievable. People that I kind of casually knew were reaching out to me about their experiences and were so happy that someone was finally saying what they had thought all along."
"It's just unbelievable to see the impact that being your authentic self and a little vulnerable can really help you connect with people and have a more meaningful relationship."
Bogach learned not to compartmentalize her personal and professional personas, but that people will gravitate towards those who present their whole selves.
Having taken many BD courses, Bogach has found them heavy with theory, but appreciated how Build Your Book had her put the theories in practice.
"I love knowing the theories, but what do I do tomorrow, right?"
Build Your Book offers two course tracks. Network Mastery is for junior associates, lasts six weeks and deploys "principles of network science" to grow and systematically use a network to build business opportunities. The Business Builder is geared toward partners, solo-practitioners and senior associates. It is an eight-week course teaching strategies and tactics for brand-building and helping cultivate a daily BD practice. Network Mastery begins Oct. 4 and The Business Builder kicks off either Oct. 3 or 4, depending on the cohort.
The course is based on a flipped classroom approach, a style of pedagogy "proven to be significantly more effective in picking up the practical skill of business development," according to Build Your Book's website.