Eleven law firms made new announcements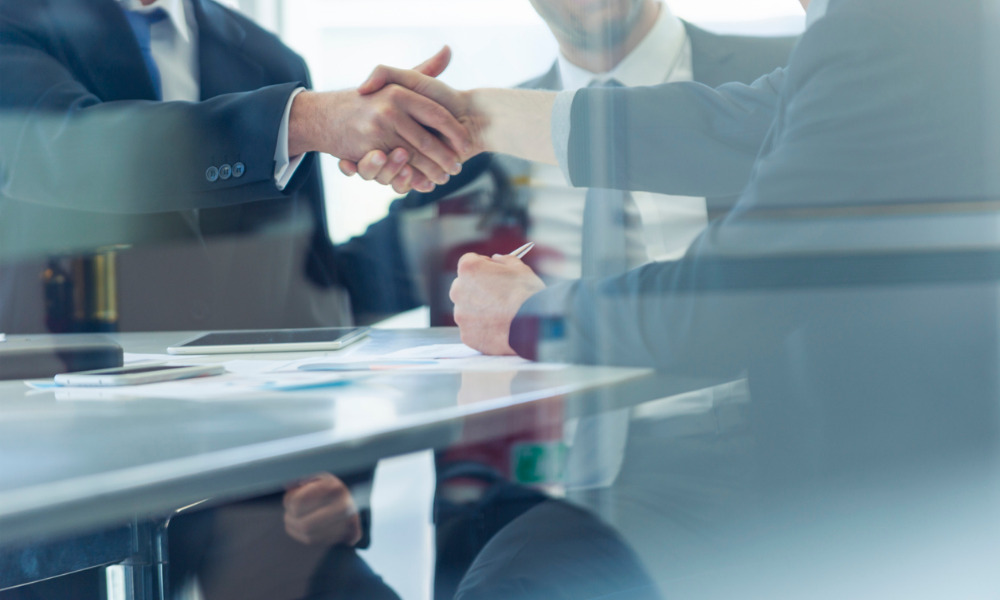 Welcome to this week's roundup of movements among major law firms, in which we sum up significant hires, promotions, departures and other announcements.
Aird & Berlis LLP
Michael Selchen joined the firm as a partner and member of the tax and estates and trusts groups.
Selchen has extensive expertise in personal and corporate tax planning, shareholder disputes and remediation, succession planning, corporate reorganizations, restructuring, and cross-border transactions.
He advises clients on inbound and outbound tax structuring, M&A and divestitures, corporate financing, investment fund structuring and taxation, tax controversy resolution, and private client services.
Bennett Jones LLP
The firm welcomed Riley Whitlock as a partner in the Calgary office.
Whitlock's practice encompasses commercial real estate, project finance, and municipal land use planning and development. He assists public and private real estate investment trusts, lenders, developers, and wholly-owned municipal corporations with the acquisition, development, and financing of some of the largest projects in Alberta.
Cassels Brock & Blackwell LLP
The firm welcomed two new partners in the Toronto office's banking and specialty finance group:
Alessandro Bozzelli
Kori Williams
Bozzelli and Williams have experience dealing with financing and debt transactions. They act for borrowers and lenders in various financing matters, including bilateral and syndicated lending, asset-based lending, renewable energy projects, inter-creditor arrangements, and receivables financing and factoring transactions.
Conway Baxter Wilson LLP
The firm announced the appointment of Natalia Rodriguez as a senior commission counsel of the Public Order Emergency Commission. The commission is an independent public inquiry created under the Emergencies Act following the federal government's declaration of a public order emergency in February.
Rodriguez is a firm partner who practises in civil litigation and dispute resolution. She has conducted trials, appeals, motions, applications, judicial reviews, mediations, and arbitrations and appeared before all levels of Ontario courts, the Federal Court, and the Federal Court of Appeal.
DLA Piper (Canada) LLP
Pat Teichreb is now an associate in the firm's securities and capital markets group.
Teichreb specializes in securities, M&A, and general corporate law matters, including equity and debt financings, initial public offerings, continuous disclosure obligations, and regulatory compliance. She is also particularly interested in emerging issuers, specifically in the crypto, health science, and technology spaces.
Farris LLP
Michael Long joined the firm as a litigation associate in the Vancouver office.
Long has over six years of legal experience, particularly in family law. He has resolved various legal matters through negotiation and mediation and represented clients before all levels of British Columbia courts.
Lawson Lundell LLP
The firm welcomed Graham Scott as a senior counsel in the Vancouver office's corporate finance and securities and mining groups.
Scott has over 30 years of experience as a resource and corporate finance lawyer. He has acted for Canadian companies on the Toronto Stock Exchange (TSX) and TSX Venture Exchanges.
Moreover, he negotiates and prepares participation and joint venture agreements for clients across the mining industry, ranging from individual prospectors to multinational mining companies.
The firm also added two new associates to the Vancouver office:
Kayla Siu − Asia Pacific group
Mitchell Horkoff − litigation and dispute resolution group
Mathews, Dinsdale & Clark LLP
Jeffrey Goodman and Maureen Quinlan are now partners in the firm's Toronto office.
Goodman and Quinlan are senior employment litigators with broad experience defending complex workplace claims, including class actions, discrimination, harassment, and wrongful dismissal claims.
Goodman is regularly retained as an expert on employment law in domestic and international litigation. He is also a prolific author. Meanwhile, Quinlan acts for several major Canadian insurers and represents insured employers in workplace claims.
The firm also welcomed three new associates in the Toronto office:
Alisha Kassam
Kritika Sharma
Matthew Kim
McMillan LLP
Patricia Chehadé joined the firm as an associate in the Toronto office.
Chehadé's practice focuses on corporate and securities law matters, including contested transactions, corporate governance, asset purchase agreements, and M&A.
MLT Aikins LLP
The firm welcomed Annie Huang and Travis Smith as associates in the Vancouver office.
Huang advises public and private companies on cross-border M&A, venture projects, and reorganizations, including pre-transaction restructurings, post-acquisition integrations, and spin-offs.
She acts for public and private companies and private equity funds on private placements, debt offerings, rights offerings, and capital reorganizations. She advises issuers on corporate governance, regulatory compliance, and continuous disclosure obligations.
Meanwhile, Smith clerked with the Court of Queen's Bench for Saskatchewan in Regina before joining the firm. He has authored numerous publications on environmental law.
The firm also welcomed Britannia Mohrbutter as an associate in the firm's Regina office.
Mohrbutter recently completed her articles at the Saskatchewan Court of Queen's Bench in Regina. She obtained a Certificate in Common Law in French through a joint program between the University of Saskatchewan and the University of Ottawa.
Norton Rose Fulbright Canada LLP
The firm appointed Shelley Chapelski as the transport sector group head for Canada.
Chapelski is a Vancouver-based partner and leader of the firm's Canadian shipping team. Her practice encompasses transactional and litigation aspects of maritime law, including maritime contracts, torts, liability claims, creditors' remedies, and marine insurance matters.
She also drafts and advises on charter parties, contracts of carriage, moorage contracts, insurance policies, and other agreements involving maritime and transportation law.
"Shelley is considered a go-to lawyer in the transport space, particularly in Canada," Christine Ezcutari, the firm's global transport co-head. "It is highly gratifying to see the firm promote another talented woman partner to a leadership position in our global Transport sector group."
Submit all your law firm news, including appointments, moves and other professional news, to our legal publications by filling out this form.
You may also send information here.