Nine law firms made new announcements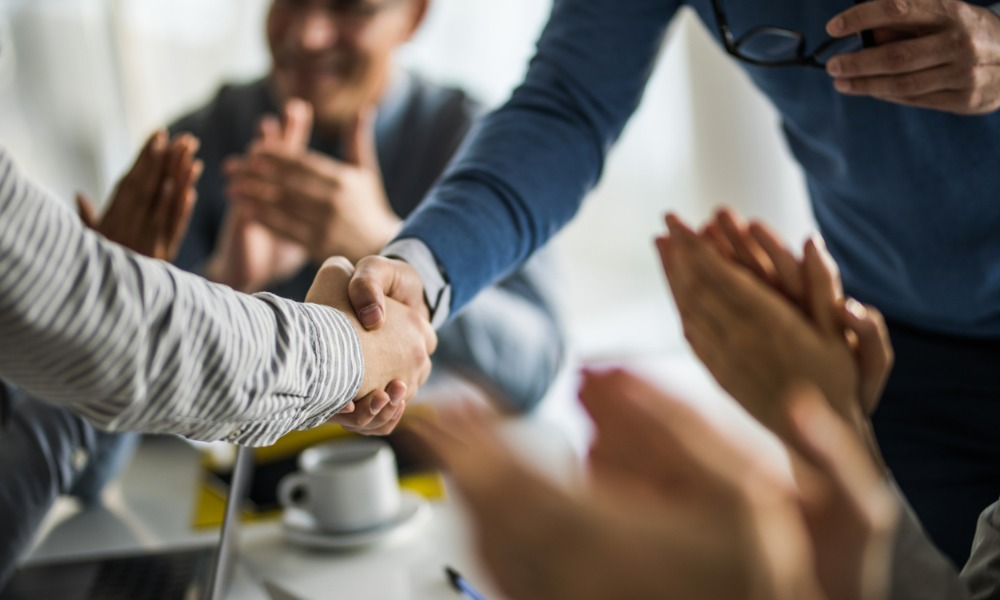 Aird & Berlis LLP
Evonne Finnegan has joined the firm as a partner in the financial services group.
Finnegan assists large financial institutions and borrowers at every stage of a lending transaction, while proactively anticipating and resolving potential issues along the way. She also has experience advising clients in diverse industries on asset-based financing and multi-jurisdictional lending deals.
Bennett Jones LLP
The firm welcomed three new partners in the Toronto, Vancouver, and Ottawa offices:
Scott Martyn
Victor Tsao
S. Fred Barbieri
Martyn joined the firm's Toronto office. He has 30 years of commercial real estate law experience, focusing on construction, project finance, project development, and infrastructure. He is usually involved in the development, acquisition, and disposition of retail, office, multi-residential, and industrial properties and portfolios.
He also advises on financings and refinancings, restructurings, land transfer tax, mortgage enforcement, and commercial leasing. His clients include builders, developers, hospitals, municipalities, and governmental participants.
Tsao joined the firm's Vancouver office. He specializes in corporate law matters, including M&A, real estate development, cross-border transactions, financing, technology, and entertainment law. He is also a registered trademark agent in Canada.
With years of experience in the Asia Pacific market, he assists Canadian, Chinese, and Japanese clients with their businesses throughout the region and beyond. This includes entering new markets, corporate financing, developing their businesses, and cross-border transactions.
Barbieri joined the firm's Ottawa office. He has over 20 years of experience practising intellectual property law, focusing on creation, prosecution, and strategic management of intellectual property assets. He is a registered patent agent in both Canada and the US.
Throughout his practice, he has prosecuted patent and industrial design applications in several technology subject matter areas relating to the software and wireless telecommunications industries, including artificial intelligence, fintech, Internet of things, cybersecurity, autonomous vehicles, and agritech hardware and software.
Borden Ladner Gervais LLP
Caitlin Sainsbury was inducted as a fellow of the Litigation Counsel of America. The LCA is a trial lawyer honorary society composed of less than one-half of one percent of American lawyers.
Sainsbury is a partner and member of the firm's partnership board. She has experience acting for corporations and individuals in competition, antitrust and securities class actions, complex commercial disputes, securities litigation, regulatory proceedings, and related internal investigations. She was previously a litigation counsel in the enforcement branch of the Ontario Securities Commission.
Davies Ward Phillips & Vineberg LLP
Denis Ferland was elected president of the Insolvency Institute of Canada for a two-year term. The IIC is a non-profit organization dedicated to the recognition and promotion of excellence in the field of insolvency.
"I look forward to promoting the IIC as Canada's leading insolvency and commercial restructuring organization and to ensuring that all members across the country are represented," Ferland said. "I also look forward to working closely with the next generation of insolvency and business restructuring practitioners."
Ferland is a firm partner who specializes in bankruptcy, insolvency, financial restructuring, and general commercial litigation. His clients include large multinationals, banks and financial services institutions, creditors, debtors, and court officers, including trustees, monitors, and receivers.
Fasken Martineau DuMoulin LLP
Robyn Gurofsky and Jessica Cameron joined the firm as partners in the Calgary office's insolvency and restructuring group.
Gurofsky has extensive expertise in insolvency and restructuring, banking and oil and gas related litigation, and general commercial litigation. She advises companies, boards of directors, shareholders, creditors and accounting professionals on all aspects of restructuring and insolvency proceedings within Canada and on a cross-border basis.
Cameron practises commercial litigation and arbitration, focusing on insolvency and restructuring. She assists clients with general commercial disputes, insolvency and restructuring matters, including cross-border proceedings, and banking and oil and gas related litigation.
"Robyn and Jessica are among the best and brightest insolvency practitioners in Alberta," said Stuart Brotman, the firm's partner and insolvency and restructuring group leader. "Their experience, technical strength and creativity complement our team well and solidify our position as the leading national insolvency group in Canada."
Harper Grey LLP
Una Radoja was elected member of the firm's practice management committee.
Radoja is a partner and chair of the firm's diversity and inclusivity committee. She has over a decade of experience in commercial litigation and dispute resolution. She assists clients with various legal matters, ranging from contractual and shareholder disputes to professional negligence claims.
She also specializes in environmental law, focusing on risk management and cost recovery claims. She routinely advises commercial property owners, developers, and businesses on minimizing environmental risk arising from ownership of and operations on contaminated land.
The firm also welcomed Nina Dauvergne as an associate in the health law and estate litigation groups.
Dauvergne first joined the firm as a summer student in 2019 before returning as an articling student this year. She previously clerked at the Supreme Court of British Columbia, where she developed her knowledge of civil litigation and the province's judicial system.
Lerners LLP
Robert Fenn will join the firm as counsel in the Toronto office on January 1, 2023.
Fenn will be bringing his nearly four decades of expertise in regulatory, commercial, and insurance claims and almost 30 years of experience as a commercial airline pilot to the firm's growing aviation practice.
"We are tremendously privileged to welcome Robert to our firm," Toronto managing partner Anne Spafford said. "His outstanding litigation and regulatory experience and his exceptional knowledge of the aviation sector will be essential for us to continue to strengthen our services to our clients."
MLT Aikins LLP
The firm welcomed Thomas Collopy as a partner in the Calgary office.
Collopy is a corporate lawyer with broad experience in energy and natural resources. His expertise ranges from due diligence and title review to interpretation, negotiation, and preparation of energy-related agreements. He advises upstream and midstream oil and gas and oilfield services companies on various domestic and international energy matters.
WeirFoulds LLP
The firm welcomed two new partners in the Toronto office:
Gennis joined the firm's construction law practice group. His practice includes representing clients in complex lien, contract, trust and delay claims and advising on all aspects of large-scale infrastructure projects throughout Canada. He also has experience overseeing matters involved with responding to competitive procurements and closing of successful bids.
McEwan joined the firm's the wills, trusts and estates practice group. She specializes in passing of estate, attorney, guardian and fiduciary accounts, probate applications, guardianship issues, power of attorney disputes, end-of-life and treatment decisions, and elder law matters. She has appeared before all levels of courts in Ontario and acted in numerous motions, trials, appeals, and applications.
Submit all your law firm news, including appointments, moves and other professional news, to our legal publications by filling out this form.
You may also send information here.