Increased demand for experienced lawyers may explain a disparity in salary range revealed in the Canadian Lawyer annual compensation survey between new calls and those with more experience.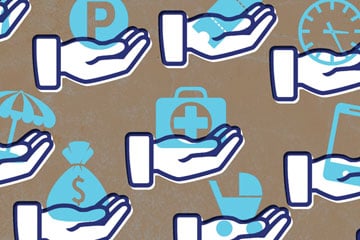 Increased demand for experienced lawyers may explain a disparity in salary range revealed in the Canadian Lawyer annual compensation survey between new calls and those with more experience.
The largest group of new lawyers, 31 per cent, earned $40,000 to $65,000 working in law firms across the country in 2018, according to the survey, while another 16 per cent made $65,000 to $80,000 and 22 per cent fell into the $80,000 to $95,000 range.
But those with just two years' experience jumped pay categories, with 25 per cent earning $65,000 to $80,000 and another 21 per cent taking in $95,000 to $110,000. Pay categories jumped again for those called between 2012 and 2014, with 21 per cent earning $80,000 to $95,000 and 29 per cent earning $110,000 to $150,000.
Whereas 26 per cent of those with seven years' experience or more earned $150,000 to $200,000, 19 per cent made $110,000 to $150,000 and another 19 per cent made $95,000 to $110,000.
A similar progression was evident for in-house lawyers, although most new calls, 42 per cent, earned in the $60,000 to $80,000 range.
What is noteworthy in the wide range of incomes are comments among the respondents that lawyer salaries, including sole practitioners, vary geographically.
At legal staffing service Robert Half Legal, division director Julia Valladao says there is big demand for lawyers with three- to seven-years' experience, particularly in the Toronto area, and she suggests that law firms need to offer competitive compensation packages if they're interested in attracting the best.
Lawyers with more experience and a solid book of business are also very attractive for firms, but often difficult to land.
"Law firms of all sizes are hiring associates who have three- to seven-plus years of experience and can hit the ground running," says Valladao. "Lawyers are, with more than 10 years of experience and extensive client contact, being sought by law firms to extend their lucrative practice group.
"With the baby boomer retirement reaching a critical point, the firms are also seeking lawyers with experience in tax, trusts, and estates law."
Legal departments, she adds, have extended their internal teams in recent years to handle more work in-house, instead of outsourcing. That fuels the demand for not only commercial law but also contract administration specialists and litigation support professionals.
The result of a tight market means qualified candidates can end up with multiple offers, driving up expectations. And salary isn't all they're seeking. The experience at Robert Half legal is that comprehensive benefits, flexible hours, an easy commute, work-from-home options, a defined career path and professional development opportunities are also attractive to lawyers.
The Canadian Lawyer annual survey has seen a continuous upward trajectory among the firms offering benefits, peaking this year at 60 per cent. That's up from 40 per cent in 2016.
That demand for mid-experienced lawyers and increasing interest in work advantages beyond pecuniary compensation is felt right across the country. In Atlantic Canada, firms lose associates to government or in-house opportunities, says Susan Hayes in Halifax, who oversees the associate program at Stewart McKelvey as well as its business development and client service group. Often movement among young lawyers is motivated by a desire to focus on a niche area of practice for which one firm might be known more than another. "The challenge presents itself when you lose associates at a level where it is harder to replace the experience, generally the elusive four- to six-year associate."
Hayes has also found, through her years of doing recruitment work, that younger lawyers are interested in flexibility of their work arrangement. They want to know, for instance, if there are tools available to allow them to work remotely.
In addition, they look for technology in their work that aligns with how they live their lives in a very mobile world and that means more tablet, less laptop and never desktop. The challenge then for law firms is not just keeping up but also ensuring all the related security concerns are covered to accommodate the different approaches.
Standard now for firms, she adds, is paid parking or bus passes, coverage of mobile device costs, law society fees and support for continuing education.
"Believe it or not, I don't think Cadillac health and benefit plans are as valued by younger lawyers (or support staff for that matter) as they once may have been in an era of single-income families. Our firm has recently moved to a flexible benefit program to allow people to choose the level of coverage that best suits their personal circumstances," says Hayes.
She also sees more pressure to increase salaries at the entry level or front end of an associate's career, particularly given the debt many are saddled with after law school. Some firms provide structured debt relief as an out-of-school recruitment initiative.
There is a general sense of optimism in the market as well that's reflected in the survey, with only 1 per cent of firms indicating that they intend to reduce the number of lawyers in 2019. More firms, 42 per cent, expect to hire more lawyers while 37 per cent expect to keep the same number. That's consistent with the plans indicated in the 2016 survey, although there's a slight twist — that year more firms, six per cent, expected to see some downsizing.
But at the time this year's survey was conducted in November 2018, just how the market pressures would be applied to compensation for associates seemed quite uncertain. Almost half the firms, 49 per cent, were unsure if there would be increases for associates in 2019 while 37 per cent indicated there would be increases and 15 per cent indicated there would be none.
Last year 65 per cent of respondents indicated there was a likelihood that compensation would go up. In 2016, 71 per cent of respondents forecast a salary boost for associates the following year, ranging typically between two and 10 per cent.
In terms of the compensation experience for partners, the picture appeared quite rosy in 2018 when 61 per cent of those surveyed indicated partners' earnings increased over the previous year and the largest group, 41 per cent, indicated that increase was in the six per cent to 10 per cent range.
For in-house lawyers, only 47 per cent of companies surveyed expected increases in 2019 with 23 per cent being uncertain. Another 30 per cent said there would be no pay boosts in 2019.
The survey's findings are consistent with McLeod Law LLP's experience in Calgary. Although that market appears to be stagnant in overall compensation, which hasn't moved a lot in the past 18 months, managing partner Robin Lokhorst says there are areas of demand, including lawyers with some experience.
"There are little pockets of popularity and demand that are still quite competitive and it is that eight-year vintage … they're still going for top dollar," he says. "There's a fair amount of corporate activity that's still going on, notwithstanding the doom and gloom that's going on in the oil and gas side. On the general commercial, general corporate commercial and even the securities side, it's very difficult to find lawyers right now.
"We have been searching for that three-to-seven-year call for about a year in Calgary. We expanded the search to Edmonton, we expanded it to Vancouver and Saskatchewan and ultimately just recently hired someone out of Saskatchewan for it. So, the demand is there. All the national firms are busy in that general corporate commercial area as are we and surprisingly, even on the security side, things are going well."
Vancouver business law firm Miller Titerle + Company considers its flexibility and non-hierarchical approach to practising law with no offices, similar work spaces for all staff and its move away from the partnership structure a popular feature among new recruits. Pay, while competitive, is not the firm's main draw, says Jim Titerle, co-founder of the firm that is made up of seven principals and nine associates.
"I think we're able to attract those candidates a little more easily, so we've hired two five-year calls in the last six months because we're offering something a little bit different," says Lou Poskitt, a labour and employment lawyer who serves as the firm's director of human resources. "Certainly, the market is incredibly tight."
The firm's structure allows associates the opportunity to hold equity in the firm much earlier than in the traditional partnership model, which she says is a big appeal. The team approach to files, as opposed to individual ownership, allows more responsibility for client relationships and more meaningful work early on, she adds.
"We don't focus on the money, we're just competitive. That's not the issue, the issue is ownership, it's unlimited time-off policy, it's flexible work arrangements, parental leave, lots of support for growth," says Titerle.
At Robert Half Legal, Valladao emphasizes that it really isn't just about money. Firms and businesses need to offer a workplace, conditions and an approach that is appealing to their target recruits.
The survey attracted a total of 155 responses, which included 97 in law firms and 35 in corporate legal departments. Many, 43 per cent, worked in a firm or legal department with two to nine lawyers and most, 57 per cent, had just one office.
Click here for a full pdf of the survey.
[Gallery -- Compensation Survey Charts]