Survey found external legal spend increased due to isolated situations and pandemic-related issues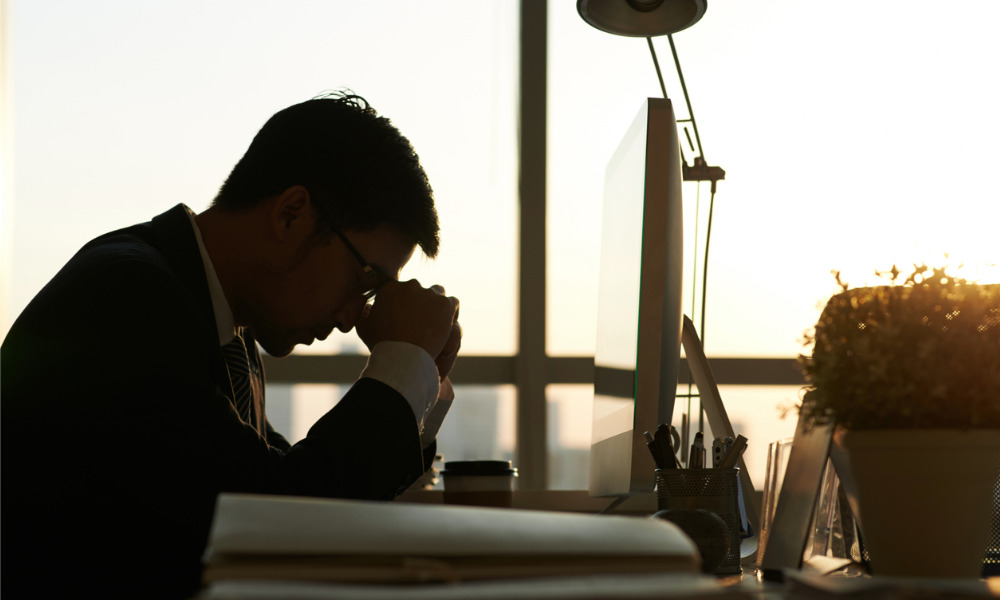 Editor's note: Results of the Corporate Counsel Survey were also analyzed in a separate article in Canadian Lawyer, featuring insights from private practice lawyers.
The year 2020 was tumultuous for many in-house counsel, with the pandemic forcing legal departments to navigate unprecedented challenges for their organizations, while continuing to manage day-to-day legal matters. Unsurprisingly, the volume of work posed a significant challenge for 78 per cent of in-house counsel who participated in Canadian Lawyer's 2020 Corporate Counsel Survey, while 53 per cent indicated that spontaneity of requests was problematic. Will Ramjass, assistant general counsel at McDonald's Canada, is not surprised at these results, as he says the pandemic period greatly increased the volume of work for restaurant and retail brands.
"Being an essential business, we stayed open during the lockdowns, which meant there was a lot of work with regard to health and safety regulations and making sure our crew and guests were kept safe," he says.
At VIA Rail Canada, the legal team also had a very busy year — in part due to a major modernization project that began in 2020 and in part due to blockades in February where demonstrators protesting the construction of a pipeline that crosses Wet'suwet'en territory forced train cancellations.
"It was almost helpful to have experienced the blockades because, by the time COVID hit, we already had a structure in place for managing a crisis, so we went straight from one crisis to the next," says Genevieve Richard, director of legal affairs at VIA Rail Canada.
Almost half of our survey respondents also cited cost pressure on legal departments and staying connected to colleagues as significant challenges in 2020.
External spend in 2020 increased from the previous year for 63 per cent of respondents, with isolated situations and issues around the pandemic identified as common reasons for the increase. One survey respondent commented that there were "not enough internal resources" while another wrote that "the work sent out was overflow/volume and urgency due to COVID-19."
While the pandemic did lead to some increased expenses at VIA Rail, the modernization initiative and legal issues around the blockades were primarily responsible for a surge in external spend, says Richard. Ramjass pinpoints isolated incidents in addition to some pandemic-related matters as the main causes of increased spend at McDonald's.
"We definitely saw our external legal spend increase this year, primarily because of unique situations that were not pandemic related," says Ramjass. "We had some litigation that we did not see coming so we had to deal with that. We also did get some external advice on the pandemic, especially in regard to real estate as we are a major tenant across Canada."
External legal spend was in line with that of the prior year at Wolseley Canada, the Canadian subsidiary of Ferguson plc, a specialist distributor of plumbing and heating products.
"When I look at the reasons for the spend being what it was, it was probably due to a couple of isolated situations and not much surrounding the pandemic in particular," says Greg Kerr, vice president of legal, risk and compliance and general counsel at Wolseley.
When asked about the reasons for outsourcing work, the top reason noted by survey respondents was for expertise that is lacking in-house, and litigation tops the list of matters to be outsourced, with 73 per cent of respondents saying they outsource litigation matters.
"It's not necessarily that there is expertise lacking," says Ramjass. "Two out of our six lawyers come from a litigation background, but we don't do litigation work because we have more than enough work to do in-house. We outsource because we just don't have time to run every file." Litigation is also regularly outsourced at Wolseley, together with environmental issues, and acquisitions. As a Crown corporation, strategic positioning is an important consideration at VIA Rail.
"We are a Crown corporation managing public funds, so having the support of external experts might also speak in certain instances to your board of directors and to the public as well," says Richard. Internal lawyers at VIA Rail supervise external counsel managing litigation matters, while real estate matters are mostly managed in-house, says Richard.
The survey asked respondents to identify their go-to firms of choice. The top firms were identified as Blakes, Norton Rose Fulbright, Borden Ladner Gervais, Fasken, Gowling and Stikeman Elliott. Some respondents indicated that they favour small boutique firms in their local area. While VIA Rail has some designated partnerships for key issues, resources are generally spread around to ensure that local firms have an equitable chance of working.
"We really do make a conscious effort to select firms not just based on their national capacity but also on expertise and knowledge of local markets," says Richard.
A majority (79 per cent) of survey respondents indicated that they are more loyal to an individual lawyer at a firm than to the firm itself.
"I actually find that number to be low," says Ramjass. "A firm is made up of individual lawyers, and if those lawyers switch, we are likely going to switch with them, so for us it's definitely a loyalty to an individual and not to the firm itself."
For Kerr, the situation varies as Wolseley has a long-running relationship with Stikeman Elliott and retains the firm for most significant matters; but in the case of smaller regional firms, loyalty lies more with an individual lawyer.
"Stikeman Elliott is our primary firm and that has come from relationship building over the past two decades because they have been working with us since Wolseley first came to Canada, so we have built up relationships in their offices across the country," says Kerr. "We also use a smaller regional firm for litigation matters and we work with one individual lawyer so, if he left, we would take our work with him."
A practical approach and a good understanding of the business were cited by survey respondents as the most important attributes in a law firm, while diversity ranked at the bottom of the list of priorities.
"I'm not surprised at the time the survey was sent out that diversity was last," says Ramjass. "I can assure you that, by next year, diversity will not be the lowest on the list of priorities. For us at McDonald's, we are definitely going to be looking more at diversity in terms of who our service providers are."
Kerr believes that a practical approach and a good understanding of the business really go hand in hand. "If you know what we're doing you have a better opportunity to identify what's important to us, so you'll come to understand what kind of value it is that we're looking for," he says. He also values regular communication, which was the attribute ranked in third place by survey respondents. Wolseley's legal department recently implemented Thomson Reuters' Legal Tracker for managing external spend, which also provides external counsel with the opportunity to post updates, as a means of encouraging more regular communication from law firm partners.
Almost all respondents agreed that they are stretched too thinly at work, which Richard refers to as the "victim of our success syndrome."
"It's the reality of any good in-house department because the better you are at what you do and the closer you are to your business units, the more work will trickle down your way," says Richard. In fact, 64 per cent of survey respondents said that their average (actual) work week is in excess of 45 hours, which compares to only 54 per cent working that many hours in the previous year's survey — an increase that some believe may be due to the remote working situation.
"Since we've been working from home, we're all packing our calendars from 8 a.m. to 6 p.m. with the expectation that we're going to be available at all times," says Kerr. "It's easy to forget or to find the opportunity to take breaks, so it becomes one long, solid workday." Richard concurs that teleworking is part of the problem, while she says another factor is the exceptional nature of the pandemic situation that created many new realities for the business at VIA Rail.
"Just because you're at home, it doesn't mean you shouldn't take half an hour to go and have lunch and breathe and just recharge your energy," she says.
HOW MANY LAWYERS ARE THERE IN YOUR LEGAL DEPARTMENT? 
Just me – 23.88%
2 to 5 – 31.34% 
6 to 15 – 28.36%
16 to 30 – 8.96%
31 to 50 – 1.49%
51 to 100 – 1.49%
More than 100 – 4.48%
THINKING ABOUT 2021, DO YOU EXPECT THE SIZE OF YOUR DEPARTMENT TO…:
Grow significantly – 1.49%
Grow somewhat – 23.88%
Replace vacancies only – 25.37%
Shrink – 10.45%
No change – 38.81%
WHAT ARE THE CHALLENGES YOU ARE EXPERIENCING AS AN IN-HOUSE LAWYER IN THE CURRENT MARKET?
Volume of work – 78.18%
Spontaneity of requests – 52.73%
Cost pressures on in-house legal departments – 49.09%
Staying connected to colleagues while working remotely – 49.09%
Issues that are outside of legal expertise – 41.82%
Staying current with industry knowledge – 34.55%
More complex regulations – 27.27%
Lack of adequate legal technology – 25.45%
Expansion into new markets and segments – 20%
Stricter enforcement of regulations – 10.91%
HOW MANY LAW FIRMS ARE YOU USING?
0 - 2.99%
1 to 2 - 10.45%
3 to 5 - 38.81%
6 to 10 - 34.33%
11 to 15 - 7.46%
15+ - 5.97%
DOES THE GENERAL COUNSEL HAVE THE AUTONOMY TO SELECT FIRMS?
61.19% Yes, the general counsel/legal department makes the decision
25.37% It is a shared decision with executive management/board
7.46% It is a shared decision with the procurement department/process
5.97% No, the general counsel isn't involved in the selection process
WHAT ARE THE LEGAL AREAS YOU SEND TO OUTSIDE FIRMS THE MOST?
Litigation - 72.73%
Employment/labour - 56.36%
Intellectual property - 36.36%
Real estate - 36.36%
Mergers & acquisitions - 36.36%
Privacy legislation and data protection - 25.45%
Class action - 23.64%
Tax - 23.64%
Regulatory matters - 23.64%
General corporate work (contracts, etc.) - 21.82%
Immigration - 16.36%
Securities/corporate finance - 16.36%
Environmental - 14.55%
Information technology (contracts, licensing, etc.) - 12.73%
U.S./cross-border - 9.09%
Advertising/marketing - 9.09%
Other - 9.09%
Risk mitigation – 0%
APPROXIMATELY WHAT WAS THE EXTERNAL LEGAL SPEND FOR THE CANADIAN LEGAL DEPARTMENT IN YOUR LAST FISCAL YEAR?
$100,000 or less – 12.12%
$101,000 to $500,000 – 22.73%
$501,000 to $1 million – 13.64%
$1.1 million to $3 million – 15.15%
$3.1 million to $5 million – 7.58%
$5.1 million to $10 million – 6.06%
More than $10 million – 3.03%
Prefer not to answer/don't know – 19.70%
IF EXTERNAL LEGAL SPEND CHANGED, WHY? WHAT ARE THE KEY REASONS FOR THE CHANGE IN SPENDING VS LAST YEAR?
Issues around the pandemic - 30%
Sending more work out - 20%
The business grew - 14%
Bringing more work into the legal department - 28%
Isolated/one-off situation, which led to higher fees - 38%
Other - 18%
WHY OR WHAT DO YOU OUTSOURCE? (RANKED IN ORDER)
Expertise that we don't have in-house
Volume of work
Creative, outside-the-box thinking
Grind work, i.e., repetitive tasks
HOW IMPORTANT TO YOU ARE THE FOLLOWING ATTRIBUTES IN A LAW FIRM? (Listed in order of importance)
Practical approach
Good understanding of our business
Regular communication
Proactive in suggesting solutions
Creative legal solutions
Relatively low cost
Diversity
THINKING OF THE FIRM YOU OUTSOURCE TO THE MOST, HOW WELL IS IT PERFORMING IN THE FOLLOWING ATTRIBUTES? (Listed in order of performance success)
Good understanding of your business
Have a practical approach
Regular communication
Proactive in suggesting solutions
Offers creative legal solutions
Relatively low cost
Diversity
WOULD YOU SAY YOU ARE MORE LOYAL TO:
A firm – 8.96%
The lawyer in the firm – 79.10%
Neither of these – 8.96%
Other – 2.99%
WHAT IS THE AVERAGE (ACTUAL) WORK WEEK FOR MEMBERS OF YOUR DEPARTMENT? 
35-45 hours – 32.84%
46-50 hours – 37.31%
51-55 hours – 17.91%
56+ hours – 8.96%
Don't know – 2.99%