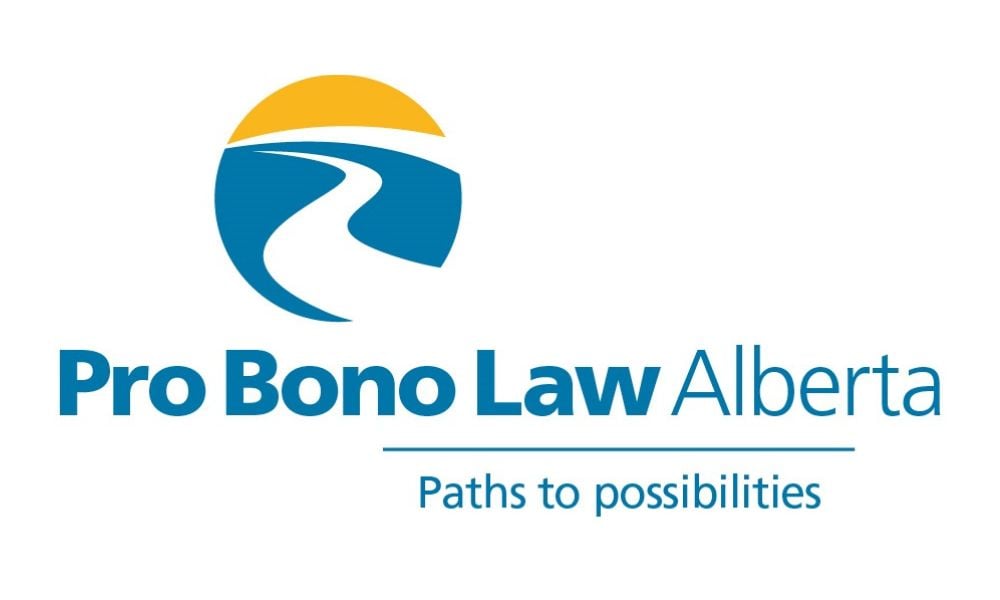 About Pro Bono Law Alberta
Pro Bono Law Alberta (PBLA) is a non-profit charitable organization that promotes access to justice in Alberta by creating and promoting opportunities for lawyers to provide pro bono (free) legal services to Albertans with limited means.
Our mission is to engage the legal community and leverage their skills and resources in pro bono services that facilitate access to justice for Albertans.
Pro Bono Law Alberta works to promote access to justice by:
Creating pro bono opportunities for Alberta lawyers;
Working with law firms to develop pro bono policies and projects;
Leveraging pro bono resources in the community; and
Enhancing the growth and fostering a pro bono culture in the legal profession.
PBLA is not a direct provider of pro bono services to the public, but rather works through partnerships, collaborative projects, and events that involve the legal community and organizations providing pro bono legal services. As PBLA is not a direct service provider, we work primarily with the legal community to encourage pro bono service through a variety of volunteer opportunities, which in turn, benefit low-income Albertans seeking legal assistance. Visit the Get Legal Help page for more information on pro bono legal services in Alberta.
History
PBLA was launched in 2007 as a legacy project of the Law Society of Alberta in recognition of its 100th anniversary celebrations. Consultations were undertaken with representatives from existing and proposed pro bono clinics around Alberta and the Law Society of Alberta Pro Bono Committee. Participants supported the creation of an organization with the aims of supporting, maximizing and coordinating the delivery of pro bono legal services in Alberta.
The Role: Executive Director
Pro Bono Law Alberta (PBLA) is currently seeking an exceptional and dynamic Executive Director to lead the organization in addressing unprecedented challenges and barriers faced by individuals seeking access to justice. The ideal candidate will have a strong background in not-for-profit administration or a related field, along with practical skills in financial management and results reporting, using frameworks such as Social Return on Investment (SRoI). They should also have experience in the social justice or legal sector. As the Executive Director, they will play a pivotal role in leading and empowering a team of dedicated and professional staff who share the mission of creating and promoting opportunities for Alberta lawyers to provide pro bono legal services.
As the Executive Director of PBLA, they will report directly to the Board of Directors, taking on the responsibility of providing leadership and effective management to propel the organization's mission forward to strengthen and expand the culture of pro bono support from lawyers, non-lawyers, law firms, corporations, and other partners. This role offers a unique opportunity to showcase the spirit of Alberta's legal profession through excellence in pro bono volunteerism in the pursuit of a more equitable and just society.
Essential Duties & Responsibilities
Human Resource Management
Determine staffing requirements for organizational management and program delivery
Fostering open communication, positive working relationships, and trust among staff, volunteers, community agencies, partners and other groups
Supports ongoing leadership development in all staff and establish and maintain policies, guidelines and standards, ensuring a healthy, safe, respectful and inclusive work environment
Community Impact
Responsible for the overall impact of PBLA and its programs
Works closely with the Board of Directors to develop programs and initiatives to enhance volunteer opportunities, community awareness and engagement that enhance access to justice
Nurture and build relationships with the top leaders in law firms, law schools, business, government, pro bono clinics and non-profit sectors
Resource Development
Takes the lead in creating and preparing funding applications for the continued sustainability of the organization.
Cultivates a positive relationship with PBLA's funders and ensures that funding requirements and expectations are being met.
Participates in developing and identifying new funding opportunities
Strategic Management
Serves as the principal resource to the Board of Directors and Executive Committee and gives strong direction to ensure that organizational goals and strategies are achieved.
Board Governance (Advisory, Executive and Board of Directors)
Serve as a resource in the creation and execution of the strategic plan and apprise the Board of significant issues relating to the delivery of pro bono legal services.
Works with the Board to develop policies and oversee the implementation and use of such policies.
Ensures meetings of the Board are properly held and documented.
Organization Management
Oversee all programs, services, and activities to ensure that all program objectives are met and delivered
Oversee, enhance and maintain an appropriate pro bono volunteer management system, including database. Establish and implement protocols for volunteer recruitment, retention, status reports and feedback from clients and pro bono partners.
Maintains accountability for the operational and fiscal integrity of the organization within policies set by the Board of Directors.
Manages organizational spending and monitors the overall PBLA budget.
Oversees the development of various evaluation tools to assist PBLA in program evaluation and outcomes management
Required Attributes and Qualifications
Experience: The ideal candidate will have proven experience in a senior leadership role within not-for-profit administration or a related field, preferably within the social justice or legal sector. Familiarity with the challenges and opportunities of the pro bono sector is highly desirable. (Minimum 8 years of management-level experience or working in a supervisory capacity with increasing responsibility). Law Society of Alberta membership is considered an asset.
Visionary Leadership: The Executive Director must possess a demonstrated ability to develop and implement strategic plans, translate vision into action, and foster a culture of innovation and continuous improvement.
Team Empowerment: They should have a track record of successfully leading and motivating a diverse team, promoting collaboration, professional growth, and a safe inclusive work environment.
Program Management: The Executive Director must have a strong understanding of program development and implementation, with the ability to design, execute, and evaluate impactful initiatives.
Financial Acumen: Proficiency in financial management, budgeting, and reporting, using evaluation tools and outcome frameworks such as SRoI, are necessary to ensure prudent fiscal management, accountability, and effective communication of results.
Relationship Building: Exceptional interpersonal, diplomacy and communication skills are required to effectively engage with stakeholders, partners, and donors, cultivating meaningful relationships and collaborations.
Resource Mobilization: The successful candidate should have a proven ability to generate resources and financial support for an organization, including grant writing, donor cultivation, and fundraising strategies.
Advocacy and Public Relations: Informed with an understanding of social, public policy and political trends, the Executive Director should possess strong written and oral advocacy skills, with the ability to effectively communicate the organization's mission, goals, and impact to diverse audiences. They should be able to comfortably engage in public relations efforts to advance PBLA's mission.
Legal and Non-profit Knowledge: Familiarity with legal and non-profit administration, compliance, and governance best practices is essential.
Board Governance and Organization Management: The Executive Director should have experience working closely with advisory, executive, and board of directors, serving as a resource in the creation and execution of the strategic plan and ensuring policies are developed and implemented. They should also have the ability to oversee all programs, services, and activities, maintain accountability for operational and fiscal integrity, manage organizational spending, and enhance the culture of pro bono.
Passion for Access to Justice: A deep commitment to social justice and improving access to justice for underserved communities is a core value.
Working Conditions
This position is an office based role at PBLA's head office in Calgary. Hybrid working conditions will be considered.
Equal Opportunity
PBLA provides equal employment opportunities to employees regardless of their gender, race, religion, age, disability, sexual orientation or marital status. As such we encourage groups who have been historically disadvantaged with respect to employment to apply. We offer a family-friendly work environment that allows for flexible work arrangements to support staff diversity and ensure a healthy work-life balance.
Compensation
A competitive compensation package will be provided. Further details will be discussed in a personal interview.
Please note that the finalist candidate will be subject to background checks.
Express Your Enthusiasm
Email a convincing cover letter and tailored resume (PDF or Word) to Allan Nelson or Laura Youngberg at [email protected] indicating the job title in the subject line of the email.
Leaders International Executive Search
www.leadersinternational.com