Construction companies are opting out of P3s, say in-house counsel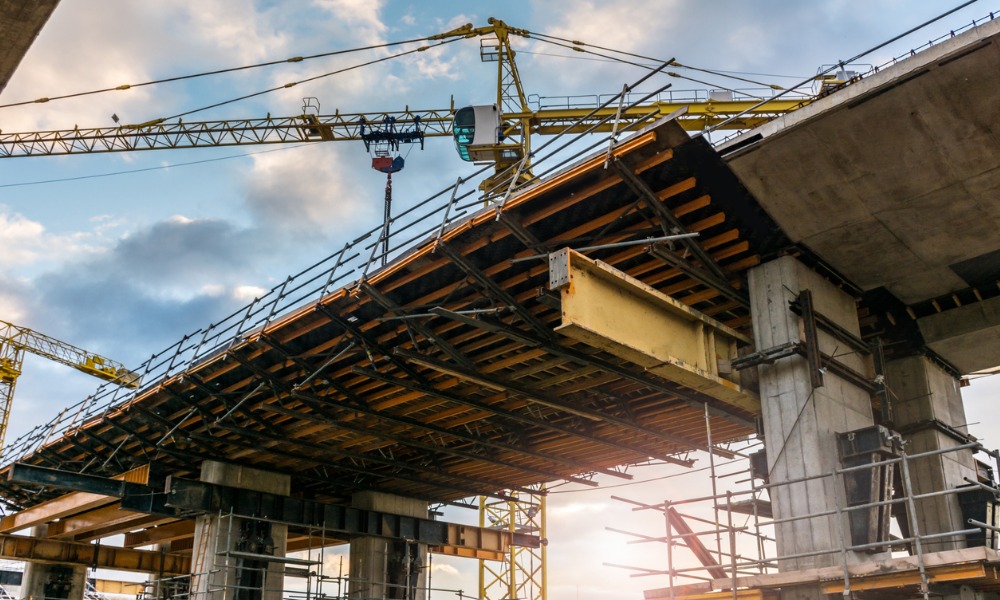 While infrastructure opportunities continue to roll out across Canada, risk allocation between the public and private sectors is presenting challenges and slowing down the industry for public-private partnerships. Some large players have left the P3 market entirely.
"P3s are at a crossroads in Canada right now, and there are fewer projects in the pipeline than we've seen in recent years," says Andrés Durán, general counsel at EllisDon Corporation. "The current risk transfer and the application of the language in P3 contracts is at a state now where we and others in the market have a reduced appetite for signing these deals. We have been calling for changes to the contracts, and other contractors have either called for change or just bowed out of the market."
The market has received positive signals recently that some jurisdictions are prepared to address some of the key risks in the agreements. If public authorities agree to make changes to the standard P3 projects and re-set the risk transfer, Durán says he anticipates a renewed appetite would follow, which would lead to a more robust market. On the other hand, if such changes do not occur, he fears that the P3 model may not survive.
"We are at a tipping point right now in terms of the risk transfer that authorities are looking to push on to the private sector," says Chris Moran, general counsel at Maple Reinders Group Ltd. "The number of major players that have left the market speaks volumes. More and more companies are taking a look at what the risk transfer is and what they are willing to accept."
Mark Platteel, general counsel at ACS Infrastructure, anticipates continued infrastructure investment by governments to satisfy a deficit, although he echoes the sentiment that many contractors are backing out of the P3 space as a result of dealing with risks that are too challenging to manage.
"What we will see in 2020 is a continued discussion between stakeholders to find the optimal balance to make these projects something that contractors can bid on while also being sustainable and achieving the value-for-money objective that we want to achieve," says Platteel.
The number of disputes over material claims has risen in recent years, putting the market under stress. The market has also faced pressure from two recent contractor insolvencies that impacted several large P3 projects. In one recent example, EllisDon was working with construction giant Carillion Canada Holdings on four hospital projects in the services phase when Carillion went into insolvency.
"We had to work very hard to demonstrate to the hospitals and the project lenders that we were willing and able to take over the operations on our own," says Durán. "We worked with the project lenders to waive contractual defaults triggered by the Carillion insolvency by demonstrating that we had a viable plan to take over the operations fully." Through the transaction, EllisDon acquired 70 per cent of the shares of the four hospital services companies from Carillion, making EllisDon the sole owner. 
"That case demonstrated how the P3 model can work very well because none of the contracts were terminated and we were able to take over from Carillion within the structure of the P3 contractual framework," says Durán. The project remains successful.
Greg Southam, a partner in the infrastructure/P3 and commercial real estate practices at Davies Ward Phillips & Vineberg LLP, encourages clients to reach out to public authorities to voice their concerns.
"There is actually a lot of opportunity for those folks that are sitting in the in-house chairs to be a significant participant in those discussions on how we are going to approach these transactions on an ongoing basis to ensure that the public is still adhering to the principal of a P3 deal in terms of time, budget and offloading risk to the right person," he says.
Vehicle delivery is often an issue in LRT projects, particularly when either the public or the private sector shoulders all the risk, so sharing risk can be beneficial. In one recent example, Southam and his team at the firm worked for a client bidding on the Trillium Line LRT project in Ottawa. When there was a delay with vehicle delivery, the team worked with the City of Ottawa and its counsel to develop a risk model where the private and public sectors shared the new vehicle delivery risk, with the existing vehicles running on the newly constructed line extension to achieve an interim completion.
One significant mandate that Platteel recently worked on with ACS as part of a consortium was the Gordie Howe International Bridge, a particularly challenging project due to its cross-border nature. The project involved many stakeholders, two different laws and currencies and political opposition on the U.S. side for funding. ACS took advice from its U.S operations to find out what risk could be taken on the U.S. side, while environmental concerns relating to contamination liability were also overcome with U.S. legal advice.
Despite the imbalance for risk transfer, in-house counsel agree that there are many opportunities and a significant need for infrastructure in major cities. Infrastructure Ontario has released a projected pipeline that is a little more promising than anticipated in Moran's opinion.
The P3 market in Quebec is booming, according to Benoit Mallette, senior director, legal and litigation at Montreal-based Pomerleau. In fact, the company is expanding its legal department to keep up with demand.
"Our legal department is very frequently solicited by the commercial technical team because we are involved in many projects, either during the bid or at the execution phase. We are hiring lawyers that are really qualified in large infrastructure projects to assist the internal team," says Mallette, adding that Pomerleau also has an internal litigation department to assist teams while projects are under construction. Pomerleau is active in many bids including the upcoming Quebec City tramway and the demolition of the Champlain Bridge.
Quebec's P3 market is benefitting from new powers introduced in 2018 by the province's procurement authority, Autorité des Marché Publics, according to Clémentine Sallée, a partner and P3 expert at Blake Cassels & Graydon LLP. The AMP oversees all public contracts and receives relevant complaints.
"The mandate is very positive because it's a way for entities to have a simple process to complain outside of the court, and the AMP will render a quick decision," says Sallée.