The bank has invested over $10 billion in five years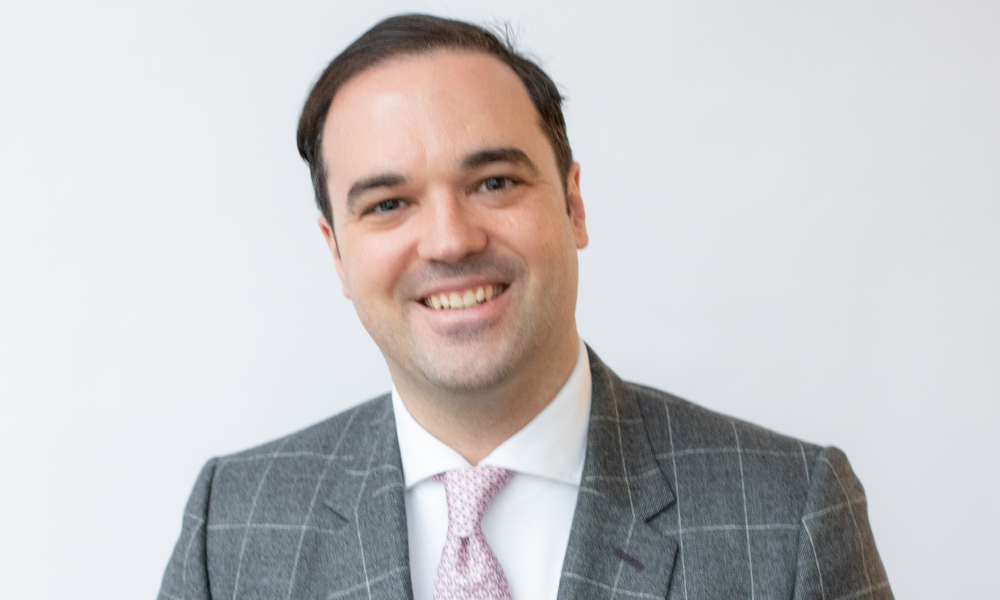 Frédéric Duguay joined the Canada Infrastructure Bank (CIB) almost five years ago as the Crown corporation's first general counsel and corporate secretary – and one of its first senior level employees. He had always sought out roles at the intersection of law and policy, and previously spent seven years in the legal department at the Ontario Securities Commission, so the CIB role was an ideal fit.
The CIB was a new entity at the time, with a mandate to invest federal funding in revenue-generating infrastructure projects that are in the public interest and that attract private capital.
Over the past five years, Duguay has expanded the legal department from just himself to 12 people – with a view to adding three more by the end of the year. This team supports the growing bank, which now has over 130 employees and continues to grow rapidly.
"I'm very proud of how the CIB has grown as an organization – in particular in the last two years – and the pace and acceleration in which we've made investments that are truly impactful to Canadians," says Duguay.
"We're a brand new entity with a very ambitious mandate, and we've built things from the ground up, trying to do things differently but with a common objective to build more infrastructure that Canadians need and deserve, and ultimately build more public impact outcomes within the organization."
The CIB has invested over $10 billion to date, with a focus on investment opportunities across the country that reflect its priority sectors – green infrastructure, clean power, public transit, trade and transportation and broadband infrastructure.
Duguay's team has three pillars of accountability at the CIB: legal, compliance, and governance. The legal pillar is divided into the enterprise legal team which provides legal advice on any legal activities for the organization, while the investments legal team works in partnership with the organization's investment team throughout the lifecycle of a project investment.
On the compliance side, the team manages all the evolving accountabilities of a federal Crown corporation, including drafting policies and providing awareness training for employees. The team is also leading a project on information management and data governance.
With regard to governance, Duguay works closely with the board of directors, and he sits on the management investment committee.
Top of mind for Duguay this year is sustainability.
"We have a distinct role as part of our mandate and our purpose as a federal Crown corporation to advance broader sustainability goals and objectives," he says. "We are truly an impact investor, so our success is measured on the outcomes that we generate and produce on investments, and we measure outcomes through reduction of greenhouse gasses, increased ridership for example, increased connectivity if it's a broadband project, and broader economic impacts through trade."
Last year, the CIB published its inaugural sustainability report, so this year Duguay's team is focused on advancing the goals with respect to sustainability and ensuring that the right policies and processes are in place within the bank's investment activity.
"We're looking at areas to embed sustainability considerations – for example through procurement processes, and through how we operate as a corporation," says Duguay.
They are also working with the investment team on advancing government priorities surrounding Indigenous reconciliation. This includes consulting with Indigenous groups on projects in which the CIB is investing.
Duguay and his team have created a legal mandate to define the mission of the legal team and the value that it adds within the organization, so they are focused on fulfilling that mandate.
As the CIB is a young, and rapidly expanding corporation, the team is also working hard to learn and embed new practices to improve processes and efficiencies through due diligence and compliance obligations.
"When you start up as a new organization you are just building and building, but now we are in the process of learning and improving in order to really extend our regional impact," says Duguay.