Basanta's institutional background is key to building George Brown College's seminal legal office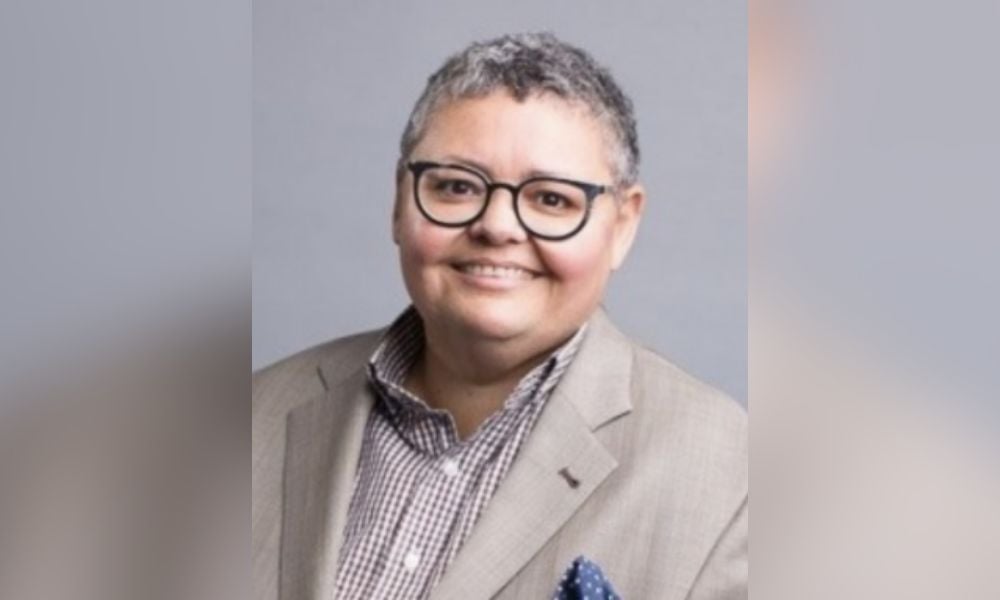 There are very few Black females leading legal departments in Canada. Giselle Basanta, a latecomer to the law after the better part of two decades as a public servant, is one of them. She is only aware of four others.
When George Brown College went looking for a dynamic black leader as its first general legal counsel in 2022, Basanta's background in academics made her the complete package.
"And because GBC was looking to establish a department, it really helped that I had an institutional background," she said.
Basanta's success didn't come easily, preceded – as is often the case when life deals its cards – by a challenging period in which the pandemic played a significant role.
"I was in-house at Ryerson (now Metropolitan University) at the time, which was a very stressful time for academic institutions, the people who worked for them, and their students," she said. "At the same time, the world was changing, and the controversy about events like the George Floyd murder made things very difficult for a black, gay woman."
But 2021 was the worst.
"Every single thing in my life changed. I had joined the Peel District School Board in December 2020 and was feeling the stress of the commute from Etobicoke; my boss, who had recruited me, left, adding to the stress. I also divorced and was co-parenting my eight-year-old son with my ex-wife and two dads."
Basanta wasn't looking for new employment, having been at Peel only 16 months.
"What sealed it was the general counsel position at GBC, the opportunity to start a department from scratch, and the fact that my office would be only four blocks from my home."
Becoming a GC was the culmination of a second career, but on close examination, Basanta was never far from the law in her public service positions.
"I had quasi-legal jobs, like being a social services and neighbour relations officer at the City of Toronto as well as an appeals officer in the Ontario Privacy Commissioner's office."
An illness eventually brought Basanta back home to Trinidad and Tobago, where she took on her first private sector job in human resources. That, too, had a quasi-legal component.
"One of the things I did was negotiate a first collective agreement," she said.
On her return to Canada, she re-joined the Ontario Information and Privacy Commissioner's office as a mediator at the behest of Tom Mitchinson, now retired but formerly the province's assistant information and privacy commissioner and Basanta's mentor since 1991.
A stint in Prince Edward Island followed, helping that province set up its privacy office.
On her return to Toronto and again at Mitchinson's urging, Basanta decided to go to law school.
"I went to the University of Windsor, and after I took a course with the school's general counsel, I became enamoured of education law."
Basanta's interest led to an articling position at the Toronto District School Board, where Tony Brown, a now-retired icon of the education bar, was GC. He hired Basanta to work with him after her call in 2008.
"He's still a mentor," Basanta said.
Brown and Basanta built a small in-house team of five, including a paralegal and an articling student, before she left TDSB in 2012 for a nine-month tenure as part of the Pan Am games organizing committee's legal team.
A chance meeting with Julia Shin Doi, GC at Ryerson, during Basanta's time with the Pan Am games led to her appointment as general director of the school's academic integrity office.
"My task was to bring some policy direction review and governance to the office," she said. "After some resistance from the professors, we managed to do so and get more of a legal lens on the process."
In 2015, Basanta joined Doi in the legal department as senior litigation counsel on a small team of four consisting of Doi, an assistant GC and a corporate counsel.
"It was a wonderful group, and we had a great time."
Then came the misery of 2020 and 2021, including 16 difficult months in-house at PDSB. But the 14 months Basanta has since spent at GBC seem to have been a joyful and rewarding challenge.
"I always wanted to work for a community college," she said, "It's been super-exciting, especially with the appointment of a new president and executive team and the post-pandemic mandate with regard to righting the economy, especially in health care and hospitality."
But, Basanta notes, though colleges may be educational institutions, working in-house at colleges is very different from working at universities or public school boards.
"The key difference is that the Education Act governs colleges, which means they are much more regulated than universities and have been since the 19th century," she said. "And it's different from working in public education because the concept of admission is a live one, whereas public schools take anyone who comes through the door."
And the highlight of Basanta's career?
"Making it to GC. That was my goal when I graduated at 40. Most lawyers have 40 or more years to achieve their goals. I'll have only 25, and I'm planning to make the most of the eight or 10 years that are left."
Interacting with leaders like Mitchinson, Brown, and Doi also ranks near the top of the highlight list.
"As does working with leaders of colours whom I was lucky to serve in-house, including Colleen Russell-Rawlins, now the director of education at TDSB; Karen Hacker, GC for the Pan-Am games; Rashmi Swarup, the current education director in Peel; and Dr. Gervan Fearon, GBC's president."
Finally, Basanta's experiences have made her cherish her interaction with law students.
"And that's especially true of students of colour or gay students to whom I never say no. Because that's who I am, Black, Caribbean, gender non-conforming, and an adult student. And these students call me all the time, wanting to know how I got where I am because it's such a unique position for someone like me to be in."
Indeed, Basanta never loses sight of her position as one of a handful of Black female GCs in Canada.
"It gives me a real sense of obligation to the community, gratitude for the leaders of colour and others who got me to this position, trusted me, and asked me to participate in competitions where I could demonstrate my abilities and talent."