James Petrie on NB Power's legal solutions to manage a post-pandemic recovery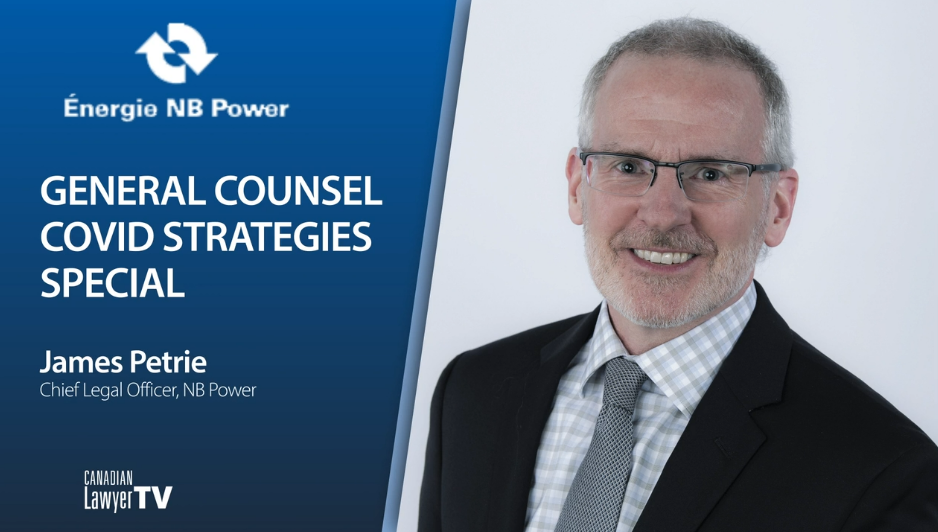 As a public utility, NB Power provides a service that is essential to the daily life of an entire province. New Brunswick's electrical power utility, which was formally established in 1920 but whose operations date back to the early 1880s, is now at the crucial stage of delivering clean and sustainable energy while also managing the impact of a pandemic.
At the 2021 General Counsel Roundtable organized by Canadian Lawyer magazine, James Petrie, NB Power's chief legal officer, describes the concerns faced by the utility in its post-pandemic recovery phase. According to Petrie, as NB Power procures a significant amount of goods and services, it is tightening its supply chain to deal with issues related to COVID-19 restrictions. The organization must weigh the risk of cancelling a supplier's contract in relation to the potential loss of necessary equipment, parts and materials.
"We have to make sure that we have what we need when a need arises, whether that's an outage or fixing something that's gone wrong within the grid," Petrie says.
In recent months, NB Power has settled many supply arrangements with vendors.
"We've used some novel and creative legal solutions to really make that work for our suppliers… while at the same time also fully protecting and empowering ratepayers and, of course, our shareholder – the government of New Brunswick," says Petrie. He emphasizes that the legal team's task is to assist various stakeholders in addressing the challenges caused by an increase in the prices of goods.
Considering the stress that employees have experienced due to the pandemic, Petrie acknowledges the work of NB's health and safety group as well as its HR department in introducing mental health initiatives.
"NB power has been really proactive and offered a host of options for our employees to obtain help in the mental health area … These have included everything from setting up an online mental health and wellness hub for all our staff, which is about 2,800 employees. That hub includes helpful articles, videos, and links to health care providers," Petrie says. The company also has a helpline through which employees can speak with a psychologist and registered nurses.
To address difficulties in NB Power's staff and family assistance program, Petrie says the legal team "was instrumental in supporting the HR team to help procure and paper [an arrangement with a new provider] in a very abridged period … We have to acknowledge this is really a very challenging and unprecedented time to be an employer". NB Power, Petrie says, is determined to support its employees as they return to the office after working from home for more than a year.