The Competition Bureau is watching the impact social media mavens are having in the world of online marketing and advertising.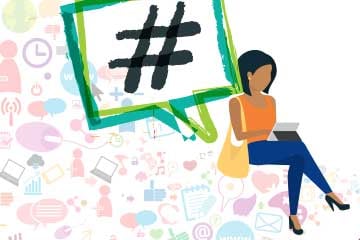 When it comes to people described as "social media influencers," the first names that likely come to mind are the many members of the Kardashian/Jenner families — most notably Kim Kardashian. They have capitalized on reality television notoriety and turned it into a significant income stream by being paid to recommend products on their various social media platforms.
While they may be the best known in this industry, they are far from alone. As the millennial generation increasingly consumes its entertainment and media through online platforms, so, too, has brand marketing ramped up its focus on the world of social media. Along with traditional celebrities urging their followers to prefer a certain product, a rapidly growing number of "regular people" are now effectively online stars of their own and can have a significant impact on sales of products that are mentioned on their Twitter feeds, Instagram stories or other platforms. This year, Forbes magazine has even started to compile its list of "top influencers" in the same way the U.S.-based business magazine tracks the world's highest-paid athletes and richest individuals.
One of the marketing benefits of social media influencers is that it may seem more genuine than a commercial on a traditional medium featuring an actor posing as a befuddled father or an athlete pitching the latest energy drink. Nearly 90 per cent of companies surveyed this year by the San Francisco-based influencer marketing company Linqia replied that the primary benefit of these platforms is that they are a way to create "authentic content" about a brand.
Social media influencers are now a "huge industry," says Catherine Bate, a partner and head of the marketing, advertising and product compliance group at Miller Thomson LLP in Toronto. "It is only going to grow," she adds. For teenagers and younger people in general, an online recommendation that appears unsolicited can be more effective than traditional advertising, notes Bate.
However, there is the potential for legal problems if there is a failure to disclose any paid or sponsored component to the online content — in other words, if it is not as authentic or unsolicited as it is intended to appear. Ensuring compliance with the guidelines set out by the advertising industry's self-regulatory body in Canada and the Competition Act requires marketers to put themselves in the position of the potential customer, explains Bate. "What is the takeaway for the consumer? What is the general impression analysis?" she says.
The regulations related to testimonials, endorsements or reviews may not initially have been closely followed in the social media world, observes Bill Hearn, a partner at Fogler Rubinoff LLP in Toronto, who specializes in regulatory compliance in the advertising and marketing field. "For a number of years, it was the Wild West," he says. However, that is no longer the case. "The rules are in place. There is no excuse not to disclose," says Hearn.
Regulators are also paying more attention to the use of social media influencers in online advertising and marketing.
Ad Standards (formerly Advertising Standards Canada) updated its guidelines in the fall of 2016 for testimonials, endorsements and any representations. It requires disclosure of any "material connection" between the influencer or person endorsing and the brand or product. The connection also must be "clearly and prominently" displayed in "close proximity" to the representation.
The existing statutes in the Competition Act prohibiting deceptive marketing practices apply equally to online promotion and this area of advertising is being watched closely by the federal Competition Bureau, says Josephine Palumbo, deputy commissioner of its deceptive marketing practices directorate. "This is important for the Bureau. There is a lot of activity on the digital space," says Palumbo.
The best-known case in this area involving the Competition Bureau to date was a settlement reached with Bell Canada in the fall of 2015. Certain employees were encouraged to post positive online reviews for Bell mobile applications without revealing they worked for the company. The practice is known in the advertising industry as "astroturfing" in that it conceals what it is intended to look like a "grassroots" campaign of positive comments about a product.
Bell stopped the conduct and in its settlement with the Competition Bureau it agreed to pay an administrative monetary penalty of $1.25 million, as well as enhancing its compliance program.
The settlement with Bell was also beneficial in that it helped clarify some of the rules around online endorsements for other marketers in Canada, says Burtley Francis, a partner at Stewart McKelvey LLP in Halifax. "As a lawyer, it is always good to have a case to point to," says Francis, whose practice includes marketing and advertising compliance.
While it is accepted that any material connections with influencers must be disclosed, the application of these principles on social media can be complicated, given the range of platforms. "It is more on the implementation side that you might get bogged down," notes Francis. In part, he says, that is because it is difficult to know in advance just how broad the consumer market might be for an endorsement transmitted through social media.
"What is problematic is the reach. With traditional media, that is easy. Once you go on social media, there may be people with no physical connection to the advertiser," he notes.
To ensure best practices, he says, it is advisable to follow recent directives issued by the Federal Trade Commission in the United States. "The FTC has been at the forefront. It is really good in terms of proactive guidance," Francis says.
That view is echoed by others in this field in Canada, including Steve Szentesi, a Toronto-based competition and advertising lawyer. "The FTC guidelines are updated for the digital age," he says. As well, if a Canadian marketer has any kind of U.S. customer base, then its online advertising must comply with the FTC requirements, says Szentesi.
One of the documents recently issued by the FTC is very detailed and specific, even to the point of acceptable words for sponsored tweets or Instagram posts. Using something like #ad is considered good practice, while #ambassador is too ambiguous.
The type of disclosure that is acceptable also depends on the social media platform, notes Amanda Branch, an associate at Bereskin & Parr LLP in Toronto. If a paid influencer is reaching a social media audience through a YouTube blog or other types of video, that could impact what is required, she says. "It may not be the case that disclosing once is going to be sufficient," says Branch. For Snapchat or Instagram stories, the FTC suggests superimposing disclosure on the images. "Disclosure shouldn't be buried. It should be easily noticeable," Branch states.
The many different ways to market on social media also requires lawyers in this area to have a certain amount of technological knowledge, says Bate. "It is important for counsel to understand the applications and how things should be disclosed," she adds.
Another aspect that can potentially be confusing is when the influencer is a recognized celebrity. Interpretation guidelines issued by Ad Standards state that any "material connection" by an endorser to a product must be disclosed, unless it is a recognized celebrity and the connection is one that consumer would "reasonably expect" to exist.
The definition of celebrity might not be that clear anymore in the social media world though, given that some influencers such as Lilly Singh, the YouTube personality from Toronto who is number two on the latest Forbes list, is extremely popular and wealthy.
The best practice here is to err on the side of caution, Francis suggests. "If they are not a celebrity in the traditional sense of the word, you should disclose," he says.
Entering into an endorsement relationship with a non-traditional celebrity may also put more of an onus on the marketer to protect itself from any action by regulators, says Hearn. "It is incumbent upon the advertiser to lay out the expectations in plain English," he explains.
These agreements, adds Branch, should also make clear where things such as the disclosure hashtags should appear on social media posts by an influencer.
The Competition Bureau has not been as public as the FTC in terms of guidance or prosecutions in this area, but Szentesi says he would not be surprised if an ongoing investigation results in a prosecution or settlement in the near future. "I suspect the Bureau will bring a large enough case to act as a deterrent," he says.
While the Bureau does not make public the details of an ongoing investigation or if one even exists, Palumbo says it has been active when it comes to social media influencers and in ensuring compliance with advertising regulations.
It was part of an online investigation by the International Consumer Protection and Enforcement Network in the fall of 2016 that focused on influencers and social media marketing practices. "The Bureau has a robust compliance framework. It includes enforcement, outreach and advocacy," says Palumbo.
To ensure that a financial relationship with a social media influencer does not attract the attention of regulators, marketer should follow some straightforward disclosure practices, she says. "It should be visible. It should be easy to read. It should be close to the endorsement. Put it all out there," she states.