RBC encourages employees to gain exposure to different roles, says Head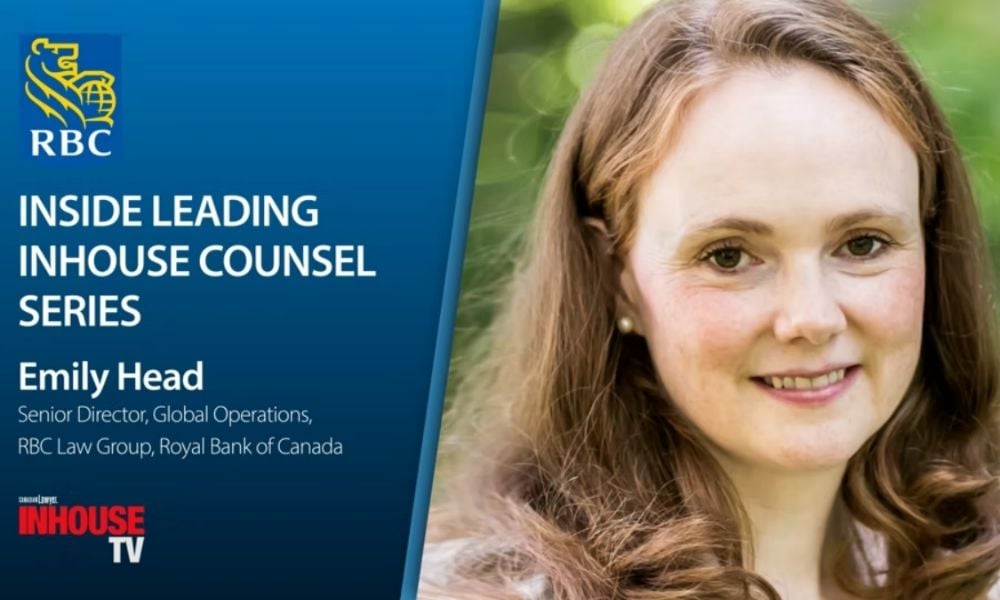 With a background in urban planning, Emily Head fell into the legal profession by accident, articling at Torys LLP and going on to become an associate, which led to a secondment at Royal Bank of Canada in the law group. She went on to join the litigation department at RBC 11 years ago, handling litigation in Canada and internationally for a number of RBC businesses.
In July 2021, Head made the jump away from litigation to operations, taking on the role of senior director, global operations at RBC Law Group.
"I felt I had developed my career to the point where I had a pretty deep expertise in the area of securities litigation, so when this role came up, I thought 'why wouldn't I take this on?'," said Head who spoke during Canadian Lawyer's Inside InHouse Counsel series. "It was an opportunity to gain a new set of skills, leading a team of 50 people (having led a team of three in the law group), and seeing how senior management makes their decisions."
The culture at RBC is such that employees are actively encouraged to move around the organization to gain different skill sets and have exposure to different areas of the bank.
"RBC is really willing to provide opportunities for people like me to lead in areas where they don't necessarily have the exact technical expertise," said Head. "I find that leads to situations where you can actually have multiple careers within one organization."
Head was able to transfer many skills from her experience in litigation to help her succeed in the operations role.
"Every case I encountered as a litigator required me to learn inside and out the product or the situation that was part of the dispute, and I find that tends to produce people who don't shy away from new things," she said. Her knowledge of external counsel programs, e-billing and matter management technology have also been beneficial in her new role.
Watch the entire interview here.