For all the talk of innovation and collaboration, in-house insiders say the legal profession isn't where it needs to be even though CEOs and GCs are looking for viable alternatives now.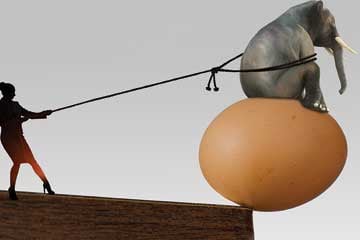 Google's legal department may not be the benchmark everyone is ready to hold themselves to, but it's one many are watching closely as its legal operations team makes headlines about how it manages how legal work is approached internally at the tech giant.
So it's perhaps a little comforting to know that even its head of legal operations, technology and strategy and part of the Corporate Legal Operations Consortium executive leadership team finds that the number of tools available to aid in the development of a more efficient and effective legal department can be overwhelming.
"Just walking the floor at LegalTech, I can't keep track of the legal providers and I try very hard to keep up with what's out there — that's an example of how quickly the times are changing," said Mary Shen O'Carroll, head of legal operations, technology and strategy with Google Inc., speaking as part of a panel during LegalWeek in New York in January called "Evolution of the Legal Services Delivery Model."
Her role is an emerging one. Legal operations used to be one that existed only in large departments focused on efficiencies and effectiveness. It's now often the first hire after the general counsel in a new legal department. "The value and impact of this role is being recognized and the voice of the client has really started to come together and demanding we change the legal industry," she said.
Now, when the legal department at Google has a piece of work that needs to go external, a series of questions are asked: Does it need to go to a law firm? Can it go to an alternative services provider? Can it be done in-house? Can it be automated? Can technology satisfy the problem?
"There's just a whole plethora of options now where 10 years ago there weren't," she said.
The main question is whether the work is matched with the right resource — Google looks at what is needed, the value provided and the options out there and they then match the type of work with the right provider.
"Whether it's working with an alternative service provider or managing internal processes or whether leveraging knowledge management and artificial intelligence to do work on contracts or patents — everything we do in the legal department now . . . we're starting to break it down and see if we're getting the best value," she said.
And while for the last 20 years or more in-house legal departments have been steadily building, for the first time it seems there is a hint some may be ripe for replacement by an outsourced model.
On the same panel at LegalWeek, Dan Reed, chief executive officer of UnitedLex, spoke about a recent initiative it announced in December 2017 with DXC Technology, a global IT services company. DXC announced it had chosen UnitedLex to support its global law function "transformation."
The announcement followed the April 2017 formation of DXC, which brought together Computer Sciences Corp. and the Enterprise Services business of Hewlett Packard Enterprise. Under the five-year agreement, UnitedLex will help create one unified, strategic legal team to support DXC.
Working closely with DXC's general counsel Bill Deckelman, UnitedLex established a platform of technologies, lawyers, contract and commercial professionals, as well as subject matter experts to support DXC's business strategy and provide "greater accountability across the entire legal ecosystem."
Primary focus areas will include client transactions of all sizes, litigation, immigration and legal operations. The UnitedLex team supporting DXC is comprised of more than 250 "senior professional resources."
It's indeed a transformational deal, not just for DXC but for the legal profession as a whole — one not accustomed to seeing an outsourcing model for legal services, especially in an age when many in-house departments rival the size of some law firms in Canada. Reed is a tough one to convince that real change is happening in the profession.
"Most change, to me, in legal has been largely irrelevant," he said. "There's a lot of noise in legal, but when you peel it back, it's generally completely irrelevant."
However, he noted that in the last 18 months UnitedLex has signed up deals that are "dial moving" for the organizations they support. "To me, that's been the biggest change — procurement/strategic sourcing is getting more active," he said, noting the deals are getting larger.
It is, in fact, says Mark Cohen, CEO of Legal Mosaic and chief strategy officer of Elevate Services, the biggest obstacle to change in legal culture. "As long as lawyers believe they control the legal industry, there's going to be massive resistance.
"When lawyers are no longer controlling the buy and sell sides of legal, I think you will begin to see a real change and people will focus more on law as a business," he said. "I was a bet-the-company trial lawyer for 30 years, so I know a bit about the practice of law, but let's not pretend anymore . . . the profession is being subsumed within the industry and the business."
For Mark Smolik, vice president, general counsel, secretary and compliance officer with DHL Supply Chain Americas, the biggest change he has seen in the 28 years he has been in-house is a discussion that takes place between him and his CEO.
Smolik pointed out that DHL is an eight-per-cent margin business — in order for him to have $1 to spend in legal, the sales people have to sell $30 worth of DHL services.
"I cannot continue to pay $800 an hour when it comes to hourly rates with law firms," he said.
Smolik pointed out that CEOs today are hiring in-house lawyers with an eye to retaining the "Mosaics, the Elevates" and working with legal operations to make sure they bring efficiencies into the organization.
He noted the average age of a general counsel in a Fortune 500 company is 45 years old and the average age of a CEO is not that much older. "These are the ladies and men thinking even more progressively than we are and looking at the Marys [Shen O'Carroll] of the world and saying 'How could you not have had that in place? They're looking for the most efficient way of doing things," he said.
Smolik said he is now included in the overall business analysis — not the legal team — when it comes to his performance. "Many of my peers are telling me the same thing. I have seven people in my legal ops team — they run the whole team — they don't come to me with a decision whether to buy technology."
Shen O'Carroll said the "elephant in the room" is the law firm business model. "If it doesn't fundamentally change everything around it will change and eventually it will have to. What we're really seeing more of is the demand for change than the actual change. We're not at the tipping point yet — we are getting there — everyone is pushing towards that and at some point something is going to break. We keep dancing around the idea of hiring new roles in law firms and thinking about innovation — putting technology in place — but we're missing the meaty part of the conversation, which is who is going to uproot this entire model?"
Shen O'Carroll, who is not a lawyer, says it's still up to the lawyers in the legal department to agree on what is recommended. "I can beat the drum at Google, but we have 600 attorneys who make decisions on who we hire — not all of it is up to me."
As new in-house leaders choose legal services with a mind to a model other than the billable hour, Reed predicts there will be more mergers of the different types of alternative service providers aligned with main providers of legal services — such as large law firms, which may require some regulatory change.
Shen O'Carroll said she has been watching a law firm in the San Francisco area called Atrium LLP that is half technology company/half law firm. "They have no billable hour rates and focus on efficiency. All the lawyers were happy and talking to each other — it was this wonderful, happy, joyous law firm environment I have not seen elsewhere."
Smolik's advice to legal services providers? Be proactive. "If you wait for the call from me, it may be too late. You operate in a hyper-competitive environment. Even though I have panel law firms, there are people among that panel competing with each other for work. You have to find a way to differentiate yourself from the competition — you have to be able to demonstrate meaningful and demonstrative value to the organization. Make your client look like a hero."
Cohen encouraged law firms to work with the likes of Axiom, Elevate and UnitedLex. "Don't wait for your client to do so."