In an industry that is struggling on a daily basis to interpret the regulations as set out by Health Canada, those in the cannabis sector work each day to determine if what they are doing complies with what the regulator has set out.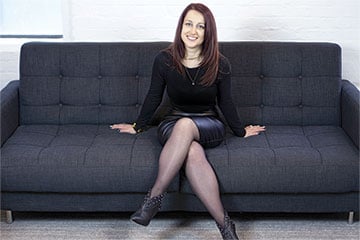 In an industry that is struggling on a daily basis to interpret the regulations as set out by Health Canada, those in the cannabis sector work each day to determine if what they are doing complies with what the regulator has set out. In particular, those who manage advertising and marketing have their own set of unique challenges.
As senior legal counsel and corporate secretary at Lift & Co., Mariana Fonar deals with questions around cannabis promotion and marketing, trying to navigate what many describe as difficult to interpret regulations. Founded in 2013, Lift & Co. was created to be an online meeting place for people to share experiences and read industry news and discover strains. It was also the first site that produced product reviews and helped people learn about all of the products on offer from the industry.
Many corporate commercial lawyers, like Fonar, have left private practice to enter the cannabis sector, seeing it as an opportunity to break new ground in an area of evolving law.
Prior to taking on the role at Lift & Co., Fonar worked for one of the largest developers and owners of utility-scale solar energy projects in the world, a portfolio company of CalPERS (the California Public Employees' Retirement System). "I was lucky to work and learn from a very smart, business-minded general counsel, a former partner from one of the large multinational Bay Street firms," she says.
She now finds her role at Lift & Co. an exciting and challenging one.
"As someone leading the legal department of a dynamic company in the cannabis space, I find it exciting to be part of a group of trailblazers in the field of law. No one has done this before, and we're all working together to navigate new legislation while building business frameworks that will define how this industry works around the world," says Fonar, who was the only in-house lawyer until earlier this year. Following Lift & Co. commencing public trading on the TSX Venture Exchange under TSXV:LIFT in late 2018, and in anticipation of the newly announced CannSell training program for Ontario this year, they welcomed a second member of the legal team in January.
Fonar describes Lift & Co. as a media and technology company. The organization holds conferences (Lift & Co. Expos and Lift & Co. Cannabis Business Conferences, Canadian Cannabis Awards) and it publishes a magazine. She says she was drawn to the opportunity to work in a fast-paced sector and have the ability to be involved in the creation of a brand-new industry.
"This is a once-in-a-lifetime opportunity to be part of the end of an almost century-long prohibition, and I'm both humbled and exhilarated to help shape this industry," she says.
While Lift & Co. doesn't market products, it is a go-to site and authority in the industry, so it needs to be up on all of the latest developments issued by Health Canada.
"We are unique in that we do not sell any cannabis products but hold a strong position in the Canadian industry because our platform bridges the information gaps between the cannabis industry's biggest stakeholders — licensed producers, retailers and consumers — created by restrictive regulations," says Fonar. "This is done through cannabis reviews on lift.co, complemented by our educational and news content in our magazine and through our consumer and industry events, which are the largest in the country."
Most recently, Lift has developed a retail training program in partnership with MADD Canada that is being used by the Crown and private retailers across the country, and it has just announced its latest training solution CannSell (CannSell.ca), the only approved and required training program for Ontario's private cannabis retailers.
"In my experience, the industry has really been working in tandem with Health Canada to understand and ensure compliance with the Cannabis Act, including with respect to restrictive and often ambiguous marketing regulations," she says.
One example Fonar came across prohibits "way of life" promotions, but brand preference promotion is sometimes allowed.
Health Canada mentions that "way of life" promotion is prohibited and could include images of glamour, recreation, excitement, vitality, risk or daring. It would seem that images such as someone doing yoga or at a yacht party could be defined as a "way of life."
Brand preference is more aligned with brand or service characteristics. But branding could be considered promoting a "way of life", excitement or a feeling so there could be some overlap and confusion. Companies and their legal teams are working in tandem with Health Canada to help define these promotions.
"The challenge for legal teams is navigating that ambiguity, defining your company's risk profile and being confident that you can defend certain messages," she says.
Starting with a decision tree can be valuable, she says, beginning with the question of whether or not the message constitutes "promotion." The decision tree should also end with "is this a defendable position?"
Promoting the cannabis sector on social media is also posing interesting challenges. Recent data shows that more than 22 million Canadians are social media users — more than 60 per cent of the total population.
"Social media is a sophisticated marketing tool, but with this kind of penetration into the Canadian population, it's also a highly effective communication and education channel through which companies can specifically target adult Canadians. However, the largest social media companies are based in the United States and, therefore, we are bound to those laws. This brings another layer of ambiguity for legal and marketing teams trying to navigate these channels," she says.
There's also an interesting rise of the "social executive" — thought leaders in the cannabis space who are very active on social media — which is an effective way for companies to communicate with audiences in real time, providing direct access to influential individuals in the sector.
In trying to determine how to interpret the rules around advertising and marketing, Fonar says it helps to understand what is permitted in adjacent industries that have similarly worded legislative frameworks.
"Tobacco and alcohol are good examples and can offer directional guidance. We can also look at the historical interpretation of similar provisions in other legislation and their applications," she says.
"As lawyers, we are trained in rules of statutory interpretation. Sometimes, you just have to go back to basics, keeping in mind that it's up to the government to ensure they've drafted the [Cannabis] Act in accordance with its desired outcome."
Fonar says the biggest challenge is trying to provide some certainty in an uncertain world, while properly evaluating risks and protecting the company's interests knowing that the legal environment could change rapidly.
"I approach this by trying to provide business-minded legal advice, balancing the best interests of a high-growth company with the legislation that guides us," she says. "We try to be two steps ahead, but [we] know that things could change at any time, and we have to be flexible and creative."