Outsourcing and technology were the keys to modernization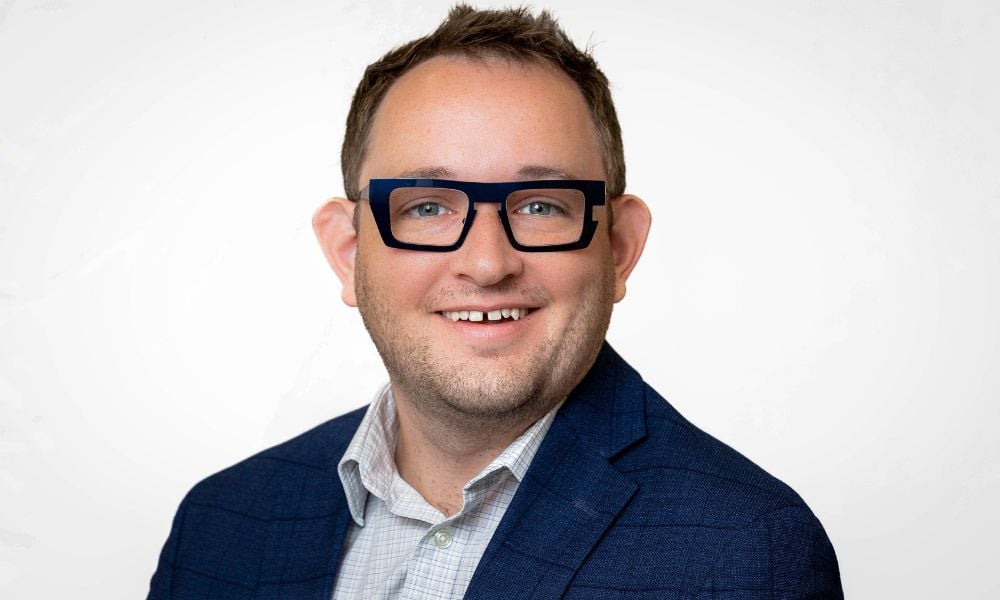 Within six weeks of implementing general counsel David Luther's recommendations in June 2022, the Decision Review Office of WorkSafeNB, the New Brunswick crown corporation charged with administering the province's workers' compensation regime, had eliminated its 400-case, 9-month wait backlog, implemented core service standards and automation, and lowered operational costs.
"We've set a four-week turnaround time standard from application to decision, and now we're at 15 days, so doing even better," Luther says. "We've achieved this through a combination of contracting out and upgrading technology."
It's a remarkable achievement for a lawyer less than five years removed from his call and one who never imagined himself in a legal department.
"If you had told me I'd end up in-house, I'd have said you were crazy," Luther recalls.
But two years into Luther's corporate, commercial and taxation law practice at Patterson Law's Halifax office, a recruiter came calling with a position as commercial counsel at WorkSafeNB's Saint John headquarters.
"Not only had being in-house never crossed my mind, I also had never set foot in Saint John," Luther says. "But I accepted the position because it gravitated to the way I tried to practise, which is having business sense and being proactive – which is not the more reactive role lawyers in private practice usually perform."
Luther describes the transition as "comfortable."
"I think what's most misunderstood about in-house positions is the number of working hours that they require. It was eye-opening to me that there was virtually no decrease in the time I had to put into my new job."
What was different was Luther's immersion in the business side of the corporation, especially after he was appointed interim general counsel in October 2021, an appointment made permanent the following June.
Luther serves on WorkSafeNB's executive leadership team and oversees legal operations, advice, affairs, risk management and compliance.
"The continuing challenge is how to balance your conceptual perspective as a lawyer to mitigate as much risk as possible against achieving as much as possible toward business objectives," Luther says. "What that means is you have to take risk on sometimes, and that's the kind of push and pull I enjoy."
Luther also leads WorkSafeNB's Decision Review Office, an internal segregated administrative appeal body responsible for independently reviewing claims officers' original decisions before further appeal to a tribunal.
Historically, the DRO had about 17 staff (of whom one was a lawyer) who reviewed and confirmed, revoked, varied or suspended the original decisions of claims officers. But, as the backlog demonstrated, the system wasn't working.
"The backlog was not tolerable, so we did a four-month program evaluation of the DRO, with the guiding principle of getting faster and cheaper," Luther said. "The end result was that we modernized the service delivery model."
The modernization's first component WAS replacing the 15 staff who had previously reviewed and issued decisions and outsourcing the review process by hiring external counsel to guide the chief review officer, who became the sole decision-maker for all application reviews under the new system.
The upshot was that the staff of 30 that had been under the general counsel's purview is now reduced to eight, including three lawyers (there's one vacancy), the chief review officer (a non-lawyer), paralegals and legal assistants.
The second piece was implementing technology that could provide the DRO with real-time information about applications' status, their turnaround time and the outcome of cases appealed to the tribunal, and software that would automate the application review and decision-issuing processes.
Here, Luther's interest in technology proved invaluable.
"I don't have an IT background, but I've always had a knack for and an interest in developing solutions through the use of technology," he says. "I used that to bring a suite of software tools to WorkSafe, which we customized internally."
In the future, Luther's immediate goals for his department focus on finding software solutions for other areas that modernization could improve.
"In the legal department, that includes real-time data about external fees and firms, contract review, and matter and contract management. And it includes supporting our business units through major shifts in technology by introducing new systems of financial, claims, and human resource management. We also want to develop an effective training program for our original claims managers based on the feedback we get from appeals."
Luther's leadership philosophy is rooted in the organization's "people first" approach.
"We put total trust in our staff and hold them to account, and we keep our teams lean, encouraging folks to help others when they have the time," he says.
The ultimate goal?
"My approach to a public body like ourselves is that it should be as or more efficient than private enterprise."