Variety of roles in different countries over 22 years gave Kim a broad understanding of the business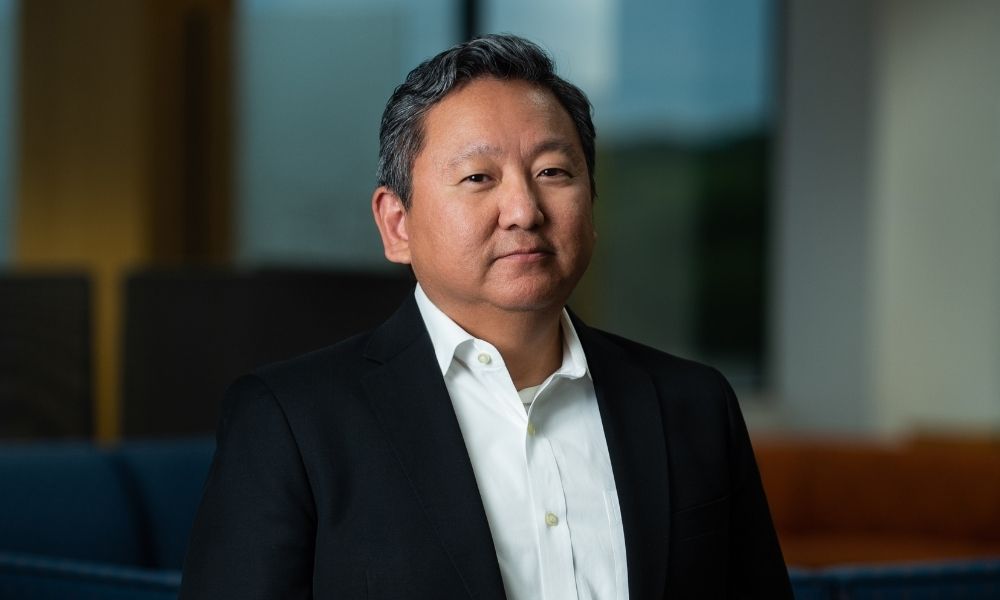 After more than 22 years at Thomson Reuters, Thomas Kim has tried his hand in multiple different areas of the business, and he has worked in different countries around the world – experiences that serve him well in his current role as chief legal officer and company secretary. The job has taken him on foreign assignments in locations including California, New York, Conneticut, Hong Kong, Shanghai, Beijing and Toronto. This global experience gave him a broader perspective of different cultures and different ways of doing things.
"It's really deadly as a lawyer to assume that what you know and how you do things is exactly the way you should be doing them and how exactly they work somewhere else," says Kim.
During his time in China, Kim took on a variety of roles outside of legal including running the business and owning the profit and loss, which gave him a deeper understanding of the business. He also ran the technology function for Thomson Reuters in the US. These roles greatly influenced his behaviour and his thinking.
"I have done pretty much everything, which is nice because I have a perspective about different parts of the business and I have a connection with them," says Kim, who currently leads the legal team of roughly 100 people. "There's no better way for any lawyer to really understand how difficult it is for our go-to-market colleagues to do their job than to do it yourself. Having that diversity of experience from working in different areas of the business means that you're a better person to think holistically about the challenges and opportunities from all different angles."
Kim and his team are deeply involved in supporting the Canadian-based multinational media company through a two-year transformation journey, dubbed the "Change Program" which was announced in February 2021. The company will transition from a holding company to an operating company, and from a content provider to a content-driven technology company.
As part of the Change Program, Kim is driving a culture of encouraging everyone to share their ideas – even the more junior lawyers who may previously have been less willing to take a risk.
In an effort to encourage his team to focus on technology and technological innovation, for example, Kim deconstructed the "top-down" structure within the department to encourage people at all levels to bring their innovation ideas forward.
"What has been the most impressive to me is the innovation and creativity at the grassroots level from people having their own ideas, and being okay with the possibility that it might not work," says Kim. "We encourage people to be willing to fail because the learnings you get from that ultimately could be way more valuable than anything else you could have done."
In his role as chief legal officer and company secretary, Kim's primary objective is to enable the growth of the company. In addition to leading the global legal department and overseeing enterprise compliance and risk management, Kim also sees himself as a guardian of ethics, culture and brand values for the Thomson Reuters brand. He also strives to guide his team to do more high-value work and to automate lower-value routine work.
When selecting law firm partners, Kim looks for excellence in the quality of work above all else. He seeks out firms that fully understand what Thomson Reuters is trying to achieve from a business perspective.
"A law firm that doesn't understand what we're trying to achieve could waste a lot of time and a lot of our money in generating legal output that doesn't advance what we're trying to do," he says. Equally important to Kim is diversity and inclusion. He has been upfront with firms in letting them know that if all other things are equal, the firm with a more diverse team will be favoured.
As 2022 approaches, Kim is preparing for many possible challenges that may arise, including navigating the hybrid work model, and ensuring that his team remains happy and motivated. He is also working to stay abreast of shifting laws and regulations, and the rapid pace of technological change. Another key priority for the year ahead is to continue supporting the organization through its ongoing Change Program.
"I couldn't be more excited about our long-term strategy," says Kim. "I want to make sure than whatever we do in 2022 to hit our short-term objectives also really supports what we're trying to do in terms of our long-term objectives."