Personal service gives firm an edge over competitors, says Lampert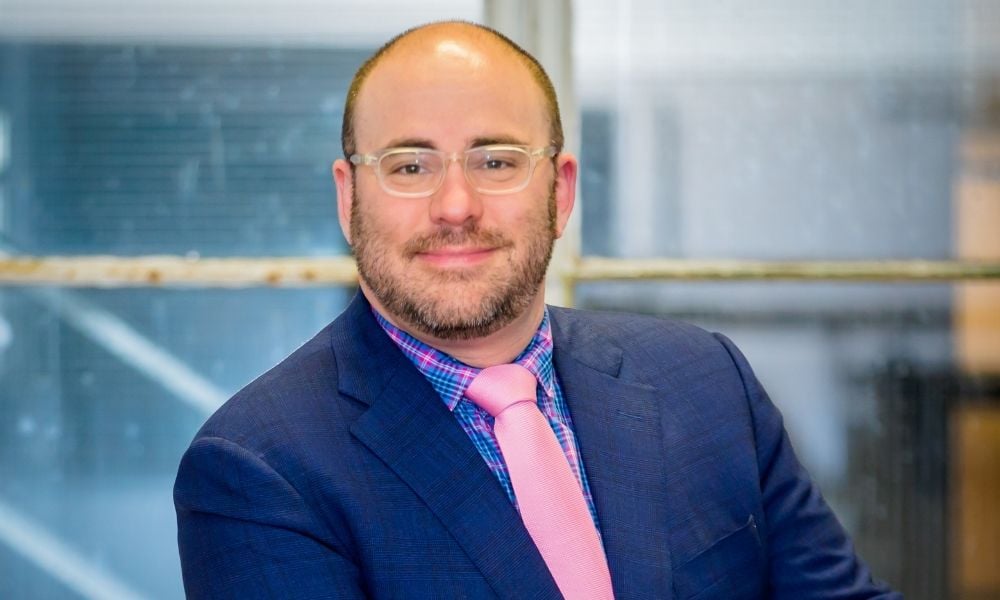 After serving for nine years as associate general counsel at Sears Canada and a further two years as general counsel at the YM Group of Companies, Leigh Lampert identified a gap in the market, so he decided to go out his own and start a boutique firm as a fractional general counsel.
Lampert Law GiC Professional Corporation – which will celebrate its two-year anniversary on March 1 – serves clients in public and private companies in a wide range of industries including cannabis and psychedelics, retail, professional services and software companies. Many of the firm's clients are organizations that lack a full-time in-house counsel or have small in-house departments that need an extra pair of hands to assist with overflow work.
Lampert works with his clients on everything from corporate reorganizations, governance matters and procurement to employment matters, real estate, compliance and regulatory matters and intellectual property. As a fractional general counsel with vast experience working in in-house roles, Lampert believes he is able to embed himself into the business needs of clients more easily than a private practice lawyer.
"I saw there was a real opportunity for lawyers who had experience and could think like business people, while still addressing the legal needs of clients," says Lampert, who holds the title of CEO and founding lawyer at the firm. "There are a lot of great lawyers out there at the top firms, but until you walk in the shoes of an in-house lawyer, you can't think like a business person." Lampert says his experience enables him to see issues from the business perspective and to find solutions to mitigate risks instead of dismissing a deal.
The Toronto-based firm offers differing payment models to suit clients and the type of work. While certain matters are conducive to flat fee arrangements, or an alternative fee arrangement, some clients favour an hourly rate.
As Lampert launched his boutique just before the start of the COVID-19 pandemic, he maintained an agile approach to suit the changing landscape. Initially committing three days per week to spend with different clients on site, Lampert quickly developed a more flexible approach in view of pandemic lockdowns.
"The pandemic forced me to evolve to a point where it's better for both me and the client," he says. "Now that I'm not on site, dedicated to one client on one particular day, I can juggle things as needed and prioritize." He finds that clients value the flexibility of the service, instead of waiting for a scheduled visit.
"Clients know they can call me, and I can drop everything and turn my mind to a fire right away, whereas sometimes if they call a larger firm it can take them a couple of days just to open a file," says Lampert. "It's a bit ironic that sometimes a smaller firm can move a lot more quickly than a firm with dozens or hundreds of lawyers."
Lampert recently hired a new lawyer who will be joining the boutique firm to help keep up with the demand. He wants to grow his firm while maintaining the personal service which he says gives him an edge over larger firms.
"While I plan to grow the firm and the client base, I want to do so in a way that won't erode the competitive advantage I have – that personal touch," he says. "It's a service-oriented business, and for those who forget that, clients start to get a bit itchy and they look elsewhere for legal services." Lampert takes pride in understanding each client's risk appetite – whether an individual or a small business, or a multinational or public company.
"Many professionals do not realize the importance of building relationships - genuine, long-lasting relationships with their clients," he says. "Forging and maintaining these crucial relationships is often as complicated as the legal work itself, and to be a great lawyer and to be successful in private practice, it is very important to excel at both."
Lampert serves as an adjunct professor at both York University and Ryerson University. He has also worked in politics, serving as special advisor to the Minister of Justice and Attorney General of Canada, and holding similar roles in the offices of the Minister of National Defence, the Minister of Citizenship and Immigration, the Minister of Labor, and the Deputy Prime Minister of Canada.