Jules was recently promoted to senior manager, legal operations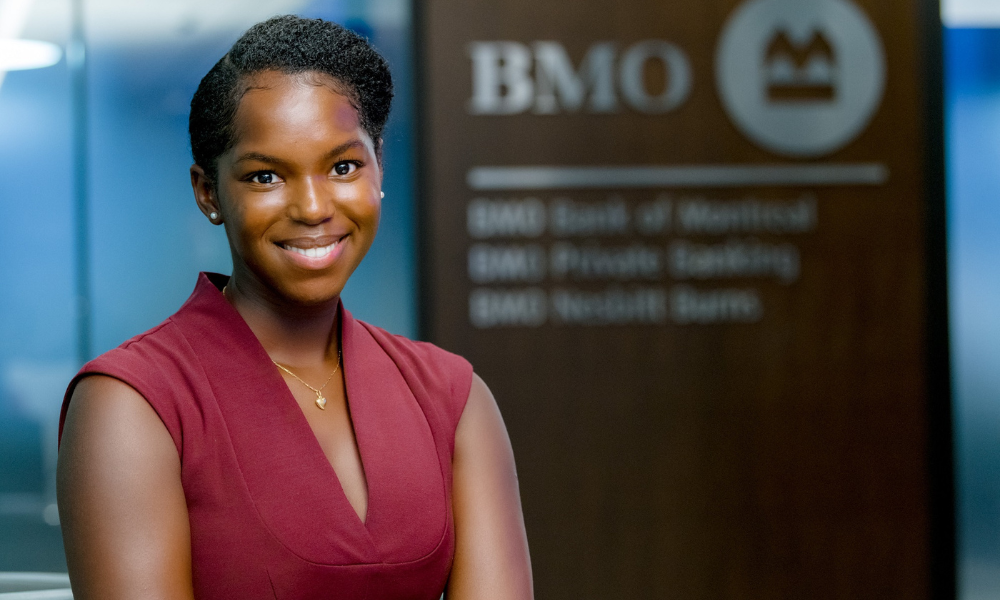 Young professionals should play a more active role in their careers – especially Black women who tend to wait for opportunities to come to them, according to Stéphanie Jules, senior manager of legal operations at BMO Financial Group.
"I really believe it's all about mindset in terms of getting out of your own way and taking risks," says Jules, who is an advocate for boosting diversity in the senior ranks of the legal profession. "It's all about sending that email or picking up the phone and making that call."
Jules encourages young Black female lawyers to be honest with themselves about what they know and what they still need to learn, and to embrace opportunities to prove they can do difficult things.
Jules joined BMO straight from law school in 2018, initially in a four-month work placement which morphed into a permanent position due to her hard work and determination.
"I knew that hard work would only carry me so far, and that building relationships was going to be crucial," says Jules. "I knew that my best chance of landing a permanent role was to deliver high quality work for as many lawyers in the group as possible so that when my name came up, it was a no-brainer for the leader to take a chance on me." This was a winning strategy which Jules has continued to apply consistently in her career.
In her four years with the bank, Jules has worked as counsel in the BMO capital markets and private wealth groups. She went on to work as senior counsel in technology, operations and corporate areas division, before her promotion to senior manager of legal operations.
In her new role, Jules leads the strategic development of the bank's global transformation program, managing a team of four people.
"When the opportunity for the senior manager role came around, I was quite ready for it, because not only did I have the right attitude in terms of having passion for innovation and enthusiasm, but I had also worked with three different legal groups and been involved in cross functional projects," says Jules.
Jules is finding her strong analytical skills and attention to detail are proving useful in the new role, together with a people-centric approach.
Diversity and inclusion is a core value at BMO, and Jules is deeply involved in building and supporting programs to promote diversity in the senior ranks. In 2020 she helped launch BMO's Zero Barriers to Inclusion 2025 – a multi-year strategy to address gaps in representation across the organization.
As co-chair of the diversity and inclusion council at BMO, Jules built a clear and actionable strategic plan for diversity and inclusion.
"We are very thankful that our strategy is receiving strong support from our general counsel and the leadership team, so with that tone from the top, we are now striving to put tangible measures in place to improve representation across gender, race, physical ability and sexual orientation," says Jules.
Building diversity in the senior leadership level at BMO is a key priority for Jules so, together with her colleagues on the diversity and inclusion council, she is reconfiguring hiring policies and practices to improve access to development opportunities for under-represented groups – particularly focusing on Black, Latino and Indigenous groups as these employee segments have traditionally be under-represented at a senior leadership level.
Jules believes that middle managers play a vital role in contributing to the pipeline for diversity in the senior ranks as they are involved in hiring the bulk of the workforce.
"My advice is to not only have policies at an executive level, but to ensure that middle managers are held accountable for putting this policy into action," she says. "That means arming them with the skills they need to become active champions. I think the best way to move forward is to think about D&I as a team effort and for all the players to participate."