Faced with the inherently cross-border and intangible nature of cyberspace, the courts struggle to impose sanctions on people who use the Internet to commit unlawful acts.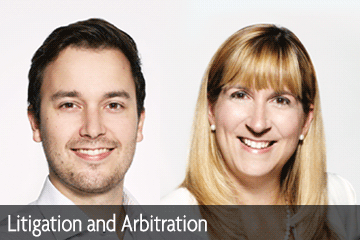 Faced with the inherently cross-border and intangible nature of cyberspace, the courts struggle to impose sanctions on people who use the Internet to commit unlawful acts. In fact, orders whose aim is to limit illegal acts committed on the web often remain unenforceable, because they cannot be enforced against the main perpetrators when, as is often the case, they are located in another jurisdiction. Is cyberspace, therefore, destined to remain a zone of impunity?

In a recent decision, the Supreme Court of Canada has ordered Google to remove certain websites from its worldwide search engine. Heard by the SCC on Dec. 6, 2016, Google Inc. v. Equustek Solutions Inc. raises a number of important legal issues, in particular with respect to jurisdiction of the courts as well as the scope and enforceability of injunctions by third parties. Equustek Solutions Inc., a British Columbia company that designs and manufactures network interface devices, partnered with Datalink Technologies Gateway Inc. to distribute Equustek products using the Datalink website. Over time, Datalink allegedly started counterfeiting and selling Equustek products under another name, using trade secrets acquired through its relationship with Equustek.

In 2011, Equustek accordingly obtained injunctions forcing Datalink to refrain from counterfeiting and selling its products. The problem? Datalink had moved outside Canada and, protected by cyberspace, continued to sell the counterfeit products. Equustek argued the Canadian orders issued against Datalink would, for all practical purposes, be unenforceable and of no use. Determined to curtail Datalink's practices, Equustek turned to Google. The search engine was used by consumers to find Datalink's websites.

Equustek sought an injunction from the B.C. Supreme Court to restrain Google from including Datalink sites in its search results, and not only on the Canadian Google site but on all Google sites. Both the B.C. Supreme Court and the B.C. Court of Appeal granted this extraterritorial injunction, thereby compelling Google "an innocent third party to police a court order restraining a defendant from violating a plaintiff's rights" by removing Datalink sites from its search results on every Google site around the globe.

It is well established in Canadian law that a non-party to an action who knowingly violates an injunction is guilty of contempt of court. Furthermore, the courts may issue orders, such as Norwich or Mareva orders, against non-parties who are involved despite themselves and without any fault on their part. At trial, Justice Lauri Ann Fenlon relied in part on this reasoning to conclude that the court had jurisdiction to issue the injunction against Google.

The Supreme Court allowed the appeal and rejected Google's argument that non-parties cannot be the subject of an interlocutory injunction. In the Court's opinion, this is contrary to the jurisprudence: "Not only can injunctive relief be ordered against someone who is not a party to the underlying lawsuit; the contours of the test are not changed."

Furthermore, the Court rejected Google's second argument claiming that a global injunction violates international comity. The Court held that if the injunction were restricted to Canada alone or to google.ca, as Google suggests it should have been, the remedy would be deprived of its intended ability to prevent irreparable harm. The Court recognizes the possibility for Google to show evidence that complying with such an injunction would require it to violate the laws of another jurisdiction, including interfering with freedom of expression; it is always free to apply to the British Columbia courts to vary the interlocutory order accordingly. To date, Google has made no such application.

The singularity of the injunction against Google, a non-party to the dispute, lies in the fact that Google merely listed the Datalink sites in its results. In addition, the parallel with Norwich or Mareva orders may seem somewhat tenuous, as such orders, which oblige third parties to disclose information or freeze a person's assets, are at least circumscribed and limited in time. Here, Google was enjoined to curb Datalink's excesses without the injunction being limited in time. In Google, however, the decisions of both the British Columbia Supreme Court and Court of Appeal were based on the decision in MacMillan, where the SCC, faced with acts of civil disobedience against a logging company, upheld the validity of an injunction against unknown members of the public, i.e., "John Doe, Jane Doe and Persons Unknown."

The recent SCC decision upholds that in a case like Google, John Does and Jane Does may be forced to take on an even greater role to ensure compliance with, or even indirect implementation of, an order against a non-compliant party. One might then see a dichotomy between the desire to provide a remedy for the difficulties in applying and enforcing injunctions issued in a given jurisdiction against persons who reach their target market through the Internet, and, as decided by the two SCC dissenting judges, what could prove to be onerous impositions on certain participants on the web.

The Google decision confirms that, considering the difficulties of enforcing orders issued in a specific jurisdiction against any person or company operating internationally on the web, the burden of regulating the cyberspace ecosystem may fall on innocent third-party players.
Danielle Ferron and Julien Rheault are with Langlois lawyers LLP