Robert Ellis of Celestica describes the company's post-pandemic recovery plan and ESG strategy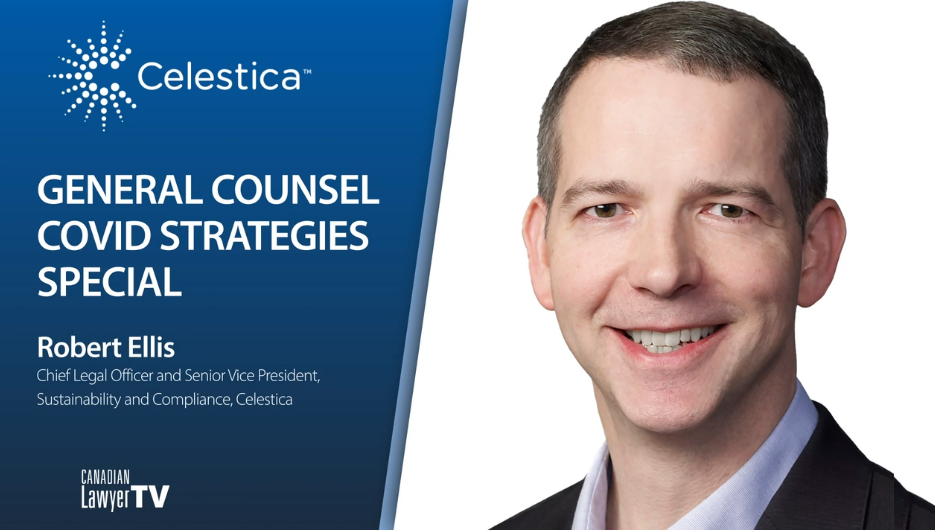 Celestica, a Toronto-based multinational firm that provides design, manufacturing, and supply chain solutions, is an expert in solving complex technology challenges for the benefit of its clients in various industries. In line with its corporate values emphasizing teamwork, ingenuity, confidence, and care, Celestica's legal department is addressing critical issues around post-pandemic recovery and sustainable business.
Robert Ellis, the company's chief legal officer and SVP for sustainability and compliance, told Canadian Lawyer that the legal team is also focused on an environmental, social, and corporate governance strategy that includes external tracking and commitments as part of Celestica's science-based targets initiative.
"We set an objective of reducing greenhouse gas emissions by 30% by 2025 and our operations for Scope 1 and 2 emissions. We have separate targets for our supply base, so that 30% target is something that we've put a lot of our energy behind … We're working hand-in-hand with our operations team to make sure that on a state-by-state basis, we are making the investments to make that target achievable for us," Ellis said during Canadian Lawyer's 2021 General Counsel Roundtable .
Another key aspect of Celestica's ESG strategy is its diversity program, which informs the company's recruitment and hiring decisions. The HR team continuously updates its practices to ensure that the workforce is diverse at all levels.
Moreover, Celestica's awareness of its social responsibility is reflected in the community activities that its employees participate in.
"We have been looking to rejuvenate what we do from a community involvement perspective. It's been a tremendous challenge to the usual in-person volunteering that would very much be part of our regular cadence of operations … [We] found ways through online mentoring systems, for instance, to be able to try and continue with our community outreach," he said.
Recognizing the importance of sustainability and regulatory compliance, Celestica aims to align its disclosures with that of other filers "so that the investors, community and analysts can better understand exactly what we're doing from a governance perspective … Fundamentally, it's making sure that internally we're disclosing effectively what the tenets are for a plan, and then externally delivering the messages in a way that's clearly understood and adjustable to all of [the company's] different stakeholders".