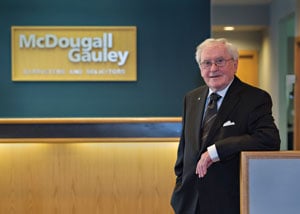 As a young boy growing up in Unity, Sask., Tom Gauley knew exactly what direction he wanted his life to take: "I only had one thought in my mind — that I wanted to be a lawyer." Eight decades later, with a long list of accolades and achievements to his name, including the Order of Canada, he still goes to the office every day. He has no plans to step down from the helm of McDougall Gauley anytime soon. "Not as long as I have my health — health is everything and I'm thankful for it. When you consider I couldn't pass the medical when I tried to enlist in the army. In retrospect, thank goodness, I probably wouldn't be here."

Gauley is grateful for the opportunities afforded him in a very bleak time. The effects of the Depression and the Second World War were keenly felt in his community, which lost half its population. "They were difficult times. My parents made a lot of sacrifices for me to get an education," he says. Tom commenced classes at the University of Saskatchewan in 1939, and worked hard at both his studies and his various jobs to make his way through school. He dug gardens for two dollars a plot, worked Saturdays at the OK Market, and during the summer returned home to help on the farm and work in the local hospital. "The Unity Union Hospital was a basement and two storeys but they ran out of money so that the operating room was on the top floor. So that meant that when they finished, you had to carry the patient down a flight of stairs on a stretcher. Oh God, I hated it!" Tom also earned a dollar every Sunday for playing in the Arena band. "I had a B Flat ebony clarinet. This is a sad story: I sold it to buy a suit of clothes so I could graduate!"

In 1943, in his new suit, he joined McKercher McCool & Francis to article for two years with Walter B. Francis as his principal. Francis' mentoring had a huge impact on Gauley's practice of law. "I think he was a great influence, because he was a very public spirited and very good citizen, and I think you're bound to be influenced by the people that you work with. I would certainly give him a lot of credit for anything that I've done."

If Francis is to be held accountable for Gauley's achievements, he has plenty to be proud of. In addition to countless successes in the courtroom, Gauley was appointed Queen's Counsel in 1956; was president of the Law Society of Saskatchewan in 1966; and served as Saskatchewan's representative on the "Committee on the Constitution," which made recommendations towards what became the Charter of Rights and Freedoms in 1982. In 1989, Gauley was awarded the first Canadian Bar Association Distinguished Service Award and in 2003, the Order of Canada. In September, he was among 57 residents awarded the Queen Elizabeth II Diamond Jubilee Medal for demonstrating "an outstanding commitment to the communities they call home and to the people of Saskatchewan."

Giving back has been Tom's mandate throughout his career. He lectured at the University of Saskatchewan and has been on its board of governors. As a law society bencher in the 1960s, he helped organize the first Bar Admission Course.

Over his career, Gauley has served as principal for 50 articling students. "When I got to 50, I decided that I should stop and for a good reason — because I always took my students with me and I was doing a lot of court work. But after, I got to a point where they wouldn't get the article they deserved to have." He enjoyed his time with his students and followed a few simple steps to ensure they had a positive learning experience: "Make sure that you know what the student is doing. Make sure that they get lots of work, and make sure they get a variety of work. And if you're doing court work, take them with you whether you need them or not. Just take a personal interest in them and help them as best you can. I have a lot of pleasant memories from a lot of articling students that are scattered all over the world."

Bob Kennedy was one of those articling students. "He had 30 years of experience, been to the Supreme Court five or six times, had prosecuted murder trials, had defended murder trials, had done civil litigation, had done a whack of labour stuff. He basically had done soup to nuts in terms of the law." Kennedy had been prepared to be intimidated, but instead found a mentor who was supportive, approachable, and treated everyone as an equal. "He's a man of incredible integrity and really strong moral values. He's tenacious in terms of a client's case once he's taken it on. . . . You owe your client the duty to do your best with respect to all aspects of the particular problem or issue that is at hand. And he always did that. Nothing less than his best was satisfactory to him from his own personal point of view, and that's something that is a message that not everyone gets... It was a message I received. It's people like Tom, basically, that are the glue that makes the system work."

At first, it seems surprising that Gauley never pursued a career on the bench. While lecturing on the conduct of a trial, Gauley once proclaimed, "Judges are merely lawyers who have gone to a higher reward." However, he chose to pass up the higher calling in lieu of the experiences he could have and contributions he could make to his clients and his students: "I had several opportunities to go on the bench . . . but I never felt that I wanted to restrict myself. I wanted to have more freedom to do what I wanted to do. I think I would've felt constrained to go on the bench. And so I didn't go and I have no regrets in that regard at all."

Gauley turns 90 years old this year, and his firm is celebrating by donating $25,000 to the University of Saskatchewan for scholarships in his name. In addition to the funds, Tom has some good advice to give prospective students about how to be successful in the law: "I would like to think that you have a reason that that's what you wanted to do. I think that you do have to have a passion for it and I think I did, I don't have any doubt about that. And I enjoyed it and I knew that was what I wanted to do. I wanted to do it when I was in public school and high school."

He continues to have a passion for the law and fondly reminisces on his life in the legal profession: "I really enjoyed practice. I did a lot of court work. I just think the law is very interesting, and I found litigation very interesting, and I guess it's competitive and I guess I liked that kind of an atmosphere. I think it's the competition that sharpens your mind and keeps you active. I guess I enjoyed that."

Happy Birthday, Tom Gauley.