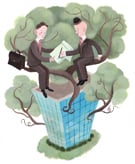 Commercial real estate lawyers may not always find themselves in the vanguard of societal change, but now they have an opportunity to help save the world. That's one reason why there's a buzz of excitement in the bar over green leases.
"It's an opportunity to make a difference in the world, if you can become knowledgeable and properly advise clients to do the economic thing and do the right thing," says Michael Brooks, counsel at Aird & Berlis LLP and chief executive officer of the Real Property Association of Canada (REALPac), which has drafted and posted online a specimen lease designed to help implement sustainable building standards.

The crucial role that green building standards and energy conservation measures can play in addressing global warming is now well documented and widely accepted. The Ottawa-based Canada Green Building Council estimates that buildings account for the use of a third of Canada's energy production, 50 per cent of the extracted natural resources, 25 per cent of landfill waste, 10 per cent of airborne particulates, and 35 per cent of greenhouse gases. Yet, the council maintains, the inefficiencies of conventional construction and property-management practices are such that new environmentally sustainable standards and practices could reduce the contribution of buildings to global climate change by as much as 70 per cent, at the same time benefiting tenants and landlords, not only by cutting costs, but also by improving people's working and living environments.

All this makes sense to many property developers, owners, and tenants, who want to incorporate green standards in new developments and make existing buildings greener. As Celia Hitch, counsel to the real estate group at Lang Michener LLP, puts it, "This whole green thing has gone from Birkenstocks to Bay Street in five years."

But real estate lawyers have come to realize that green buildings need green leases. Standard lease agreements that have remained unchanged for years do a good job of spelling out everyone's responsibilities and expectations in black and white, but leave no room for green. They typically fail to address issues such as how to mandate and enforce energy conservation measures or the use of environmentally sensitive cleaning products. Emerging issues such as how to allocate carbon credits are completely out of the picture. Furthermore, the strict terms of a lease agreement may actively prevent green initiatives — for example, a tenant may be unable to use recycled materials in renovations or building improvements because the lease stipulates the use of new materials.

"Until recently, there were no leases that I was aware of that remotely contemplated this stuff," says Brooks. When his organization became aware of this need 18 months ago, he searched online for the term "green lease," discovered that most of the information came from Australia, and, therefore, decided to visit that country to talk to lawyers and real estate professionals about what this new form of lease would entail. His findings are incorporated in the REALPac green lease, which he invites people to "think about and plagiarize."

Brooks says real estate lawyers should be proactive in suggesting that their clients consider environmental standards and targets when negotiating a lease. The prime reason for doing so is that landlords and tenants can benefit in many ways from having a greener building. Also, even though green building standards are voluntary now, they may be mandated in future, and various other environmental regulations could impact on properties. Unless green provisions are included in a lease, it may prove difficult to implement improvements in the future. For example, there may be no mechanism for a landlord and tenant to agree on improved recycling, water-saving fixtures in washrooms, or the use of solar energy co-generating facilities.

It's something that every real estate lawyer needs to think about, says Hitch. "If they're not paying attention, they need to pay attention, because it is changing the landscape of buildings and it will inevitably change how leases are done."

But there is a steep learning curve, says Brooks. "Lawyers are going to have to understand the metrics. They're going to have to be conversant with potential specific targets for energy consumption or water consumption." And, for example, they may have to learn about volatile organic compounds (VOCs) and how they contribute to indoor air quality so they can determine what it means if their clients currently have low or high VOCs in their offices. As Hitch puts it, "Lawyers need to understand how buildings work — to become informal engineers for a little while."

Lawyers also need to get up to speed on the potential pitfalls and risks involved in green leases, says Joseph Grignano, a consultant with the real estate group at Blake Cassels & Graydon LLP. If they are representing landlords, they need to ensure that their clients don't "over-promise," and potentially leave themselves open to future litigation, by committing to standards that may prove to be unrealistic as circumstances change in future. He says this is particularly important given the fact that leases typically cover a long period of time. His mantra for landlords, therefore, is "flexibility, flexibility, flexibility."

Lawyers representing tenants, on the other hand, will want commitments in the lease, stipulating that the landlord is going to adhere to environmental standards and that those tenants will not end up with a disproportionate share of the costs. And, Grignano adds, the lease will also have to address questions such as what happens if the landlord doesn't do what he promises and fails to adhere to environmental standards.

It's not only commercial real estate lawyers who need to familiarize themselves with green buildings and green leases, says Brooks. "It will become core in real estate practice, including residential, because, in future, house builders will also be concerned about meeting certain certification standards. This is a new aspect of real estate that they are going to need to get knowledgeable about quickly."

Freelance journalist and business writer Kevin Marron can be reached at [email protected]