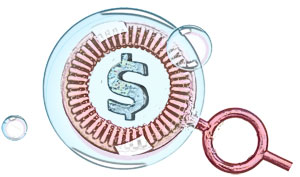 "Too many deans are wedded to running their schools as businesses for which U.S. News & World Report rankings supply the definitive means of evaluation. Too many special interests relating to the lending and debt collection industries make a lot of money off the growing lawyer bubble. Too many senior partners in big firms have become accustomed to extraordinary incomes and are unwilling to emphasize long-run values that don't contribute to the current year's bottom line."
— Steven J. Harper,
The Lawyer Bubble: A Profession in Crisis

The above quotation summarizes why, according to Harper, the legal profession has become a bubble that will eventually (if it hasn't already) burst with devastating effects. Harper's book chronicles, in detail, some of the events that led to the downfall of firms such as Heller Ehrman and Dewey & LeBoeuf, as well as the decisions that have been made by what are now global firms to increase their revenues prior to mergers. He notes the erosion of individual firm cultures caused by a "hire and fire" attitude to associates and the push to increase revenue through expensive lateral hires with large books of business.

There are surely many culprits besides greedy partners, cynical deans, and the debt collection industry responsible for the present state of the profession. For example, one could point to the fickleness of clients that has made long-term planning very difficult. Over the past 20 years, many clients have moved from loyalty to a single law firm to sending work to many firms only to relocate it again with certain "panels" of preferred service providers or, in the case of the Tyco-Eversheds model, to return to exclusivity.

Then there is the question Harper does not address in his study of who conceived the business model the faltering firms followed. Was it lawyers or consultants with no prior exposure to law? An argument could certainly be made that uncritical adoption of management styles that are ill-suited to the firms in question may have played a part in their demise.

One could also cite, as Richard Epstein does in his review of The Lawyer Bubble, low-cost online law firms that threaten the existence of the sole practitioner model and are challenging the rates large firms charge for certain types of legal services — usually the service firms use to train juniors — such as due diligence. Epstein's point, however, proves law schools are not failing students in as stark a way as Harper suggests because they are, in fact, producing graduates who are sufficiently innovative and critical of the legal profession to challenge it through alternative services. It is with these graduates hope for the profession lies.

Although undisputable that law, as any profession, is evolving and there are perhaps too many law graduates with large debt loads and no corresponding employment, there are tremendous opportunities not only for recent grads but also for Big Law to "get it right." Graduates without Big Law jobs or Big Law ambitions (that is to say graduates who are looking for alternative legal careers) represent a talent pool firms should draw upon to sell and support their legal services. It is undoubtedly easier to sell and support what you know.

The same critical, innovative energy that created low-cost online firms and legal process outsourcing providers should be harnessed by law firms to run technology support, knowledge management, libraries, and marketing departments. Having these departments staffed by people who understand the "end user" presumably will lead to a more efficient firm. There is no reason why an online legal service provider should be able to deliver service more cost effectively and efficiently than a law firm. A firm with a technology support and knowledge management department staffed with law graduates could certainly create and offer a similar product. Likewise, the software that helps lawyers structure their legal teams and offer alternative fees to clients could be developed by a combination of marketing lawyers and technology lawyers.
Find the best advertising and marketing lawyers in Canada here.

Moreover, at a time when firms are considering outsourcing many support functions such as technology, litigation support, and knowledge management to low-cost jurisdictions — a move that is difficult to understand given the number of candidates for the positions here — some consideration should be paid to the role these departments play in providing continuity and identity/culture to a law firm and a sense of belonging to its lawyers. These are departments that have to provide a consistent level of service, quality, and branding across the firm. In essence, they have to make it stand out from other firms — an element that is key to attracting and retaining both clients and talent. Having these support functions staffed by people who really understand the profession as well as the jurisdiction/market in which a particular office operates sends a strong message to clients and lawyers about the importance of a firm's identity and culture.

To return to Harper's book, my only criticism is that after the thorough explanation of what is wrong with the legal profession, it would have been interesting to read what he proposes as a solution. It seems to me law firms have many choices. The simplest may be to throw up their hands, admit defeat, and try to run an operation according to an inappropriate business model with quick-fix solutions like outsourcing. Another would be to take advantage of the talent pool that exists and continue to structure organizations that are supported by people who not only understand the business but who have the confidence to challenge and improve it.

Danielle Olofsson is a knowledge management lawyer at Dentons Canada LLP in charge of civil law. She has practised law in Montreal, Paris, and Stockholm and is a member of the Quebec and Paris bar associations. She can be reached at [email protected].