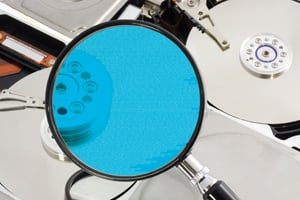 E-discovery expertise rests on two major skills: choosing the right e-discovery tools and using them appropriately within the data to meet the case team's needs.
E-discovery tools have one or both of two features: first, they sort through data to find specific documents relevant to a legal request. Second, they offer a platform in which those electronic documents can be reviewed. The features and functionality of tools can be quite different, so it is important to understand what those feature sets are, and do your homework about the representations made about their functionality.
"Linear" tools permit document review one document at a time. In recent years, more sophisticated tools have emerged with features called "analytics" that isolate groups of documents for review from within a larger set. "Concept clustering" automatically groups together conceptually relevant documents, helping lawyers build clusters of related documents for review from select words and phrases. Concept search engines have other features that allow lawyers to do exemplar searches at the point of review (i.e., a process similar to asking the computer to "find me all other documents like this one.") These "analytic" technologies help case teams perform review on a broader, often faster, scale.
Every review platform promises a basket of functionality, such as speed and scalability, flexibility, strong security, and stability. Of all of those, I think stability and security are the two most important. There is nothing more frustrating than sitting at a computer waiting for the system to recover from a crash, or waiting for a page to load because the system is unstable. A platform can have hundreds of features, but if it takes two minutes to load a page none of that functionality matters. Most people assume a platform will "just work" but that does not always happen. Ask what affects the review tool's stability. Also make sure the tool is secure and will not permit documents to be altered or downloaded from the tool.
Also ask:
• Does the tool maintain native file formats? Converting documents to a different format, such as tiff or pdf, before they are reviewed adds expense, usually five to 20 cents per page, and sometimes more. Since a collection may include many irrelevant documents, the expense of file-format conversion can be considerable, as well as unnecessary. Converting documents may also complicate life for review attorneys. It is usually better to keep documents in their native format until after they have been reviewed and to convert documents that will be produced.
• Does the tool allow for easy coding or annotation of documents? Often, most of the documents in a collection will be irrelevant or redundant. The people reviewing the documents need an easy way to classify them. Make sure the annotation system permits people to be accurate and fast. Too many clicks or keystrokes can slow down review and increase the rate of error.
• Does the tool maintain an appropriate chain of evidence? A chain of evidence refers to being able to prove that the documents are unchanged from their time of collection. Chain of evidence is one of the strongest arguments against writing your own e-discovery tools, reviewing data natively outside a review tool, or pulling something untested off the shelf. Ensure your tool has an accepted method of preserving chain of custody; a basic but reasonably reliable function to look for is the calculation of a "hash value" linked to each record.
• Should you in-source or outsource? One can purchase a document review tool or outsource the hosting of a document review tool to a third-party vendor. Generally, having the right tools in-house (in-sourcing) can make the job much less expensive. In-sourcing may also avoid security issues that can result from having outsiders reviewing your or your clients' files. Although outsourcing services can be expensive, they are often cheaper than trying to do the job internally without the necessary effective tools or procedures.
• If I outsource, how do I choose a vendor? Choosing a vendor and review platform is not an easy task if you are unprepared. Be diligent. If you do not lay out your requirements and the features of your case and its documents, and if the vendor does not take the time to try to understand your case, keep looking for a vendor who can understand your problem. There are many good companies out there that specialize in e-discovery, so take the time to find one.
Generally, a good vendor will assist both with tool selection, and the process of identifying how to isolate documents that may need to be reviewed in order to meet discovery requirements (i.e. project management). The vendor will try to understand the needs of the case and to match the specific requirements of the case with the right technologies. A superior vendor will also be technology agnostic and offer a multitude of solutions from which to choose. A vendor should explain why a recommended technology is right for your data and your case.
A good vendor will also help you use the tool effectively. Therefore, perhaps the most important factor to consider is how well the vendor's team supporting the tool actually knows how the tool can be customized. E-discovery work is service work, and it is the people, not the technology, that matters. Hosted document review can become a very complex process when native data is involved. Having a trusted and knowledgeable project management team working on the platform will ensure success.
As part of selecting an e-discovery service, you should also review the vendor's procedures and security measures to protect your data. As a matter of course, it is likely that you will ask the vendor most of the same questions you would ask if you were selecting a software e-discovery tool for purchase in-house.
Dera J. Nevin is the senior director, litigation support, and e-discovery counsel at McCarthy T
é
trault LLP. A practising lawyer, she also oversees the firm's e-discovery operations and can be reached at
[email protected]
.