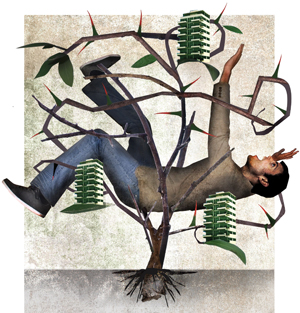 While B.C. condos go green, environmentally conscious developers and lawyers in Ontario are going green with envy, as consumer-protection provisions in the province's condominium law deter large investments in energy-efficient projects. "It makes me sad to see that's something we're missing out on," says Harry Herskowitz, senior real estate counsel at DelZotto Zorzi LLP in Toronto, whose clients include Tridel Corp., one of Canada's leading condo developers.
Herskowitz, together with other condominium industry lawyers, Tridel, and the Toronto Atmospheric Fund, have been seeking amendments to Ontario's Condominium Act that would encourage investors, builders, and service providers to set up the complex financing deals required for multimillion-dollar energy savings and co-generation projects in new developments. But lawyers representing condominium corporations are concerned these proposals would open the door for unscrupulous developers seeking to bind condo unit holders to unfavourable sweetheart deals — a concern that has been highlighted by recent media reports of scams and calls for more regulation in the "green building" sector.
Graham Banks, vice president of Morrison Financial Services Ltd., has put together financing arrangements for energy infrastructure projects in several condo developments in British Columbia, but says Ontario's legislation makes it too risky to invest in similar projects there. While he understands the need to protect consumers from shady deals, he says, "It's getting in the way of doing the right thing."
Greg Nevison, senior vice president of construction at Toronto-based Tridel, says his company would like to incorporate geothermal or solar energy systems and co-generation plants into major new developments. For example, a geothermal installation in a project of the size that Tridel typically undertakes would require drilling about 100 deep wells about 100 metres or more into the ground at a cost of about $1.5 million.
The Toronto Atmospheric Fund, which typically provides loans for more modest energy-efficiency measures, estimates that major investments in energy systems for new buildings would provide long-term savings for condominium owners, cutting energy use by 25 to 50 per cent, and would also reduce greenhouse gas emissions by more than two tonnes per dwelling per year.
But, as Nevison points out, the reality of the marketplace is such that it doesn't make sense for a developer to add $1.5 million to the up-front cost of a new building, since relatively few purchasers are thinking about long-term energy savings or reducing global warming when they're looking for a new home. Such an investment might make sense for a developer planning to retain ownership of a commercial or rental apartment building, but not to a condo developer that turns over ownership of the building to a condominium corporation controlled by the people who purchase the units. "It's not something the developer retains and enjoys the benefit of any extra investments, so we have to be competitive in our costs," he says.
There is a way of financing these projects, however, without a loss to developers or a huge up-front cost for condo purchasers. This involves service providers linking up with insurance providers to invest in the project and assume ownership of the energy-efficient infrastructure on the condition that the condominium corporation makes a commitment either to a long-term maintenance and service contract or lease-to-own arrangement whereby the service provider can recoup its investment over a period of, perhaps, 15 or 25 years.
The problem with making this kind of arrangement in Ontario is that, under s. 112 of the Condominium Act, during the first 12 months after a newly created condominium board has been elected, it has the right to terminate any contract entered into by the developer or the board originally appointed by the developer for the provision of goods or services on a continuing basis, for the provision of facilities on other than a non-profit basis or for a lease of all or part of the common elements for business purposes. In other words, says Herskowitz, within the first 12 months, "The board can say, 'We don't want to be burdened with this and we're not going to honour this agreement.' So what developer is going to risk the up-front capital infusion needed if these contracts might be terminated with impunity?"
Nevison says Tridel has had discussions with Corix Utilities, a Vancouver-based company that builds and manages sustainable energy infrastructure systems across Canada and the United States. Corix has invested in geothermal projects for condo developments in B.C., where there is no condominium act provision similar to Ontario's s. 112. But, says Nevison, "they weren't willing to put that $1.5 million into the ground here with the risk that the condominium corporation could tell them, 'We don't want that system any more after the 13th month.'"
Nevertheless, lawyers representing condominium boards are concerned about their clients getting saddled with sweetheart deals, says Chris Jaglowitz, a condominium lawyer at Gardiner Miller Arnold LLP in Toronto who runs the Ontario Condo Law Blog (
ontariocondolaw.com
). Without the protection of s. 112, he says, a board could find itself locked into, for example, a 20-year lease paying the developer for the superintendent's suite. "People rooting for the consumer are saying, 'What happens if the board wants to get out of a bad deal?'" says Jaglowitz. He notes that the response of developers' lawyers is all contracts will be fully disclosed in purchase agreements and everyone should read these agreements before buying a condo. But, he adds, "Of course, nobody does read them."
Vancouver-based condominium lawyer Pat Williams, a partner with Clark Wilson LLP, says he is concerned B.C. consumers do not have the protection of such a provision. He says this type of energy-efficient contract often appears to have costs front-loaded, with savings to be shared with other condo corporations in developments that are anticipated but not yet constructed.
Herskowitz says the amendments he is proposing could include conditions requiring third-party certification from a qualified engineering firm to ensure that projects are properly designed, constructed, and maintained, and will generate the energy savings they promise. However, he says, without the support of condominium corporation lawyers, he is not optimistic that the act will be amended in the near future. "So those types of projects that require a heavy capital outlay are stymied for the time being."
Freelance journalist and business writer Kevin Marron can be reached at
[email protected]
.