"I wanted to be a rock star. And I became a lawyer along the way."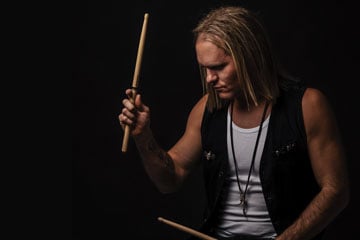 "I wanted to be a rock star. And I became a lawyer along the way."
In 2005, when Kurt Dahl graduated from the University of Saskatchewan College of Law, he took a road unique among his fellow grads — or most law-school graduates period. Drummer for the hard-rock band One Bad Son, Dahl deferred on articling to tour and make music.
"I was called to a different kind of bar," he says.
It was the mid-2000s and 10 years before the band would break out, but Dahl could see a major digital-technology disruption was transforming the music business. Melding his two pursuits, he wrote his Master of Laws thesis on how musical artists will make a living in the internet age. He interviewed entertainment lawyers, publishers, managers, record label executives and anyone else who would talk to him.
Get to know the best entertainment lawyers in Canada here.
"I'd always been passionate about music; now, I was passionate about the music industry."
He wrote the thesis, defended it, got his LLM and articled. In 2009, at age 28, he cut his hair and shaved his sideburns to look the part at Robertson Stromberg Legal PC in Saskatoon.
Ironically, Dahl says, as he was establishing himself in the legal profession, his band was taking off. He heard the call of the wild and his hair and sideburns began to grow back.
"By the end of the articling year, I was starting to get the funny looks from the senior partners."
But where he was going, it wasn't as clean-cut conservative, and his new clients would appreciate his long-haired rock 'n' roll image. He wanted to be an entertainment lawyer and take the band to the next level.
"I knew it was time for me, that I could live that life, be like a 'regular lawyer' or I could risk it all and move to Vancouver."
He met Bob D'Eith through their involvement in their respective provincial music industry associations. Since before he articled, he had been harassing the Vancouver entertainment lawyer to take him on. Dahl persisted; D'Eith relented.
"Bob took a chance on me," Dahl says. "Had he not, I might have just given up and gone into the 'regular-lawyer' world."
D'Eith couldn't pay Dahl a salary, so he worked on an "eat-what-you-kill basis," he says, making half of what he billed. By day, Dahl worked downtown at the firm, hopping on the SkyTrain after work to rehearse with the band in Surrey.
"I'd work all day, transit for an hour and a half, jam all night with the guys, writing songs, and then an hour and a half back home, get home at 11, crash and get up early the next morning and do it all again. Just really burning the candle at both ends," he says.
These were lean years for Dahl, but after four of them, his practice grew and the band had a number-one hit song, "Raging Bull." Both Kurt Dahl the drummer and Kurt Dahl the lawyer were coming into their own.
"Looking back, I wouldn't say I had the master plan through it all," he says. "At the time, it kind of seemed like it was all just random events sort of crashing into each other."
"Next thing you know, it's like the whole thing seemed planned," he says.
Dahl continued to build the practice and now he and his wife have a three-year-old boy and eight-month-old girl. He is a partner at Murphy & Company LLP, which has offices in Saskatoon and Vancouver. He represents musicians, record labels, managers, authors, models and publishing companies and is involved in the music and film industry. Entertainment law is "basically contract law with cooler clients," Dahl says.
He was elected president of SaskMusic, Saskatchewan's non-profit music-industry association, in 2016 and is on the board of directors for the Western Canadian Music Awards.
His career has come full circle as D'Eith, now a provincial member of the legislative assembly in B.C., has also joined him as partner at Murphy & Company.
One Bad Son recently concluded a U.S. tour, opening for Sebastian Bach. Dahl's responsibilities and routines result in a unique work arrangement.
"I am part of a new wave of lawyers who don't live in their offices," he says. "My laptop is my office."
He gets up before the family to get a few hours of uninterrupted work done. Then, while his wife and baby sleep, up pops his three-year-old who he hangs out with until daycare, answering a few emails here and there. Though he says he's accessible to clients to a fault, the freedom allows healthy eating, exercise and a lot of family time. But he also sees his model as more efficient.
"I bill three hours of work while other lawyers are commuting."
He's also billing while he's on the highway in a tour bus. During the recent tour, Dahl negotiated a deal with Elektra Music Group for one of his clients who has a gift for finding unknown talent.
Traditionally known as "A & R," or artist and repertoire, record labels typically have divisions in the company devoted to hunting for and corralling new talent. But as fewer and fewer records are sold, this artist-development function has waned, which Dahl says made inking the deal even more special. His client will earn a salary and get a percentage of the earnings of any talent she brings to the company.
"In the next few years, I think she's going to just do amazing things, around the world, through this deal," he says.
There's no textbook method to Dahl's practice. In fact, he says that while writing his thesis, there was only one textbook on entertainment law in Canada. Much of what he's able to do for clients is based on the relationships he's built through the years, he says.
"I'm there to connect the dots."
As a musician, Dahl's favourite moments in film are when they match a scene with the perfect song. With few buying records and streaming services paying little to artists for their music, placements in films is a valuable revenue producer. Recently, Dahl was approached through a mutual contact and got a song by his client, Saskatchewan country singer Colter Wall, featured in the trailer for the Oscar-winning film Three Billboards Outside Ebbing, Missouri.
"I negotiated it and so, every time I see it, it's just like, it just feels cool," he says. "You work so hard at this career. . . . It's good to have those moments you sit back and be like, it was all worth it."
Dahl is serving clients in an industry evolving along the lines he sketched in his thesis back in 2008 and 2009. In it, he argued that the internet has transformed what a music career looks like, uprooting the traditional relationship between artist, their copyright and record labels.
While artist copyright used to earn the label massive profits from record sales in the short term, with the plummet in album sales, the revenue now comes in the long term "from an infinite array of sources."
That's because the recording industry was "predicated on mass failure." Only 10 per cent of what a label released made any money, but those acts were so profitable that, through "a complete assignment of the underlying copyrights" of the songs, they would recoup the losses in the long term with their roster of artists.
But if few buy albums, the old model doesn't work. In 2017, two-thirds of music-industry revenue came from streaming, up from just over half the year before, according to The Verge. This has led to labels steering artists toward 360 deals, where the label takes a cut of everything the artist produces, including merchandise, touring and corporate endorsements.
Labels are not investing in artist development, so, to get signed, artists must first create buzz on their own with social media or by touring. In other words, the labels aren't signing the 90 per cent who gain no traction with consumers.
"You get someone like Bruce Springsteen. His first two albums were commercial failures even though the label invested a lot of money in the recording and marketing of them," Dahl says. "But they didn't hit and then the third album 'Born to Run' was the breakthrough and made him a megastar. He's had a 40-year career since, whereas now, I don't know if a modern Bruce Springsteen, if he came along in 2018, I'm not sure if you'd get that chance."
The inherent power imbalance in these negotiations plus a naïve recklessness of someone chasing their lifelong dream, both in Springsteen's time and now, can lead to exploited artists and bad deals. Dahl writes that the artist's side of the coin is easily definable — a percentage of revenue from touring, for example — while the label's obligations, such as "promotional support," are more difficult to quantify and labels can get away with short-changing artists.
That may be why Dahl devotes time to SaskMusic's legal service program, where members annually get two free hours of legal advice. It is valuable because artists assume they can't afford a lawyer, then sign a bad deal.
"There still are snakes in the music biz," he says. "So many contracts that I see artists sign in the music biz would never fly in the 'normal' business world."
Dangling the carrot in front of young artists are artist developers. Dahl says these new entities are popping up and promising, for a fee, to develop an artist's career and take them to the next level.
"Some of them are good, but many of them are just horrible," he says. "And they'll take $1,000 a month; they'll take $3,000 a month. And they'll just do nothing for you.
"I've stopped many clients from signing really bad deals."
Advocating for artists could be more pressing than ever with the pittance compensated by streaming sites such as Spotify and Apple Music. While the artist makes fractions of a penny when their song is streamed, Dahl says the ones making the money are tech companies providing the streaming services and the telecoms charging customers for their data plans.
"If you have a million streams and you make a couple hundred dollars, something's off there in the value proposition," he says.
He offers another music-business prediction in suggesting that a "battle of the titans" is on the horizon over which of the two massive interests — the telecoms and the streaming companies — is going to have to ante up and pay artists more for their music.
Whoever pays, Dahl's focus is often getting artists to ensure they get paid and sign a fair deal. The lesson, he says, is learned from haggling with street merchants and dating. If you walk away, the price goes down. If you're at the bar, desperate to find the love of your life, you're probably not going to find them, while if you're confident and authentic, what you desire is drawn to you.
"It is often a David-and-Goliath situation, but I often also say to my clients, like, we don't have to take this deal," he says. "If you don't need something, you become far more appealing."