The changing architecture at Osgoode Hall exemplifies Lorne Sossin's vision of a more outwardly focused law school.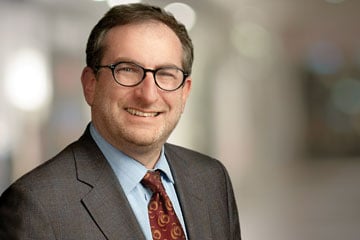 The changing architecture at Osgoode Hall exemplifies Lorne Sossin's vision of a more outwardly focused law school.
For Lorne Sossin, the outgoing dean of Osgoode Hall Law School, one of the biggest changes he has noticed about Osgoode over the years is its openness. He recalls that when he studied for his LLB in the early '90s, the law school was "a fortress of mid-'60s brick facades," which he likened to "being in a casino" where "you didn't know if it was day or night."
Sossin's vision as a dean was a law school that should be outwardly focused, with physical manifestations such as the "floor-to-ceiling" windows in its new building that opened in 2011, a year into his tenure as dean, as well as many initiatives that encouraged law students to engage with their community.
He says that when many of the older law school buildings were built in the mid-'60s, the university life and law school were "meant to be this kind of oasis from the world around you [to] come and engage with the big ideas and look inward . . . My vision for it is the exact opposite."
And while this vision may be high-minded, a list of Sossin's accomplishments over his time as dean is very much grounded in the real world. He speaks with enthusiasm about how the law school is engaging with the local community most recently through, for example, a partnership with the Duke Heights BIA. This partnership has the law school working with its local community through "social procurement and engaging with the social enterprises and businesses in the area, creating a hub where law students at Osgoode are contributing to creating startups, employment opportunities and . . . addressing social marginalization [and] immigration challenges for community members."
Sossin again cites the architecture of the law school when it moved to its current location in northwest Toronto, which discouraged engagement with the local community, since it "was really built with these moats, big fields and hydro rights-of-way and things to keep . . . the separation from all of the vibrant communities."
The Duke Heights BIA project was just one way to counteract that approach. "Seeing all that come together is [a] reuniting of the idea that law schools are in particular places in communities or that universities can play this role to benefit those around them rather than being kind of cut off in time and place from any particular space," he says.
Sossin's academic pursuits also illustrate an idealism grounded in reality. While he readily concedes that many of the courses he teaches, such as administrative law and civil procedure, have not been in the areas of law where students "come with their favourite movie characters in mind," for Sossin, those are areas that "affect almost everyone's life almost every day."
"I've always been attracted to the questions coming out of law or politics that have really big principles attached to them, big ideas animating them, but have very practical effects on people on a regular basis."
Another outwardly focused initiative that Sossin mentions for the law school is the Artist in Residence program, launched in 2013. This program welcomes artists to "explore representations of justice and legal education." The first artist in residence was Cindy Blažević, who photographed the Kingston Penitentiary and had a 600-square-foot installation of one of the photographs wrapped around the exterior of the law school. She also developed a series of video essays with law students.
"If we're looking at the impact of a penitentiary, why would we tell that in print when we can demonstrate the power of those factors far more viscerally with photography?" asks Sossin. "It's about telling the stories of justice or shaping approaches to advocacy that are exactly embracing the complexities, principles, big questions that law schools grapple with, but in more imaginative, often more provocative ways."
Sossin's interest in art and bringing creativity to a sometimes staid and conservative law school environment clearly highlights a desire to push boundaries, which he also had when trying to improve how the law school measured diversity. Osgoode, according to Sossin, was the first law school to do a mandatory demographic survey of its whole first-year class. "Lots of law schools did surveys, but they were voluntary and you might get 30 or 40 per cent filling it out, so you couldn't really say anything about your demographics because they're not universal."
By making it mandatory, Sossin says, it helped "change the discussion because before that the answer was simply you can't do that" due to privacy concerns. "By doing it for the right reasons and doing it in the aggregate, of course, so no one's individualized information could be tracked back, I think we achieved something important about our commitments to inclusion."
Despite Sossin's pride in Osgoode's achievements in opening itself to diversity and the wider community, though, he does point out one change that has closed doors: rising tuition fees. While he mentions the $1-million investment in financial accessibility the law school made in 2015 for various bursaries and loan programs as one instance of his drive to improve accessibility, he does not deny the negative effects of Osgoode's steadily rising tuition.
"We've got graduation bursaries and scholarships and great funded summer internships and, you know, just more and more opportunities for students to get a leg up financially, but none of it counters the corrosive effect of higher tuition [and] higher student debt," he says. "As much as I think we've moved the conversation importantly forward — and for a certain number of students it's been life-changing and will be career-altering — overall, I think it remains the most significant unfinished business maybe alongside decolonizing and indigenization of legal education."
While debates swirl about the practicality of legal education and the need for innovation, Sossin's vision of openness and pushing boundaries may help provide grounding for law students that the traditional insular approach did not.
As for the future, Sossin intends to stay at Osgoode as a professor. But who knows where someone with an eye to openness and pushing boundaries could end up next?