In the judge's reading room of the Supreme Court of Canada building in Ottawa on a warm fall afternoon, Wagner is reflecting on the influence of family on his life.
It is more than nine months into Richard Wagner's term as the 18th chief justice of Canada, and in the judge's reading room of the Supreme Court of Canada building in Ottawa on a warm fall afternoon, he is reflecting on the influence of family on his life.
"There's no doubt that my father's career has influenced me," Wagner says of his upbringing in Montreal. "And the environment in which I grew up had a strong impact on me." His father, Claude Wagner, was a lawyer, then a law professor, an MLA in Quebec and the province's first justice minister and later an MP and senator. Although he died at just 54 years of age, Wagner says, "His career had lots of impact on mine.
"I discovered at a very early age the notion of public service."
As well, Wagner says, "My father was very generous, never mean, always noble. This was the right way of doing things. You have your own opinion, but there's no need to be mean or ungenerous."
Those values of civility, collegiality and public service will serve the new chief justice well at the helm of the Supreme Court of Canada and Canadian Judicial Council, say those who know him.
"I think . . . a chief justice can be a very important contributor and leader in a number of areas, and in particular for encouraging a collegial environment in the court," says Frank Iacobucci, a Supreme Court of Canada justice from 1991 to 2004 and now a senior counsel at Torys LLP in Toronto. Mutual respect and collaborative effort are required on the court, and the chief justice plays an important role in that, he says.
"From all accounts I have heard, and from what I personally know of [Wagner], he's very good at interpersonal relations, and that aspect of his talent is very important. He has the makeup to emphasize the importance of collegiality, and his personality will be helpful to him in pursuing that."
Wagner was a "very collegial" bench mate on the Supreme Court of Canada, says Marshall Rothstein, now a tax litigation partner at Osler Hoskin & Harcourt LLP who sat on the high court with Wagner for three years.
"When we had cases [to decide] and he thought that there was some value in communicating with me about the case, he'd come into my office, or I'd go into his, and we'd exchange views. I know there were cases in which we'd disagree, and we'd discuss it, but always in a respectful way. …
"He was always open to talk, he was never dogmatic, [and] he had common sense. I enjoyed working with him."
Nicholas Kasirer, a justice of the Quebec Court of Appeal who sat on that bench with Wagner for a year and a half in 2011 and 2012, says his friend "has that combination of charisma and respect for others that comes with [his] natural leadership qualities.
"My guess is that he'll be a force for bringing people together . . . that in the same spirit of clarity and access to justice" that Wagner champions, "the law will emerge clearly and simply; and I expect the Supreme Court to speak with a strong voice during his tenure."
Beginnings
Wagner was born in Montreal in 1957 to Claude Wagner and the former Gisèle Normandeau. He learned about justice and the law — and public service — at his father's knee, and family became important to him from a young age, he has said. His grandfather died in 1957 (the year of Wagner's birth) and his grandmother came to live with them then, giving him "two mothers," of whom his grandmother outlived his mother.
"His father had a busy schedule and died early in his life [Richard Wagner was just 22 when his father died in 1979], so I think it was very positive for him to have his mother, grandmother and later wife in his life," says the chief justice's son, Charles Wagner, who is now an associate in labour and employment law at Fasken Martineau DuMoulin LLP in Montreal.
The influence of his father was strong. Claude Wagner "was not only a member of the Legislative Assembly, but a parliamentarian," Kasirer says. He was a lawyer, judge, Liberal justice minister of Quebec and federal Progressive Conservative MP who, in addition to being very prominent in public life in Quebec, had an interest in issues across the country.
"His devotion to his father says a lot about who he is," says Sophie Bourque, a justice of the Quebec Superior Court in Montreal, who sat on that bench with Wagner from 2005 to 2011.
"His father was a politician, which is all about being at the service of the community," she says. "Because of his family environment and because of his father, he has a very deep understanding of public service. And for him, justice is all about public service."
Wagner was educated by Jesuits at the Collège Jean-de-Brébeuf in Montreal, which counts prime ministers Pierre Trudeau and Justin Trudeau among its alumni, as well as Quebec premiers Robert Bourassa and Pierre-Marc Johnson. He later graduated cum laude from the University of Ottawa with two degrees: a Bachelor of Social Sciences degree in 1978 and a Licentiate in Laws degree in 1979.
From private practice to the bench
After being called to the Quebec bar in 1980, Wagner joined the law firm of Lavery, de Billy in Montreal, where his practice focused largely on professional liability and on commercial litigation related to real estate, oppression remedies and class actions.
His first appearance before the Supreme Court was in 1983; Wagner was then 26 years old and has described himself as "very nervous."
"In those days," he says, "for lead cases, the lawyers had to present motions in the Supreme Court before three judges," and the high court heard just one appeal per day. "It was quite an experience; I loved it."
Raymond Doray, who is head of the information law practice for Lavery Lawyers in Montreal, describes his former partner of 18 years as not only a skilled lawyer and litigator but very versatile. "He could argue almost anything easily, could just read a file and go to court, even if it was not an area of law he was familiar with," says Doray, whose office was adjacent to Wagner's. "He was always well prepared; the kind of guy who was at the office at 4:35 in the morning."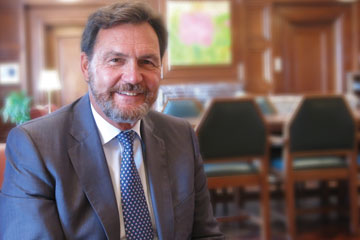 Wagner was very efficient in court, Doray notes, and made short arguments. "He's very clear and very direct, which is not that frequent for lawyers sometimes; they want to give details, there's a preliminary comment. That's not Richard; he would go right to the point."
Bourque, who tries criminal cases on the bench of the Quebec Superior Court of Justice, likewise saw her old colleague as efficient and versatile, as well as curious. With a background largely in civil litigation, Wagner didn't have to agree to sit in the criminal chambers of the Quebec Superior Court, Bourque says. "But he made a choice to sit in the criminal chamber, to sit on murder-jury trials. He was curious abut that, interested in that and did it with his full capacity."
Kasirer sees intellectual curiosity as one of Wagner's qualities that is relevant to his mandate as chief justice of Canada.
"He was a commercial lawyer, doing commercial litigation [and he] was immensely respected in his office and in the practice of law," says Kasirer. It would have been easy for Wagner to content himself with the largest corner office and becoming managing partner of his firm, he adds, but he decided to become a trial judge.
"Quite early in the going he opted to do criminal trials, and in particular trials with juries," Kasirer says. "This is something he had had no particular training for in his practice. He committed an incredible amount of work to it, and very quickly, especially on jury trials, found his vocation as a judge."
That intellectual curiosity and interest that brought him to criminal law as a judge "bodes well for the work of the Supreme Court," he adds.
As a sitting judge in the Quebec Superior Court's criminal chamber, Wagner was not only keen to learn and to understand the criminal evidence but also to understand the "why," says Bourque. "My feeling was when he analyzed an issue, he was always coming back to equity. Justice has to be done. Fairness." Wagner was not so much attached to a strict interpretation of the rules, she says, as he was to what was underlying those rules — namely, the principle of fairness.
During his years in private practice, Wagner also became a prominent leader of the bar. A member of the Canadian Bar Association from 1980 until his appointment to the bench in 2004, he sat on several committees of the Bar of Montréal and the Barreau du Québec. Elected in 1998 to the council of the Bar of Montréal — one of the largest bar associations in the world and the second largest French-speaking barreau — he chaired its ad hoc committee on Quebec law libraries, and in 2001-2002, he served as its bâtonnier or head.
Wagner transformed the Montreal bar in two ways, says Kasirer; first, as a driving force behind the creation of the Centre d'accès à l'information juridique, formed in 2002 while Wagner was bâtonnier, which brought Quebec's court libraries into the modern era by enabling lawyers and judges to access all types of legal information electronically, including remotely, through the centres.
The courthouse in Montreal had an ancient library, beautiful and rich, but it was a passive tool that sat up on the 17th floor, says Kasirer. Wagner saw the advent of technology and the importance of legal information being fully accessible online, across the province, Kasirer adds. "Not only would every lawyer and their client be better served, but it would help the whole judicial system . . . This to me was a sign of his commitment to access to justice."
Second, he says, during his year as bâtonnier, Wagner embarked on "a listening tour," visiting law firms large and small. "He sat down with the lawyers, and just let them talk. He took notes [and engaged in] active listening . . . that was kind of his trademark as a leader.
"If you transpose that to his role as chief justice, one expects that he's not going to be a chief justice who . . . has a top-down approach. He's listening; and he's already going across the country, including to regions he may not have known as well."
Access to justice and the courts
As chief justice of Canada, Wagner has prioritized and advocated for a more accessible and transparent court and judicial system. In a speech he gave to the seventh Annual Pro Bono Conference in Vancouver in early October, he commented on the ongoing barriers to access to justice including financial constraints on litigants, a lack of knowledge of the law and of what tools and services are available and, perhaps, a lack of confidence that the system will come to a just result.
"Even today, the main challenge [to the judicial system in Canada] is the access to justice," the chief justice tells Canadian Lawyer.
People may be surprised to learn that 30 to 35 per cent of cases filed to the Supreme Court of Canada are filed by self-
represented applicants, he says. "You will find that many of these applicants have the money to hire a lawyer, but they don't trust the function anymore. To me, that's very troublesome. The judicial system, and its stakeholders, must be able to convince people to have faith in the system. We must explain who we are and why we do what we do."
Two of Wagner's initiatives since assuming the office of chief justice in December have been to release synopses of Supreme Court judgments written in lay language or "Cases in Brief" on the court's website, and, more recently, audio recordings of the court's hearings, in addition to the televised live proceedings of the hearings on the site. The Supreme Court also has active Twitter and Facebook accounts and, in February 2019, it will issue its first annual report.
So far, Wagner says, the response to the Cases in Brief has been very positive and, although initially designed for members of the public without a great understanding of the law, they have also proven popular with members of the legal profession.
All of these initiatives are commendable to Iacobucci, a former chairman of the Supreme Court's media committee, who believes that Canada's was the first high court in the world to have televised hearings. Its purpose was to make the administration of justice more accessible, he says, adding that he will never forget a letter the Supreme Court received from a farmer from north Saskatchewan who wrote to say he had always wanted to be a lawyer but had had to work the land for his family to survive. Watching the televised Supreme Court hearings, the farmer wrote to express his gratitude for being able "to look at the civility of the court" and gain a greater insight into how courts and the law worked and the administration of justice was carried out.
"You don't need many letters like that to convince" one of the value of a more open court, Iacobucci says.
And reminiscent of his "listening tour" when he was bâtonnier of the Montreal bar, Wagner announced in June that the Supreme Court will visit a different city in Canada each year to hold its annual retreat, which will include meeting with the local judiciary, law faculty and students, as well as representatives of Indigenous peoples. In September 2019, that will city will be Winnipeg — and the Supreme Court justices may even sit with local judges.
"It's part of my idea that the court should be more open and accessible. It's one week to go to their place and give them the chance to look at what we do and how we do it," Wagner says, adding that he hopes the Supreme Court bench "will hear one or two cases in other parts of the country." The United Kingdom's Supreme Court has begun to sit in other cities, namely Edinburgh and Belfast, he notes, as has the Court of Appeal of Quebec and in British Columbia.
Access to justice also means more investment in the justice system, and the Supreme Court's decision in R. v. Jordan in 2016, which outlined timeframes for hearings in criminal cases, sent "a very strong message to governments, to invest in justice systems, and they did," Wagner says, adding, "It's a work in progress."
With his appointment to the office of chief justice of Canada, Wagner also became head of the Canadian Judicial Council, and he anticipates turning his attention to the reform of judicial conduct matters as well. He also told his nominating committee that he supports hearings for judges to federally appointed courts.
Representing Canadian judiciary at home and abroad, the chief justice of Canada presides not only over its Supreme Court but over the Canadian Judicial Council (comprising 39 chief justices and associate chief justices of Canada's superior courts, the senior judges of the territorial courts and the chief justice of the Court Martial Appeal Court of Canada), the Order of Canada and the National Judicial Institute (the educational body in Canada for federally appointed judges).
All these tasks are added to the existing duties as a judge, and the Supreme Court's docket for the fall includes a trilogy of standard-of-review cases in December.
Protocol responsibilities include receiving visiting judges and representing Canada in the world. Within the past six months, there have been regular meetings with foreign delegations and with the United States every three years. And that suits Wagner, who sees Canada as a standard bearer for the rule of law.
"Our judicial system is looked [up to] by many countries, and we should not undermine this advantage," he says. "We're the only Supreme Court in the world that is bilingual and bijural; we have a Charter of Rights," which is not found very often internationally, he says. "That's why many other Supreme Courts in the world will look at us and our jurisprudence" for guidance.
Here and now
Not surprisingly, Canada's new chief justice describes his current schedule as "very busy," although with new tasks that are challenging and interesting, he says. Those who know him well say he is a hard worker who has a zest for living as well.
Charles Wagner describes his father as a man who has worked very hard in his life but who relishes time with his family, whose support has helped him achieve his success. "My father was — and still is — supported by his close relatives," he says.
And his father imbued a love of the law in both his children: Wagner's daughter, Catherine, also trained as a lawyer and is currently in charge of client development for the Centre d'accès à l'information juridique, which her father helped to found. Wagner's spouse, Catherine Mandeville, is also a jurist, a Quebec Superior Court justice currently sitting in Gatineau.
Whenever the chief justice is in Montreal or nearby, says Wagner's son, "he visits us and his grandchildren [Juliette, age six, Charlotte, age four and Charles's daughter Agathe, six months]." Those visits are important to his children and grandchildren and "very important to him," says Charles. (Wagner himself describes with pleasure his first game of golf with his eldest grandchild the previous day: "She was better than me in the sand trap!" he jokes.)
"I find that it grounds him a little and brings him back to . . . the family and to the core values."
Those values include what Wagner learned from his own father. "My grandfather [Claude Wagner] was really rigorous as well," Charles says, and "really respectful toward everyone," which Wagner imparted to his own children.
"I learned from him that you have to respect everyone," Charles says: clients, judges, other lawyers, court staff, "everyone. And you'll be respected as well. That's the good value I learned from my father."
That's also in line with how former colleagues describe the chief justice: charming, accessible, generous and "very frank and transparent," according to Doray, who describes Wagner's visit to his old law firm offices several months ago, where he met with the young lawyers.
"They were so excited," says Doray, "because it was [shortly] after being appointed chief justice of Canada, and he met the young lawyers without anyone else attending — partners or older lawyers. He just wanted to meet with them and chat with them. They posed questions, and he was answering" all of them.
Wagner has "very, very good interpersonal skills," Bourque says. "He can have a conversation with anybody; he makes people comfortable." And despite his success, she says, "he's remained the same. I've known him for the past 13 years, and my relationship with Richard has not changed; he remains true to himself."
Doray also remembers his former partner as enjoying life and reminisces about sitting with Wagner in one of their offices late in the day, enjoying a glass of wine and discussing travel or food. At the same time, he says, "His career was very successful, he was working hard, but he never showed his peers that he was tired or working too much."
Kasirer describes his former bench mate as one of the hardest-working people he has ever met. On the Court of Appeal, he and Wagner "had come from different worlds." Wagner came from a private commercial law practice and Kasirer from McGill, where he had been dean of law and a law professor for many years.
"The two of us would be [at the court] late at night and found ourselves working together, with different backgrounds, but which was a great advantage to both of us," Kasirer says. "He was exceptionally generous to me."
As for how Wagner himself would like to be remembered years from now, "I would hope that people will remember that I wanted the Supreme Court to be more accessible, more open," he says. "Our democracy depends on the level of trust that people have in the judicial system."