Lilac Bosma of HSBC Canada on the bank's post-pandemic plans and diversity and inclusion strategy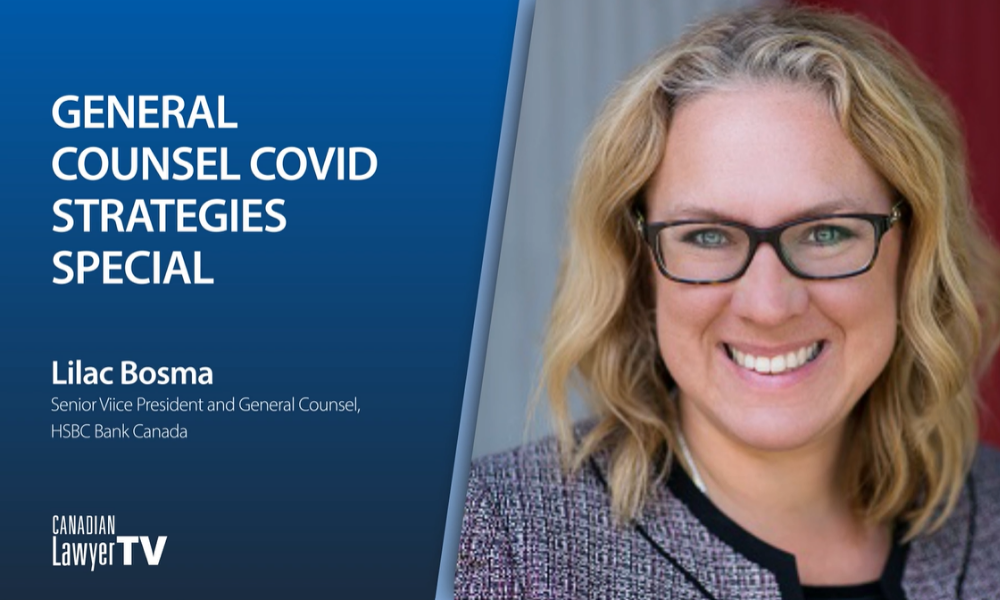 Preparing for employees' return to their physical workplaces or guiding their transition to a hybrid working environment is a major element of post-pandemic planning for many organizations. In most cases, legal departments take the lead in formulating policies that are effective not only for employees but also for customers, the community and other stakeholders.
Lilac Bosma, senior vice president and general counsel at HSBC Canada spoke during Canadian Lawyer's 2021 General Counsel Roundtable about the shift to more remote work and the decreased presence of employees in the office which pose challenges for lawyers and legal departments.
"I think one of the most important challenges that we have to be thinking about is how to train more junior lawyers. I think lawyers tend to rely heavily on working together in person and just trusting that their juniors will learn by osmosis and just by watching and listening to more senior lawyers. That's going to be a challenge in the remote work environment, and so we need to be very intentional about how we're going to bring more junior lawyers along," she said.
For HSBC Canada's staff, being part of a large global organization has provided good training in remote work through an established infrastructure that enables meetings across different time zones. This is a learning experience that makes the shift to a well-organized hybrid working arrangement easier, Bosma said. She also cited the importance of virtual social events and team-building activities to maintain work relationships similar to those that employees have in the office.
Another focus of HSBC Canada's legal department is striving for diversity and inclusion across the organization.
"I think in the past, the focus has largely been on female representation and making sure that we have [a greater number of women] in the legal profession. Now, we can see that it's a much broader conversation," she said.
"It's important to keep on doing leadership development programs that help remove barriers for people who are underrepresented in leadership and in the legal department. That's the internal work that we can do. I think it's also really important to challenge the external firms that I work with, with respect to their records on diversity and inclusion," Bosma said.
She cited the benefits of reverse mentoring – the process in which a person from a traditionally privileged situation learns from someone from an underrepresented sector of society. Having participated in reverse mentoring, Bosma said that such sessions build empathy, understanding and open communication, which enable teams to develop authenticity.