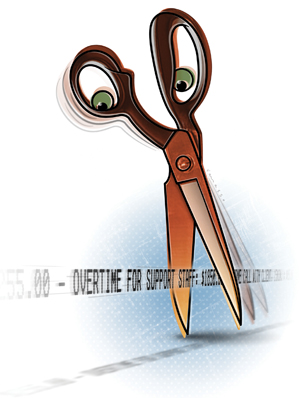 Five years ago, the legal department at Lufthansa German Airlines started using Legalbill, a software-based audit and compliance service. Legalbill helps companies monitor — and control — legal spending.
Why did Lufthansa do it? "Reduction of expenditures for outside legal counsel was the number one reason," says Arthur Molins, general counsel for Lufthansa in North America. He cites other reasons, but all relate indirectly to cost reductions.

And Legalbill delivered. The airline has cut outside legal spending in North America by about 15 per cent, says Molins.

Lufthansa, which has operated in Canada for decades, uses two Canadian firms: Blake Cassels & Graydon LLP and Bersenas Jacobsen Chouest Thomson Blackburn LLP. Both made the transition to the new regime without major problems.

But the growing use of automated legal-auditing services raises interesting questions, which we've touched on recently in other contexts, about the seemingly negative role technology can sometimes play for law firms.

Yes, computer and online technology makes lawyers more productive in hundreds of ways. Yes, practising without BlackBerry, laptop, Internet, computerized billing, word processing, practice-management software, and the rest would be inconceivable now. But as we saw in recent stories about Fired Without Cause, an online direct-to-consumer wrongful dismissal case preparation service, and Corporate Responsibility System Technologies Ltd. (CRSTL), a company that automates routine legal tasks related to regulatory compliance, the impact of technology on law firms is not always or entirely benign. It sometimes challenges traditional modes of practice and threatens revenues.

Lufthansa's Molins and Legalbill managing partner and co-founder Stephen French both say more rigorous auditing of legal bills and resulting reductions were inevitable. "Legal practice, globally, has become very, very expensive," Molins says. "This is just a corporate reaction."

Legalbill and services like it first help clients establish guidelines on how outside counsel can bill for services — rates, activity codes, etc. — and then audit bills to ensure guidelines are met. It was inevitable too that such services emerged. Corporate legal departments have long been frustrated by the vagaries of law firm billing. French knew this from working as general counsel at Wall Street firms in New York.

Lawyers often keep sketchy notes on how they spend time, or they rely on memory to compile reports days or weeks later. For those and other reasons, they typically don't describe activities accurately enough or with sufficient detail. "If your job is oversight of your legal spend, how can you determine what is time appropriately spent if you don't have detailed, accurate reporting of that time?" says French.

Most Legalbill clients establish guidelines that require lawyers to report in increments of as little as tenths of an hour and describe activities with significantly more detail than was their custom. 'Phone call with client, 15
minutes' becomes 'Phone call with client re: dismissal of motion, Jones v. Smith, 12 minutes.'

They may also establish rosters of professionals approved to work on each matter or type of matter, and impose limits on the number of lawyers who can bill for the same activity in the same period. Molins calls this the "too-many-partners-in-a-room" provision.

Firms sometimes pack meetings with legal talent in an honest attempt to provide optimal service. But inevitably only a few make substantive contributions. "If there are three or four partners and three associates in the room and all seven are billing, that's just not appropriate," says Molins. So Lufthansa's guidelines place limits on it.

They also prohibit some types of expenses and disbursements — overtime for support staff, for example, and meals out and limousine rides home for lawyers working late.

Legalbill uses its software to review bills against client guidelines and kick out instances of non-compliance — if a firm bills for a non-approved lawyer or disallowed expenses, or applies the wrong hourly rate, or simply doesn't add the bill up correctly. It won't pay non-compliant items. And while there are procedures — fair and equitable, says French — for law firms to appeal such decisions, 98 per cent of Legalbill adjustments stand.

The software, at the same time, compiles statistics and reports about how each customer spends on legal services, and how the entire customer base spends. Companies use intelligence about their own spend for budgeting and strategic planning. It can result in significant savings, says French. Molins' group, for example, spotted a trend to more litigation over damaged cargo and alerted Lufthansa customer service, which took remedial action. The result: reduced legal spending down the road.

The data on spending across the entire customer base, updated daily, produces benchmarks for fees and time spent on activities — the average hourly rate for a litigation lawyer in San Francisco with 15 years' experience, for example.

Legalbill also offers peer review. "The software, as sophisticated as it is, cannot read a bill experientially," admits French. So the company has 300 lawyers on call, with an average 25 years' experience each. They look at bills from lawyers practising in their own fields and say, yes, this is reasonable, or no, this isn't.

It's not that clients distrust outside counsel, stresses French. "It's not about a witch hunt to punish lawyers." But the way firms charge — for every minute of every lawyer and paralegal's time — means clients bear all the risk in the relationship. "And when there is no risk component [for the law firm], that lends itself to people not being as concerned about accuracy and efficiency."

Law firms faced with a client who decides to use Legalbill, aren't necessarily happy about it. Some, Molins admits, "are quite frankly irritated at first. 'How could you take this away? Haven't we always done a good job for you?' But airlines have to be very responsible financially."

Most ultimately learn the new procedures and standards and accept them gracefully. Lufthansa did part ways with one firm in the United States "by mutual accord" after the firm, as Molins puts it, repeatedly got "a bit of a haircut" on its bills thanks to Legalbill.

It usually takes about two years for everything to settle down, by which time contention virtually disappears, claims French. "[Law firms] may not love us," he says. "But they trust us to be fair and reasonable and rational." Molins says the same. His post-Legalbill relationships with outside counsel are fine. "No one is mad at me," he says. "No one wants to stop working for Lufthansa."

Sure. But that doesn't mean anyone likes it. It just means law firms are smart enough to realize that reduced revenues — thanks, again, to technology — are better than no revenues.

Gerry Blackwell is a freelance technology writer based in London, Ont. Read his blog at http://afterbyte.blogspot.com.