Investing in tech has traditionally been a big challenge for small law firms, but new, low-cost solutions may be about to change that.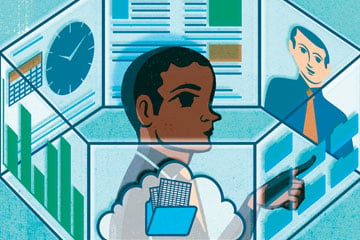 Investing in tech has traditionally been a big challenge for small law firms, but new, low-cost solutions may be about to change that.
David Mills rattles off a list of software his firm uses in its five practice areas, at least one for each, plus overall office management software, and then there's the bevvy of other tech tools out there, some of which his Toronto law firm Mills and Mills LLP has tried. And he's not happy. Frustrated is more like it.
With a complement of 20 lawyers, plus staff, his firm is no longer considered small. And hovering in that in-between stage can be like that young teenager for whom childhood accessories are no longer appropriate but those made for the full-on adult are financially out of reach.
"And then, in addition to that, you have to think about the overall and what does everybody need," Mills says, pointing to the basic software such as Outlook, Word, Excel and more specialized tools for docketing, accounting and file management. "Broadly speaking, you've got all of those areas, and in each of them there's no shortage of options companies are trying to sell you."
His firm did a major software rollout for a file management and docketing system, but it concludes that it wasn't well managed and it just didn't attract the desired buy-in within the firm, says Mills. After 18 months, the firm gave up on it and went back to the drawing board. When the firm thought it had found adequate replacement and was on the verge of implementing it, Mills recognized some warning signs and pulled the plug.
"We're still looking to get the right case management software. The challenge is there seems to be a number of options out there that are designed for smaller and mid-sized firms and solo firms that we seem to be pushing the edge for, [but] we're too big for some of them," he says. "If you're looking at the smaller companies, you're looking at spending maybe $70,000 or maybe $80,000 instead of $250,000, but we've had trouble making those ones really work for us. It's a real challenge. We bang our head up against the wall saying: 'There has to be the right thing out there that just works the way it's supposed to.' And, of course, every company that has software tells you that they have it. But that hasn't been our experience yet."
It would be much simpler, he adds, if the firm was new and starting from scratch, but the old files need to be included in the new system and be accessible and searchable in a safe way just like the new files and that seems to be where the new products falter.
So, until Mills is 100-per-cent confident that he's found the right tool and it has been tested extensively, he isn't prepared to hit the switch.
On the other end of the spectrum is Rosen Sunshine LLP, a boutique firm with three lawyers and an office manager where partner Elyse Sunshine looks to balance technology with the firm's lean operations. Through the use of tools such as time-keeping, accounting and dictation-type services, the lawyers can keep their support needs at a minimum. The days of an assistant for every lawyer are gone, says Sunshine.
But being a small firm means that some of the tech tools Sunshine would like to have remain out of reach.
"We want technology to help us become more efficient and help provide better services to our clients, and also, from a practical perspective, keep our internal costs as low as possible," says Sunshine. "The one thing for a small firm that can be a bit challenging that bigger firms can access more easily is things like document management systems" or more sophisticated programs such as those that allow lawyers to scan in transcripts. But they're expensive, she says, so the firm doesn't use them.
Sunshine sees the tech evolution of law continuing, however. The cloud, for instance, has become more commonly used in the six years since Rosen Sunshine launched and opted to go with servers and a VPN network to allow remote connection instead.
Indeed, the evolution continues. The old and existing tools don't always operate seamlessly with other tools to meet all of the needs of today's law firm. And there is now an increased reliance upon cloud-based computing and software-as-a-service that can be accessed from any device and anywhere, providing there is internet connection, through a subscription service, eliminating upfront costs.
Cloud computing also allows subscription services to be scalable. Through a pay-per-use approach, users can be added or removed from the service. Alan Bass, president of Toronto-based Korbitec Inc., which provides tools for law firms, says that removes the upfront fees and makes it more affordable to adopt. That approach, which includes training and support, allows his document assembly service to be used by firms large and small.
In the legal sphere, he adds, he is seeing a lot of new applications providing these cloud-based services aimed at small law.
"The small firms are not at a disadvantage because it's a pay-per-use. So there's no upfront, big, capital investment that's needed, nor is there a large footprint where you need an IT staff to implement. We also do all the training and support," he says. "I think the big message is that it does take the commitment of time to learn what is out there to use it" and that applies to those working in both big and small firms.
The other benefit is that a lot of the cloud-based practice management software connects with the various storage providers, observes Allan Oziel, business and technology lawyer at Oziel Law in Toronto. That leaves everything organized and in the cloud allowing the lawyer to open new matters, track them, connect to contacts, manage the calendar and tasks as well as the tickler or reminder system and manage trust accounting.
"You really have to test out the tools in your practice to see if [they're] something that you and your staff are comfortable using and if it creates a benefit or efficiency in your practice," he says. "I've incorporated a number of tools that I find useful, including video conferencing tools, remote desktop tools [and] we also use a cloud-based phone system."
But, he agrees that it's all still pretty piecemeal. Everything needs to fit together like a puzzle and sometimes one tool may not fit in so smoothly with another.
"Whoever's responsible for the technology stack has to really put together a plan and ensure the selected technology plays nicely together and works correctly when it's all integrated. I think that is difficult for small law right now. If you don't have that inherent knowledge of technology, then it may be difficult to put together that nice set of tools that work nicely together," says Oziel. "There's the potential for improvement [for] a solution that ties all the requirements together into one nice package."
Legal consultant Mitch Kowalski is convinced that it is on its way. With what's available now, it's imperative for the small practitioner to understand and adopt technology and key into the tools that are going to make them more efficient but still allow them to be hyper cost conscious. That requires them to be more tech savvy and tune into finding what's out there that works for them while balancing the efficiencies.
But when that law-firm-in-a-box hits the market, he sees it as a plug-in-and work system that will further alter the law practice model.
"Right now, I don't think there's any one product that will do everything. There are products that will do a bunch of stuff and will then have to integrate with other things. Eventually, that's where the market is going to have to go," says Kowalski, author of Avoiding Extinction: Reimagining Legal Services for the 21st Century.
Going to one vendor for one application that will do everything that a law firm requires is still five or 10 years off, he figures. But he sees the market starting to consolidate and driving toward that idea. And he sees the whole thing rolling into the cloud, where he says a shockingly low portion of the profession is working.
"What's interesting to see is whether or not there will be a franchising approach across the law firm practice across Canada or Ontario where lawyers will simply plug into an existing system and not have to worry about all this stuff. It would just be: 'Here's your platform and we'll throw in maybe an accounting portion to that and we'll have a back office.' I think that's something we'll eventually see," says Kowalski. "The stumbling block right now is lawyer ownership and where money comes from to fund this thing."
Neil Mangan and his partner, Jeremy Hessing-Lewis, are already moving toward a similar concept with their Vancouver-based Small Law Corporations, but with a twist.
"What we're trying to do is operate a lightweight, customer/client-focused law firm which uses technology to allow us to deliver cost-effective, unbundled services and, in doing so, actually increase the amount of direct contact we have with clients, and so clients are experiencing this approach," Mangan says. "We're often trying to find other lawyers who share similar values.
"There's a few of us out there that are kind of just pioneering and finding ways to make this work while also working within our somewhat archaic regulatory requirements."
So, instead of having a bunch of "franchised" general practitioners in various geographic regions, Small Law Corp. is networking individual or small firms by practice areas. By operating on the same values and principals, it can refer to the lawyers within its group for their various expertise.
The legal tech tools introduced this past year are helping to make those goals a reality. Mangan points to Microsoft's new Canadian data centre, allowing for data to be stored in Canada — a requirement for certain legal work.
The increased automation has already changed client expectations, he says.
"It's [technology] going to change the entire model of how it's done."
Small law tech spending

A 2016 survey by the International Legal Technology Association found that small firms were increasing their technology spend and moving to cloud-based services.

Here are some other findings:
• Top five purchases in 2016 include: desktop hardware/PCs (61 per cent); laptops/notebooks (59 per cent); network upgrades/servers (53 per cent); printers/multifunctional devices (44 per cent); and antivirus/antispam/spyware software (44 per cent).

• New to the 2016 master list of purchases: security awareness training services, software and content (27 per cent); security monitoring services for the network (27 per cent); and artificial intelligence technology (three per cent).

• Seventeen per cent of survey respondents purchased analytics software within the last 12 months, an 11-per-cent increase over 2015.

• Firms' top IT challenges include security management (67 per cent), user adoption/lack of training (42 per cent), risk management/compliance (40 per cent) and email management (39 per cent).

From ILTA/InsideLegal Technology
Purchasing Survey