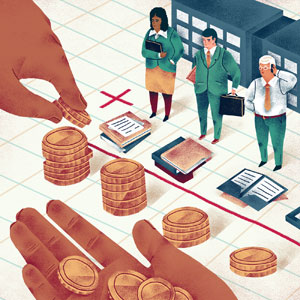 Ways to charge clients beyond the traditional hourly billing approach have become part of the continuing evolution of how law firms manage their operations. Many of these alternatives, however, see the risk shift from the client to the firm — somewhat terra incognita still for many. A growing trend to ensure law firms continue to maintain a profit in this new environment is to have a pricing officer on board.

"If you go back about five years you'd be hard pressed to find a pricing officer in a U.S. law firm," says Jordan Furlong, legal industry analyst and principal with global consultancy Edge International who blogs at Law21.ca. They are quickly becoming the norm south of the border, particularly for larger firms, he notes. "It is not just the use of pricing officers that is new, so is the concept of pricing."

For Furlong, a strong advocate for lawyers to focus on pricing, not just billing, having someone designated to the role familiar with a firm's internal mechanisms and workflow and able to combine them with costs, margins, and the bottom line makes sense. Beyond flat-rate packages for legal work such as wills or house closings, lawyers have been reluctant to provide fee quotes to clients. An hourly rate, he argues, is not a price.

A pricing officer is someone designated to cost out the project, determining what resources are required and what level of expertise is needed while ensuring profitability for the firm. Using this approach the firm can provide the client with an idea of the total cost for which they can budget. "At the end of the day, the price of your product or service is one of the things that goes into the purchasing decision," says Furlong. "It's from pressure from the clients wanting something more predictable."

With organizations searching for ways to do more with less, loosey-goosey budgets from corporate legal departments are no longer acceptable to most businesses. Clients are demanding a degree of predictability for their legal costs as well as transparency. Fixed fees, or at least predictable fees, are what businesses need to base their decisions about legal service providers on. But pricing continues to be difficult for firms to nail down, for a variety of reasons. Not the least of which is that traditionally a price, or at least an arrangement, evolved through the relationship between individual lawyers and clients.

One of the problems with that approach is most lawyers in the firm will not have a firm grasp on what will lead to a profitable engagement. It's those variations and calculations that a pricing officer will use as well as all the risks the firm faces. "I don't see a firm with 10 partners bringing in a pricing officer, but I think firms of any size need to have a pricing mechanism," says Furlong.

John Strange traces the origins of the role of pricing officer to the Great Recession of 2008 and 2009. Strange, the Houston, Texas-based director of pricing and project management at Baker Botts LLP, says it was a challenging time for law firms that had previously been able to simply increase prices by six to eight per cent every year. Not only did that come to an abrupt end as a result of the recession, but clients began to call the shots, making their own demands.

The executive management of large corporations started looking at legal departments closely and identified it as an area where they could squeeze savings. That led to rate freeze notices and an examination of how legal work was sourced, exploring alternatives such as bringing work in-house, using non-traditional providers, as well as outsourcing work. "Law firms felt the pinch in a new way," says Strange.

And it was something of a logical course, given other professions such as engineering, architecture, and accounting were already having similar experiences. A focus on pricing rates and fee arrangements evolved through resources already within the firms, notably through finance, operational, and marketing roles. Strange estimates that within four years, the largest law firms in the United States had all installed pricing officers while mid-sized firms had adopted the approach using other synergies, including practice management and project management.

A survey last summer by ALM Legal Intelligence, "Pricing Professionals: Essential to Law Firms, An Ally to Clients," found 76 per cent of large U.S. law firms employ a pricing officer within the firm. Of those, 38 per cent had someone dedicated to the role, and they cited the need for help with establishing alternative fee arrangements, the cost pressure from clients, and the need for a better understanding of return on investment for client matters as reasons for implementing a pricing officer.

Richard Stock, a Vancouver-based legal consultant, says the economics of a law firm are complex and not as well understood as they should be. All the partners are not necessarily exposed to all aspects of how the firm is run and what goes into the bottom line. And not all are particularly interested.


THREE STAGES
Stuart Dodds, author of Smarter Pricing, Smarter Profit, suggests the use of a pricing officer be approached in three stages. Some firms may want to adopt just the first tier while larger firms may decide to implement all three stages:

1. An internal analyst implementing pricing controls;
2. Introduce change management which includes coaching partners; and,
3. Become involved in client facing negotiations.

Meanwhile larger clients such as banks, utilities, governments, and big corporations are looking for leaner approaches including delegating some tasks to non-lawyers and distributing work to lower-cost centres. Often, it is even more important for them to have a degree of predictability, which could be an aspect of the service for which they'd pay a premium. "It's really important to both be fair and cost effective," says Stock. "We're increasingly finding as clients are becoming more sophisticated in their demands . . . many firms have a body of knowledge on this but not all partners know it."

A pricing expert within the law firm makes the job of negotiating for the client easier and works with or holds the dual role of project manager. Stock believes those who use pricing officers effectively will be more successful — particularly when moving off the clock to alternative billing arrangements.

What makes a good pricing officer is a solid understanding of alternative fee arrangements, how a law firm works, having a comfort level with spreadsheets, and an understanding of law firm profitability. That includes knowing when to use a lawyer with just a few years of experience instead of a more senior one or a paralegal versus a first-year associate and substantively understanding what different levels of experts can do. "You've got to understand the range of expertise, because that range of expertise is price," says Stock.

Stuart Dodds, the director of global pricing and legal project management at Baker & McKenzie LLP in Chicago, suggests considering approaching the use of a pricing officer in three consecutive steps. Smaller firms may want to apply just the primary approach while larger firms with additional resources could look at implementing all three steps, but he suggests it be done gradually.

The basic approach is having something of an analyst on hand, a dedicated person who puts in controls to ensure consistency in pricing and who reviews and approves agreements, kicking the tires on the proposal. It's more of an internal approach to support the process but Dodds believes such a role offers a great deal of value.

The second stage of a pricing officer is that of change agent — integral in the overall scheme of applying the principles of pricing to a firm. In this approach the pricing officer engages more with the firm's practice groups and is involved in coaching partners.

The third level sees the pricing officer become involved in client meetings, which could include being involved in negotiations and RFPs. This is where the role of pricing agent and legal project management could intersect. Good communication and behavioural management is key in a good pricing officer because of the change management aspects involve, says Dodds. Other important attributes include knowing what investments are necessary, strong analytical skills, intellectual curiosity, and being comfortable with technology. A handful of legal pricing officers in North America have also achieved a certificate of professional pricing with the Professional Pricing Society.

"Don't try to do too much too soon," suggests Dodds. "You could see it as being a very incremental process" because so much of it revolves around behavioural change.

Strange sees the role of the pricing officer continuing to evolve, possibly even rising to a c-suite position in the firm. Definitely, he says, "it's here to stay" as long as clients want to control costs and add predictability. The importance of the role will be underscored by internal pressures to recruit the top talent supported by decent financial incentives and external pressures on rates and fees.

"You really have to be one of those firms that are in the position to compete for talent and compete for clients," says Strange. "It's not about making tons more money, but how to provide better value to our clients and still do reasonably well."