Alarm bells have been going off for years now, warning litigators they need to get up to speed on e-discovery, and fast.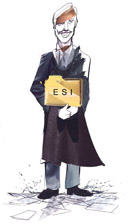 Too many Canadian lawyers, though, still have their heads stuck in the sand. The bell sounded again at the first Canadian Law & Technology Forum hosted by Insight Information in Toronto in November. The clear message: learn the ropes now before your first or next case involving electronically stored information (ESI).
Two experienced e-litigators, D. Lynne Watt, a partner in the advocacy group at Gowling Lafleur Henderson LLP in Ottawa, and David Outerbridge, counsel in the litigation department at Torys LLP in Toronto, argued in a seminal forum session that it's not enough just to be vaguely aware of the issues. "The role of counsel," Watt told attendees, "is to think strategically about e-discovery, about what electronically stored information needs to be produced and how it should be produced."
Not many litigators today approach e-discovery systematically or strategically — "a growing minority," Outerbridge guessed. Most wing it. "It's only really when you've gone through the crucible a few times [with cases involving ESI] that you come to appreciate the issues and start to take a more strategic approach," Watt said.
Both have been through the crucible. Watt has worked 20 or more cases with ESI, and in four or five, thorny issues arose over what should be produced and how. Outerbridge is the chairman of Torys' e-discovery committee and the e-discovery implementation committee, a joint effort of the Ontario Bar Association and The Advocates' Society. Why do litigators need to think systematically and strategically about e-discovery? And what does it entail? The biggest incentive is minimizing costs.
Under the old rules, any document with a semblance of relevance must be produced. But the volume of documents in cases involving ESI — e-mail, instant messages, spreadsheets, databases, word processing, voice mail, etc. — is typically orders of magnitude larger than in paper-only cases. And that means the cost to produce can be astronomical. "What we're going to be seeing is the pendulum easing back, [with the courts] trying to find some kind of middle ground where you can comply with your discovery obligations under the rules but also not bankrupt the litigants," said Watt.
Indeed, litigators must now take into account the new principle of proportionality, soon to be referenced in the Rules of Civil Procedure in Ontario. In a nutshell: taking into account the value of the claim, the importance and complexity of the issues involved, and other factors, does the possible relevance of a document warrant the burden of cost and delay that producing it would impose? "This is really the new frontier," said Watt. "This is where the case law will develop over the next few years as courts and parties struggle with the kind of incredibly complicated issues [that are likely to arise]."