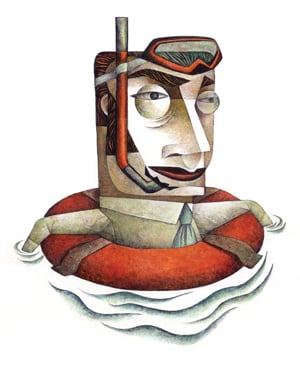 When Pascale Daigneault married her law partner Carl Fleck 20 years ago, the couple left its two-lawyer southwestern Ontario personal injury practice to go off on a honeymoon. It didn't occur to them at the time that this would be their last real holiday for many years. "It can be quite time consuming to look after your practice," says Daigneault of Fleck & Daigneault in Point Edward, Ont. She makes it clear that this is something of an understatement by pointing out that you can easily find yourself going into your office six or seven days a week.
It was not until five to seven years later — Daigneault doesn't remember exactly when — that they finally decided to go away on a vineyard tour in connection with a wine business that she ran as a sideline to her law practice. What they realized when they got back was that taking a break actually helped them run their practice more efficiently. "We found that travelling gives you the impetus to leave with a clear desk," says Daigneault. She came back reinvigorated and found she was procrastinating less and getting eight hours of work done in six, rather than spinning it out over a 10-hour period.
Since then the couple began taking regular holidays and can now do so more easily since they have an associate in the firm who can hold the fort while they're away.
It's a common theme for lawyers and law firm managers everywhere — the pressures of their work is such that lawyers badly need vacation time to recharge their batteries, but it is extremely hard for many of them to get away from their busy practices — and even harder to relax and forget about work once they do take a break.
It's a significant mental health issue according to Jean Wallace, a sociology professor at the University of Calgary. She co-authored a 2009 study of 887 law firm lawyers in Alberta that looked at the impact of leisure activities on people in highly stressful work settings. The study found that participating in active and social leisure activities or taking a vacation are important in reducing depression. "Organizations that encourage and support their employees taking vacations, participating in social activities, and taking time for leisure may find they have happier employees and a healthier work environment," state Wallace and her colleague Allan Joudrey.
It's a common-sense observation that would resonate with almost any lawyer or law firm manager. And, at almost any firm with more than a handful of lawyers, provisions are made for partners and associates alike to take annual vacations. Most managers would encourage them to do so. The question is whether they can really get away from the job and relax with a smartphone constantly buzzing on their belts or in their purses and clients or colleagues expecting almost immediate responses.
"Gone are the days when you can go for a one-week vacation and disconnect," says Paul Boniferro, a partner and national leader, practices and people, at McCarthy Tétrault LLP. Interrupting his cottage vacation for a telephone interview, he noted that so much preparation is required to clear your desk before going away that "it's much easier to stay in touch and work during the vacation."
For Toronto criminal lawyer Jacob Jesin, the idea of going away for two weeks without his mobile phone is a complete fantasy. "I have a business to run," he says. "As sole practitioner, I'm doing a lot of things that in a bigger firm I wouldn't have to do. Your mind can be filled with so many other things."
That makes vacations even more necessary, he says. Nevertheless, he adds, "I could never envisage myself going to a remote island somewhere and disappearing for two weeks. Clients' lives are on the line and that's an added pressure. People don't stop getting arrested when you're on vacation and often the phone calls come at three in the morning. It's very challenging in that sense. It never ends."
However, Jesin has been able to relieve the pressure somewhat and find opportunities to get away, albeit with cellphone in hand, thanks to an association that he has formed with two other sole practitioners in the law office of Rotenberg Shidlowski Jesin. "We cover each other's backs when we're away," he says.
Wallace's sociological research found that active or social leisure was more effective in enhancing lawyers' mental health than passive leisure activities that would give people more time to worry about work-related problems. Lauren Temple, an associate with Blake Cassels & Graydon LLP, can see her point. She favours vacations that really take her out of herself and away from all the cares of her commercial real estate practice. One recent trip involved cycling through Vietnam in monsoon season, and before that she did a volunteer stint with Habitat for Humanity helping to build a house in New Orleans after hurricanes Katrina and Rita. "There's not really an opportunity for you to be thinking about what's going on back at the office, otherwise you might fall off your bike into a ditch or hit your thumb with a hammer and end up in some New Orleans emergency room," she says.
Temple says the Habitat for Humanity experience gave her a renewed appreciation of the value of
pro bono
work in her law practice and she finds that active vacations in general "are more restful."
Eric Boehm, a partner at Borden Ladner Gervais LLP, recently found a completely different way to get away from work during his vacation. He attended a weeklong songwriting workshop, which he says "was a bit like a camp for grown-ups." A musician in his spare time, he says he thrived on the intensity, the feeling of community, and the total immersion in an activity that he loves. And the creative activity helped make him a better lawyer, he maintains. "As lawyers, we work, think, and write within many formal creative restraints. Within those constraints, it's still a creative life but structured. Songwriting and singing and playing music takes the same skills in a totally different and freeing direction," he says. "I spend my time drafting outsourcing contracts which are really long, detailed technical contracts. It's easy to follow the same routine, but it doesn't always work for each case. Good stuff can come when you allow your creative reflexes to work."
Furthermore, Boehm says getting away from work to do something he loves concentrates the mind and helps him focus on things that are important at work, rather than getting distracted by water cooler conversations, unnecessary e-mails, and office politics.
At McCarthy Tétrault, Boniferro says the firm has found a way to give partners an extended period of time off that allows them to disconnect completely from work. This takes the form of a sabbatical program, a concept that he maintains is relatively uncommon in the legal marketplace. Lawyers who have been with the firm for seven years altogether, four of them as a partner, can apply to take a two-month sabbatical, which they can combine with vacation time for a total of three months. They can do this every seven years.
But it takes almost a year of preparation. They must come up with a plan for ensuring members of their team can handle their files and deal with any matters that come under their purview while they are away. Once their plan is approved, says Boniferro, "They must start almost immediately informing clients, getting the team ready, and ensuring that certain files are properly transitioned."
When the partners go, they are actively encouraged not to take their cellphones. Some lawyers are nervous that they will lose clients, but the opposite is usually the case, according to Boniferro, because clients' respect for the lawyer increases as they appreciate the strength of his or her team. The program, he says, "has allowed many people to recharge and come back reinvigorated, re-enthused about their practice and the practice of law and the firm."
In small firms, pre-vacation planning is perhaps even more critical, according to Daigneault. You need to inform counsel and clients about when you'll be away and set up protocols for staff on how to handle e-mail and other correspondence — what requires immediate attention and must be forwarded and how to categorize messages so that the lawyer can easily review and respond to the most important items when returning from vacation. Also important in a personal injury litigation practice is ensuring that staff keep track of each client's limitation period and ensure that filing deadlines are met.
This kind of effective management is essential, Daigneault says, "for you to take a holiday and not come back in worse shape than when you left."
Freelance journalist and business writer Kevin Marron can be reached at
[email protected]
.