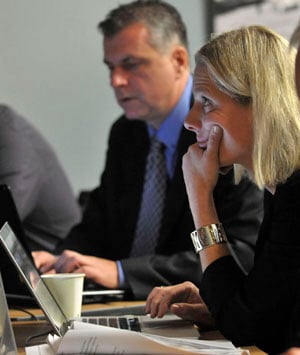 Change — it's not something that happens very often in the legal profession, so this is probably one for the history books.

Current second-year law students will be the first ones to face a new licensing process in 2014 after the Law Society of Upper Canada voted to implement a law practice program for those who are unable to secure articling positions.

At Convocation on Nov. 22, benchers voted 36-20 in favour of the articling task force majority's proposal for an LPP, which will provide an alternative to articling and operate as a pilot project.

This option combines a skills-training component and a co-op work placement for a total of eight months, and will be administered by one or more third-party providers. While not stipulated, the co-ops will likely end up being unpaid for many students.

There was also a revision made to the majority's report to reduce the pilot project to three years from the originally proposed five years.

A second motion brought forward by Bencher Julian Falconer on the licensing process costs was also approved. It stipulates that law society members' fees be increased to help cover the costs of the pilot project, which was a major concern of the task force's minority. The amount of that fee is yet to be decided.

Despite these efforts, Megan Seto, a third-year law student at the University of Ottawa, worries that students will still have to pay more to obtain their licence.

"The majority's motion will mean rising debt for law students, since an un-paid co-op position is not ideal for debt-burdened students," she tells 4Students.

A minority of task force members wanted to replace articling with a two- to three-month comprehensive transitional pre-licensing program that would consist of online learning and exams to assess the core competencies that lawyers need to have.

But few benchers were in favour of abolishing articling. While many expressed their support for articling, they admitted there are problems with the current system.

"We need to stop thinking about articling based on our experience. Today, it's largely a horrible process for many," said Toronto Bencher Clayton Ruby.

The articling process is worsened for those from equity-seeking groups, said Bencher Raj Anand.

Candidates who go through the National Committee on Accreditation are the most racialized group, he said, and since they lack social ties to Ontario, they have the most difficulty finding articling positions.

Toronto lawyer Omar Ha-Redeye wholeheartedly agreed with this sentiment.

"My point — yes, it's largely socioeconomic barriers for articling. I know hundreds who secured positions because of family connections," he tweeted.

While a vigorous debate took place among the benchers, once again there was a flurry of simultaneous online chatting with more than 500 viewers tuning in to the law society's webcast.

Students also expressed their views in the Twitterverse.

One tweeter, identified as HopelessJD, tweeted: "Making law a four-year 1st degree = less debt, no devastating loss if u can't get an articling job."

Jenson Leung agreed, tweeting: "Not even just low income, even middle income law students would have a rough time with debt if doing co-op or no pay."

Among other issues, the benchers also addressed the minority's concern that the LPP will create a two-tier system.

"Although it is two streams, it is not second-class," said Bencher Janet Minor, who is general counsel at the Ministry of the Attorney General. After all, the standards for admission will be the same for everyone, she added.

However, Toronto lawyer and author Mitch Kowalski said it will be up to the profession to decide if this alternative route will create two classes of candidates.

"We can argue whether or not two streams will create two classes — but it will be lawyers who will determine this by their behaviour toward the two streams," he tweeted.

Seto says two tiers are inevitable.

"The majority's motion does not present a meaningful alternative for students because ultimately, it is a second choice to the preferred articling program," she says.

"Articling is paid and the LPP program is cost driven and consists of an unpaid work component. Inherently, by having both programs running simultaneously as opposed to a single pathway, the majority's motion creates the two-tiered system that we heard so much about."

Bencher Adriana Doyle, an Ottawa sole practitioner, argued that two tiers already exist. "We currently have a two-tiered system with those who can and can't find articling," she said.

Catherine McKenna, co-founder and executive director of Canadian Lawyers Abroad, tells 4Students the focus needs to be on establishing an attractive LPP to avoid the potential for two tiers.

"The challenge now going forward is creating a really awesome law practice program so that [it's] not a second-tier option," she says.

The law society "should make sure that they are working with law schools and legal practitioners," says McKenna. "If you're going to make this useful you need to focus on the skills that are necessary for entry-level practice. They should be focusing on areas where there's currently a need for lawyers . . . [i.e.] family law, defence, criminal law, immigration law, and public-interest law."

Toronto Bencher Peter Wardle also says the LPP needs to be "sufficiently attractive" to candidates so it doesn't become second-class. "How can we be satisfied that these [LPP] candidates won't be stigmatized?" he asked.

Along with this change to the licensing process, McKenna says there also needs to be a change within the law schools. She argues that practical learning can and should be incorporated into every course.

But that, of course, is an issue for debate at another time.