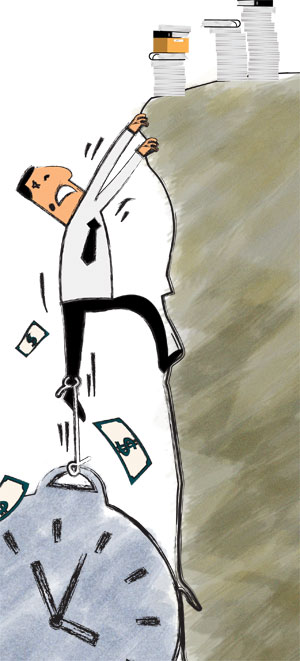 Ellen Pekilis was stuck. As the general counsel of CSA Group, a standards development and testing organization, she and her crew of six employees faced a growing stack of new, complicated legal work — the result of her employer's shift to growth by acquisition. But management was unwilling to add legal staff. Instead, CSA was spending on research labs, test equipment, and other revenue generators.

The law department needed help. "We had this overwhelming mountain of work," says Pekilis, currently executive director of Energy Exchange, a division of Pollution Probe. Recalling her 18 years at CSA, she describes a situation many in-house lawyers would recognize: "You have a limited number of hours. You have to figure out where you're going to invest the time you have."

In-house lawyers aren't the only ones to face a relentless challenge to "do more with less." Businesses across all facets of the Canadian economy use technologies, process-improvement systems, and other tools to boost productivity and reduce costs. Among legal departments, those efforts include building skills to meet new business requirements, strengthening relationships with external counsel, and investigating the most efficient ways to work, all with an eye toward doing more with less — without burning people out.

Skillset shift
Here's what Pekilis and her team at CSA did. The company's new acquisition strategy required the legal department to change its focus. "We had to start building capability in terms of both multiple-jurisdiction acquisitions and post-acquisition integration. It was a whole new skillset," Pekilis says.

She and her team had to move fast. CSA was growing rapidly, acquiring staff and locations in an effort to win a larger share of the test and certification market. Germany, China, U.S.: the lawyers had to stickhandle purchases, help bring employees on board, and ensure the business followed regulations for privacy, intellectual property, and occupational health in every new jurisdiction.

Knowing the executives wouldn't hire additional law staff, Pekilis and her colleagues had three potential solutions: assign specific work to internal legal team members; hire outside counsel; or train non-legal staff to take on certain tasks. The answer would involve all three strategies, plus plenty of assessment and planning.

Prioritize the workload
First, the lawyers needed to understand what work they should do in-house and what should be outsourced.
Using a method developed by the Association of Corporate Counsel, they categorized their workload, prioritizing work related to acquisitions and other matters of company growth.

They drew a hard line between top priorities and less important tasks. "The legal department isn't there to provide legal services or risk management," Pekilis says. "We're there to use our specialized skillset to help the company achieve its business plan."
Smart partnerships
Nonetheless, she and her colleagues still had to manage leasing, work permits, and other routine tasks. For these undertakings, the law division partnered with outside service providers. In each new location, law firms were brought aboard to handle leases. A lawyer who specializes in visas was hired to help employees acquire permits for work abroad. That service provider had an online tool where workers would enter basic information and learn exactly what type of visa they needed. The site even partially filled out visa applications with employees' details, reducing the amount of paperwork. Pekilis says employees were impressed. "Their eyes gleamed when they saw that."

Bring work in-house
Outsourcing wasn't her group's only tactic. In at least one instance, the CSA brought work in-house to reduce costs. It happened after the law department sent two lawyers out to work with business units. That move left Pekilis with room to hire. Chatting with managers in China, she learned that although general labour costs are low in that country, they're high for legal counsel. Rather than find a lawyer in China, it would be cheaper for CSA to have a lawyer in Canada support the Chinese operations. So Pekilis brought in a lawyer to support the Chinese division from the Canadian headquarters.

Client contracts presented another challenge. Too often, sales and business development staff called on the legal team to make minor contract changes, which meant the lawyers had less time to work on business growth. To cut down on these requests, CSA invested in an automated online quote generator, which the clients could use to indicate contract terms appropriate for the services required.

Using the right mix of technology, service providers, and in-house staff, the law department could devote more resources to support CSA's corporate goals. That concentration helped the legal team weather a period of serious economic upheaval. Last August, the company laid off a number of workers in an effort to balance human resources with areas of growth. "We got through unscathed," Pekilis says of the legal department. She credits executive support. "I went around to each one of our vice-presidents to validate what we were doing."

Bank bids goodbye to process mayhem
Lawyers at financial institution RBC took a different route to efficiency: they used Lean Six Sigma, a process improvement system, to dissect and streamline their workflows.

"The concept is that everything you do is a process, so you process-map it from beginning to end," says Emily Jelich, vice president and associate general counsel at RBC law group. "You will typically find duplications, circuitous efforts, or extraneous elements."

The law group decided to try Lean Six Sigma after learning that Seyfarth Shaw LLP in Chicago had used it to reduce costs and save time. RBC's lawyers tested the method on two projects and discovered numerous process inefficiencies. After the law group addressed those problems, they took the system further, employing it on 18 more projects. The results were staggering: RBC saved more than $5 million.

One simplified process best illustrates where those savings came from. Jelich says her team aimed to improve the way external counsel communicated with RBC businesspeople. Traditionally, when the law firm wanted to update an RBC manager on a legal matter, the firm would write him or her a letter. Unfortunately, sometimes that letter would confuse rather than inform the recipient. Without context, the manager had no idea what the law firm was talking about.

External lawyers are "immersed in the file," Jelich says, explaining why the letters lacked details. "The businessperson, on the other hand, hears about the file once in a blue moon. So they receive the letter, but they have no context for it." Seeking more information, the businessperson would contact the in-house legal team, which would contact external counsel — and external counsel would send a copy of the letter to the in-house lawyers. Each link in this chain wasted time and money.

The solution, which RBC discovered after creating a process map, proved simple. "All you need is a standard covering letter to give context to the businessperson and make sure the internal law group is copied on it," Jelich says. That way, the businessperson probably wouldn't need the law group's help; the cover letter would provide context. And even if he or she did need further assistance, the law group would already have the background information at hand, no need for them to contact external counsel.

Jelich encourages the entire law group to use Lean Six Sigma. "You don't have to suffer the challenges of process mayhem. If you think this methodology will help make your desk better and, therefore, your day more meaningful and your work more efficient, give it a try."

Shaking up the cost mix
Lawyers may be reluctant to think of their work as a series of processes, as though this modular view denigrates the profession somehow, Jelich says. But judging from Mitchell Kowalski's comments, more in-house lawyers may be ready to change. Kowalski is a lawyer and author of Avoiding Extinction: Reimagining Legal Services for the 21st Century. He believes corporate counsel needs a better way to work.

Companies developed in-house law departments for a practical reason, Kowalski says: Costs for external counsel have "skyrocketed" over the last 20 to 30 years. Corporate legal teams were a bargain.

At least, that used to be the case. Now, costs to outsource certain legal activities are at rock bottom.
Technologies like CSA's visa-application web site make quick, cheap work of tasks that were more expensive when lawyers handled them. Service providers that specialize in regulatory compliance, health and safety, and other matters offer law departments relatively inexpensive ways to do more with less.

Kowalski says big businesses, including network-technology provider Cisco Systems and carmaker Kia, use tools and services like these to strategize their legal budgets. "We see more thoughtful general counsel saying, what does it make the most sense for me to do inside? What makes sense to send to my law firm? And what makes sense for me to send to a lower-cost provider?"

Canadian lawyers are beginning that journey. "I think they're starting to feel the cost pressures their colleagues in the U.S. have felt for some time," Kowalski says. He points out that the financial downturn of 2007 and 2008 affected U.S. businesses more than their Canadian counterparts, so companies south of the border were quicker to employ cost-saving measures in all departments, including legal. True to form, though, Canadian corporations are following suit, which means more in-house teams will have to reconsider their spending too. "I've seen more general counsel becoming serious about how to fix this," Kowalski says.

Clearly, CSA and RBC are two of the frontrunners. But Jelich believes other in-house lawyers will likely follow her group's lead. "We are all up against cost requirements where there is more and more to do but no budget to infinitely hire people to do it," she says. "You have to figure out how to be efficient and focus as much as possible on strategic work."