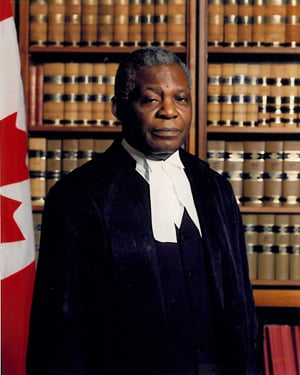 Members of the legal profession, at all levels of the bench, bar, and academy, proudly self-identify as protégés of the late Federal Court of Appeal chief justice Julius Alexander Isaac, who died July 16, 2011, in Regina. He was made an Officer of the Order of Canada in 2006 for his work as a "respected jurist and an esteemed role model within the African-Canadian community." Julius was indeed a role model within many communities. Few people have left such lasting positive impact. "He was a deeply impressive man on and off the bench and was much respected by the Supreme Court," says Justice Ian Binnie.
I am honoured to call him my mentor and humbled deeply that he called me his friend, protégé, and "like a daughter." It is through this lens I pay tribute to Julius.

Julius was proud of all of his children and grandchildren: the late Julia Alexandra (Ken), Kathleen, Peter (Michelle), and his grandchildren Paddi (18), Aiden (15), Rhian (13), and Jackson (9); the latter two evince strong traits of their grandfather. Indeed, they are his proudest and most enduring legacy. Like him, they are all distinct and "fiercely independent." He liked those traits in his friends and protégés as well. I have not met any of Julius' friends or protégés, many of whom were noted in Eddie Greenspan's eulogy, who do not display such traits, albeit in varying degrees. In a reference letter for me, Julius wrote, "Ms. DeGuire . . . is fiercely independent and her reputation for fairness and impartiality is well known, as is her compassion for others."

Encased in an unassuming deportment, he was a simply brilliant man — an innate leader. He earned a keen reputation for his integrity, fairness, and passion for justice. He was proud, confident in himself, but not haughty. I always felt an aura of confidence in his presence, albeit intimidated by his taciturnity and compendiousness. He was acutely discernable. You would not even know you were under scrutiny.

From a "cc" of a 2007 reference letter, not only did he first meet me, but I also fell under his scrutiny. "I met [Patricia] following a dinner . . . in 1993 and was impressed by her intelligence." Further, he wrote: "I learnt that [Patricia] had just completed her LLM in Constitutional Law under the supervision of then Dean [Peter] Hogg at Osgoode [Hall] Law School for which he had awarded high marks. She allowed me to read her thesis . . . I was impressed by it, so much so that I asked her to join the staff of the Commission, which I was then assembling. She allowed me to read, after delivery, some of her reasons for decision as Vice Chair of the Human Rights Tribunal of Ontario . . . Her writing style and her ability to reason logically were impressive."

That thesis was written in 1999. Julius not only demanded my LLM thesis, but also drove to my home to pick it up. Within two days he called to say he had read all 450 pages and felt it was an "excellent work."

In 2001, Julius was sitting in Toronto. He invited Sandy Thomas, counsel with the Public Prosecution Service of Canada, and me to dinner at the Sutton Place hotel. Julius often did this with members of the black community: one way of keeping his thumb on the pulse of the community. He ordered champagne and laughed when I told him that I am a lifelong teetotaller. Julius proceeded to serve the champagne, then he announced that after "great consideration," he had decided that I join him as his second, on a committee to revamp Grenada's constitution. I was dumbfounded.

When I regained consciousness, I thanked him for his "kindness and generosity for thinking of me so highly." I went home. I told no one. Sandy said she had shared the news with her mother. From that moment, I kept thinking of ways to show gratitude to Julius for such an honour. That was the impetus for Sandra Thomas and me to celebrate his 75th birthday and establish a scholarship at the University of Windsor in his honour. Many people across Canada collaborated on this important endeavour. Julius worked diligently to bring it to fruition.

Julius was gracious, and as Justice Binnie recalls, "a shy man, but much loved by everyone who worked with him in the Department [of Justice], even though the people (particularly in Edmonton) had no great love for the department itself." I vividly recall the day when I called Julius to inform him about the dinner and scholarship planned in his honour.

After exchanging pleasantries, I asked, "So, my Lord, are you celebrating your 75th birthday?" "Noo, but if I do, you will be invited," he responded. "Well, I am," I exclaimed, and like an anxious little girl, I blurted out that we, the Canadian Association of Black Lawyers, were planning a black-tie dinner and a scholarship in his honour.

"For me, why? You think I deserve that?" he asked musingly. "Absolutely, my Lord," I replied. "And I shall not entertain any debate from you on the matter." "Yes, young lady," he replied. Julius was silent for a moment and then exclaimed, "You almost made me fall off my chair." "Do not do that, sir," I said. "We want you to be alive for the occasion." At that point, he burst into his healthy belly laugh and ended it with "ehmnnn."

Julius was sincere, caring, loyal, and extremely good-hearted. As Greenspan stated in his eulogy, "it was impossible not to respect or have affection for him."

My future husband Paul and I decided to tell Julius in person of our plan to marry. On our visit in 2007, he was particularly chipper. When we shared the news, he broke into a broad grin, and summoned the nurse to bring "the champagne and glasses." He paused long enough to exclaim, "I would not miss it for the world." Less than a year later, accompanied by a nurse and his daughter, Kathleen, he made the difficult trip from Regina to be my father-giver.

Julius was a connoisseur of food and liquor. Justice Binnie says he has "persistent recollection of Julius' culinary skills. One night he cooked Barbadian flying fish for dinner and it was the best ever." As well, Binnie "recalls fondly that over the years, he and Julius had dined out together on many occasions in Edmonton, Toronto, and elsewhere. He noted they never went anywhere where the maître d' would not recognize Julius and usher them to his favourite table."

Even at the end, Julius' Epicurean proclivity was intact. During our last visit in August 2010, we dined at his favourite restaurants. His pride demanded that he must pay for the last meal at the Willow on Wascana. Paul proffered that the matter be settled by an arm wrestle. Julius laughed and agreed readily. To Julius' credit, the match lasted longer than two minutes; he lost. Later, he recounted the incident to his caregivers and announced that he had won.

Julius was an intellectual of unparalleled analytic capacity. He thrived on hard work. He had a penchant to "cut to the chase." In musing about Julius, Justice Binnie recalls "with fondness Julius in court — his deep voice . . . rumbl[ing] like thunder with all the righteous indignation of an Old Testament prophet — he liked to keep the argument simple and full of common sense — how could any reasonable judge or jury disagree? I thought he thundered with particular force in the SCC in the Big M case in the SCC in defence of the constitutional validity of the Alberta Lord's Day Act against the attack of a 'Godless' pharmacy — even though ultimately unsuccessful." Julius planned and dictated his funeral arrangements to Kathleen. I was honoured to deliver the first reading.

Caring mentor. Brilliant jurist. Community builder. Food and liquor connoisseur. Embodiment of taciturnity. Gregarious friend. Paragon of justice. Stalwart leader. Grenada's "illustrious son of the soil." I shall miss the jocundity of our discussions, your sage advice, but I shall bask in your legacy. With others, I shall carry the torch.

On Oct. 15, we sadly buried Julius' older daughter, Julia Alexandra Foley, who died suddenly after surgery. On Oct. 18, at 2 p.m., the Department of Justice will hold a memorial service. May their souls rest in peace.

Patricia DeGuire is a lawyer and adjudicator in Toronto.