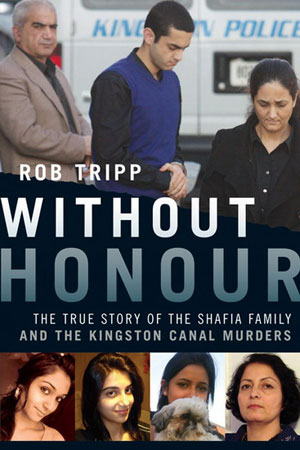 "My children did a lot of cruelty toward me."
- Mohammad Shafia, testifying at his trial for murdering his first wife and three daughters
His daughters' "cruelty" manifested itself in several ways: wearing revealing and immodest clothing, dating boys, and refusing to follow his strict orders. And for that, they had to die.
In June, 2009, a Nissan Sentra was found at the bottom of the Rideau Canal near Kingston, Ont. The bodies of teenagers Zainab, Sahar, and Geeti Shafia, and 50 year-old Rona Amir Mohammad, were trapped inside.
Mohammad Shafia, a prosperous Montreal businessman originally from Afghanistan, insisted one of his daughters had taken the car without permission, and crashed into the canal by accident. His second wife and his 20 year-old son backed him up. But investigators were immediately skeptical, especially after it became clear another, larger vehicle had pushed the little Nissan into the canal.
Moreover, the older Shafias' behaviour on that tragic night made little sense. In particular, they couldn't satisfactorily explain why son Hamed drove home from Kingston in their Lexus SUV, reported a fender-bender in a Montreal parking lot, and returned in the family minivan the next day.
The damage to the Lexus perfectly matched debris remaining at the crime scene, and despite their heated denials, Mohammad Shafia, Hamed Shafia, and Tooba Mohammad Yahya were arrested and charged with first-degree murder and conspiracy to commit murder. The trial, and the events leading up to it, are covered in investigative reporter Rob Tripp's riveting
Without Honour: The True Story of the Shafia Family and the Kingston Canal Murders.
Tripp, whose reporting on the Shafia case earned him two National Newspaper Award nominations, begins the story in Afghanistan, where Mohammad Shafia married Rona just before the Red Army invaded. As the country descended into brutal war against the Soviet Union, and then total anarchy after the Russians left, Shafia moved his family to Pakistan, Dubai, Australia, and finally Canada, where he became a successful property developer.
Before leaving Afghanistan, the still-childless Mohammad took a second wife, Tooba, who gave birth to all of the Shafia children. But Rona would play at least as large a role in raising them, and would accompany the family to Canada — officially as a domestic servant, to get around Canada's laws against polygamy.
Rona was treated little better than a servant in Canada — her passport was taken away to keep her from leaving for another country, and Mohammad and Tooba made it very clear they could have her deported back to war-torn Afghanistan if she didn't play along. Meanwhile, as teenagers Zainab, Sahar, and Geeti entered adolescence, they openly rebelled against their father's strict household rules. Eventually, the "humiliation" became too much for their parents and loyal older brother to bear.
Unsurprisingly, considering the subject matter, media coverage of the Shafia murders was controversial, with newspapers and television networks varying in the attention paid to the perpetrators' (and victims') religion and culture. Tripp, for his part, reports that Mohammad Shafia was a devout Muslim when it suited his purposes, and that his actions arguably had more to do with his upbringing than his faith:
He did not attend mosque and he did not read the Qur'an daily, as had Rona.
He knew only what he had seen growing up in Afghanistan, that women were the property of men and should be obedient, passive and chaste. In his household, the girls had been ordered not to associate with boys until they had completed their studies. Shafia saw no offence in calling his daughters "prostitutes" and "whores" when it was clear that they had ignored that rule. He was prepared to accept the consequences of his deeds, and he exhorted his son and wife to follow him.

Shafia was so brazen about his desire to punish his children that he mused about it on the telephone with horrified relatives, who later testified against him at trial. They felt it was
their
duty as devout Muslims to testify against him in court.
Mohammad and Tooba actually testified in their own defence, and did themselves few favours with self-serving and contradictory answers that are almost painful to read. But their lawyers did raise a very strong point — despite all the evidence linking their parents and brother to their deaths, investigators were unable to conclusively determine how the Shafia girls died in the first place. The bodies' positions in the car, and the absence of any escape attempt, suggest they were killed before the Nissan was pushed into the canal. But how this was done remains a mystery.
Nevertheless, the parties were convicted and sentenced to lengthy prison sentences. The case may not be closed for quite some time, however, as they promptly appealed the verdict. The cultural and religious issues that arose during the investigation and trial, not to mention questions surrounding the way the victims died, will give appellate justices much to consider.
Eventually, a revised and updated edition of
Without Honour
may be necessary. For now, though, it is a detailed, damning, and thought-provoking chronicle of one of the saddest criminal cases in recent Canadian history.