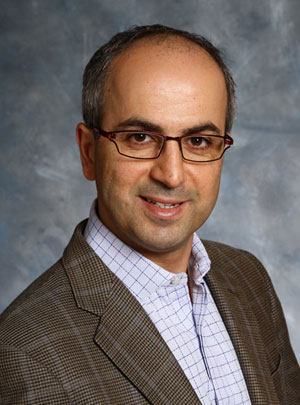 Some Canadian law societies, including Ontario's Law Society of Upper Canada, have guidelines relating to the use of technology in the practice of law. The LSUC has in place the "
Technology Practice Management Guideline
." (Some sections of these guidelines were incorporated from a suggested set of 2001 guidelines, titled "Ethical Considerations and Technology" developed by the Law Society of Alberta and disseminated via the Federation of Law Societies of Canada.)
Section 5.3.1 provides the following guideline with respect to electronic legal research methods, and particularly, Internet-based legal research:
"5.3.1 Electronic Legal Research Methods
Lawyers should consider whether their legal research skills include and make use of [Rule 2.01(1)(c)(i) of the Rules of Professional Conduct]
• on-line legal research facilities such as CanLII or Quicklaw
• Internet based legal research
• CD ROM databases."
Subrules 2.01(1)(b) and (c)(i) of the Rules of Professional Conduct define a "competent lawyer" as one who is able to, among other things, investigate facts and conduct legal research:
"2.01(1) In this rule,
'competent lawyer' means a lawyer who has and applies relevant skills, attributes, and values in a manner appropriate to each matter undertaken on behalf of a client including:
…(b) investigating facts, identifying issues, ascertaining client objectives, considering possible options, and developing and advising the client on appropriate courses of action,
(c) implementing, as each matter requires, the chosen course of action through the application of appropriate skills, including,
(i) legal research."
Under Rule 2.01(1)(e), a competent lawyer is required to perform these obligations "conscientiously, diligently, and in a timely and cost-effective manner."
It may be said, then, that Internet legal research is not an option or luxury — it is a required element of a competent lawyer's toolbox to (i) conduct legal research, and (ii) gather and investigate facts.
For conducting legal research, most lawyers already use the free and subscription-based electronic databases available to the profession.
But for gathering and investigating facts, while most lawyers use Internet search engines such as Google, they do not appear to significantly use the many advanced search capabilities these search engines offer.
The majority of Google searching (and this generally applies across the board, not only to lawyers) is generally done using Google's basic search engine. However, there is a world of search capabilities using Google's advanced search options. Utilizing them can dramatically increase the results and efficiency of a lawyer's fact investigation.
This article focuses on advanced search techniques in Google Books. I will address in future articles techniques for using Google advanced searching and Google Scholar.
Starting from the right search screen
The main Google Books search page is located at the following URL:
books.google.ca
. You can also get there by simply entering "Google Books" in your main Google search screen.
Alternatively, from the main Google search screen, point your mouse at the top menu, and from the "More" drop-down option, select "Books."
In fact, it is better to start directly from the "
Advanced Book Search" page
. The simplest way to get to this page is from your main Google search screen, by entering either "advanced book search," or just "Google Books" and selecting the Advanced Book Search link.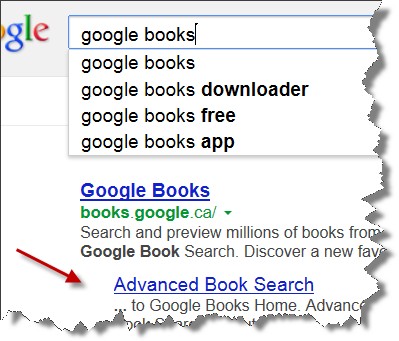 Another quick way to find the Advanced Book Search page is from any Google Books search result, by selecting the "Advanced Search" option from the Google Option wheel on the top right corner of the page.
Once you get to the advanced search page, an advanced interface lets you fine-tune your search by combining search terms, type of book, language, title, author, publisher, subject, publication date, and ISBN or ISSN.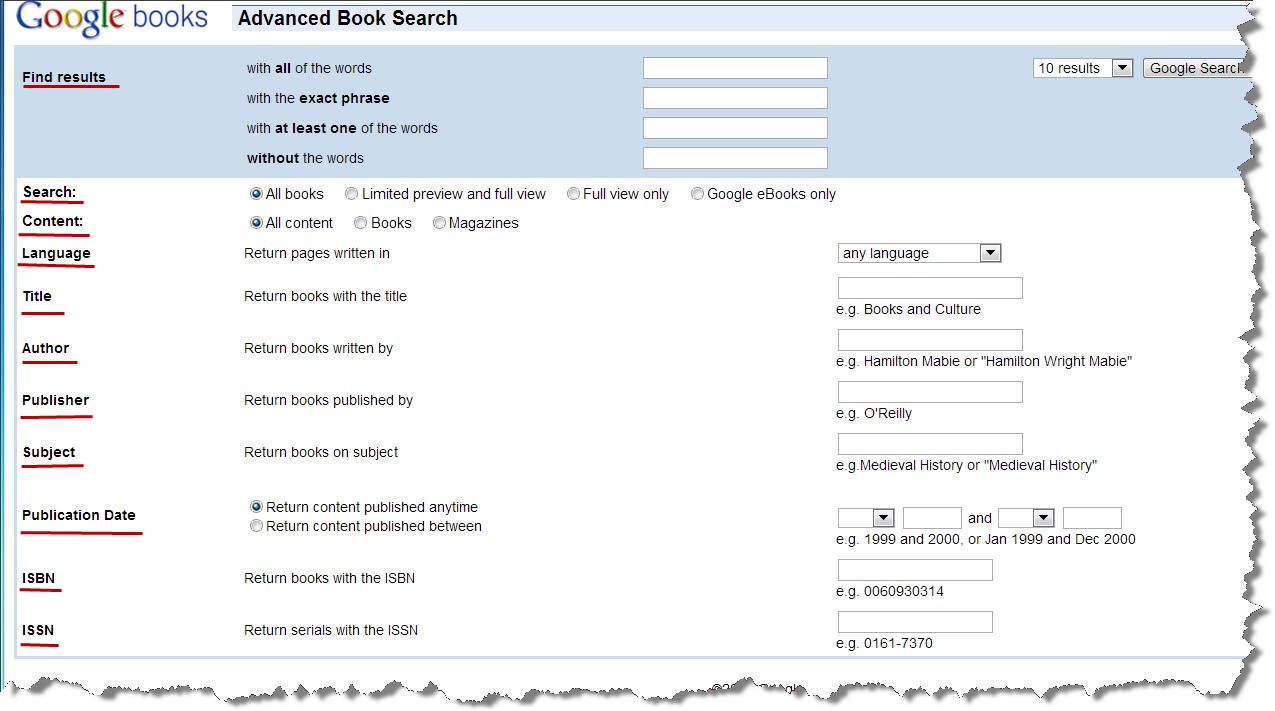 For instance, you can use the "author" field to search for books written by an expert witness. Use the "keyword" or "subject" fields to search for particular areas written by that expert, or more broadly, without searching by author.
When searching by keyword, keep in mind the search may be limited to only those book pages available for preview. If you sign-in to Google with your account more pages for preview and other functions are available.
Searching the text of a selected book
After processing your search query and selecting a search result, you can preview some pages from the selected book. You can also fine-tune your search by entering key search words from the new left menu relating to the selected book. This would search only the pages available for preview.
For example, in searching for the terms "technology litigator," I selected from my search result the book title
The Litigator's Guide to Electronic Evidence and Technology
. From the book view screen, I entered the term "courtroom." Google Books then highlighted the word on every relevant preview page of the book.





Searching the book's library information
Once you have identified a particular book of interest to you, viewing its "library" information provides more than just the physical location of the book.
First, from the same book view page, select "Find in a library":
You are then prompted to a "WorldCat" library catalogue page for this book (see more on this below). On this page, you can obtain the following occasionally useful information.
Citation: You can get the full citation of the selected book. Different citation formats are available. Select the "cite/export" link from the top right menu.
Related subjects: You can get the category headings of related subjects. These category headings can be used to continue refining your search, or to broaden the scope or otherwise change the focus of your search.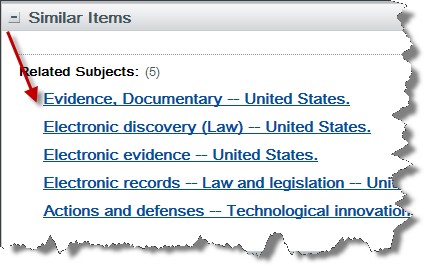 Searching WorldCat
WorldCat is the world's largest library catalogue. It can be used as an advanced search technique to find some library materials online. This includes books, music CD's, and videos, as well as digital content, such as downloadable audiobooks.
A good place to start is the
Advanced Search page
. An easy way to get to this page is to enter "WorldCat advanced search" from your main Google search page.
The WorldCat Advanced Search page contains powerful search criteria that include fields for keyword, title, author, journal source, etc.
Additional fields are available to significantly refine your search by year, format, etc.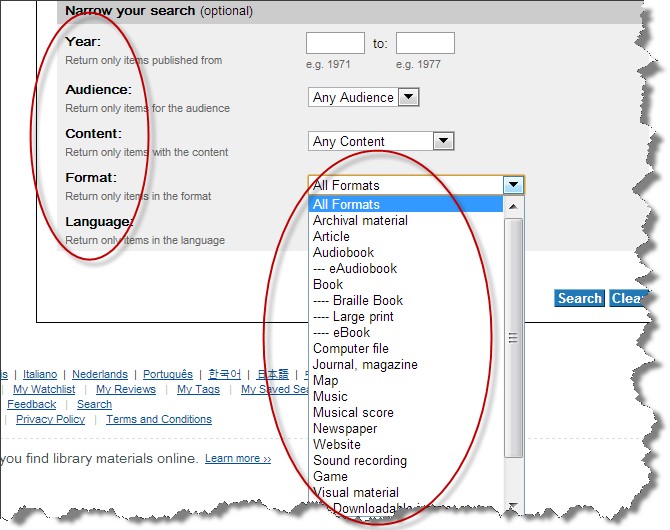 This is an immense catalogue and the search capabilities are powerful. Here is an example: if you are interested in searching for all materials published by the Canadian Bar Association in relation to technology, you can enter the search terms "Canadian Bar Association" under the author field, and the word "technology" under the keyword field.
You can then save the result under your own custom list.
These Google Books search techniques are merely the tip of the iceberg in terms of the extent of the available search capabilities. Go to these advanced search pages and start searching for anything on which you worked today. See what additional relevant file information you may find.