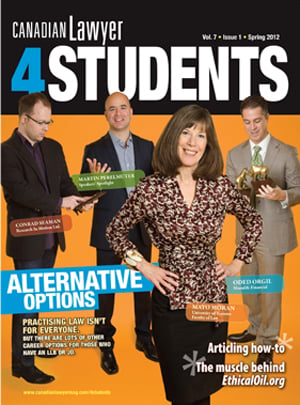 Like so many others, maybe you too "fell" into law. Maybe you weren't sure what you wanted to do with your life so you decided to give it a try. Maybe you buckled under the pressure from family members to follow in their footsteps, or you just did it because your friends were doing it. Whatever the reason, you're now in law school — and there's no doubt it's going to be a tough three years.
And if you're having trouble finding an articling position, you are not alone. Presently, there simply aren't enough articling positions available to accommodate the number of students graduating from law school. You don't have to know exactly what you want to do when you graduate — you may not even want to practise law. The good news is your legal training and years of academia open doors to a plethora of exciting careers outside of law that you can pursue with your legal degree.
If you can't break into the legal field, or you decide to pursue a different career path, those arduous three years weren't necessarily a waste of time. Canadian Lawyer 4Students has pulled together a group of working professionals who all graduated from law school, some briefly practising law, but eventually all deciding private practice wasn't for them. So they sought alternative careers in different industries, including technology, business, finance, non-profit/community work, academia, and journalism. All of them still find their law degree applicable to their current job and admit that the knowledge and skills they gained in law school come in handy from time to time.
So if you're not sure what you want to do with your life or you're having trouble finding an articling position, do not fear! There are countless careers — aside from private practice — that you can pursue, and as you can see from the working professionals in this article, there are plenty of other industries that your law degree can help you break into.
Conrad Seaman
, strategic alliances manager, Research In Motion Ltd.
Conrad Seaman works on mergers and acquisitions, licensing, and investments as it relates to Research In Motion Ltd.'s mobile devices. After completing a computer science degree at the University of Waterloo, he worked as a developer for six years. He enrolled at Osgoode Hall Law School because he wanted to get to the "boardroom phase of technology analysis," which he figured he could achieve through getting a law degree.

Seaman was convinced he did not want to become a lawyer, but things quickly changed. "I went into the system with a different idea than I think most people go in," he says. "Most people go in and say they want to become a lawyer. I went in and said I didn't, and came out the other side saying maybe I would.

"It's part of [on-campus interviews], it's part of seeing the success of let's say 30 or 40 per cent of your class who are getting these 'amazing jobs,' and there's a huge prestige thing attached to it — which I fundamentally disagree with — which is that lawyers hold power and skill and ability because of their title as a lawyer. So you see all of that happening and you're like, 'Well if I'm putting in these three years why wouldn't I follow through and become a lawyer?'"

At that point, Seaman decided to complete an articling term in order to become a patent agent or lawyer. But his articling term really did reaffirm that he did not want to practise. "I think 90 per cent of lawyers are really great people. I think there's 10 per cent that are old school, and I'll go back to the notion that attached to a law degree is prestige and power, and they use that mechanism to abuse other people," says Seaman. "There were three or four partners who I felt didn't give me any due respect and it didn't matter who I was, they treated everybody without respect and that's a crappy environment to work in."

Although Seaman didn't enjoy articling, he acknowledges it was still worthwhile. "I generally counsel people to article if they can. I tell them don't feel bad if you can't find an articling position . . . [but] one of the reasons I have my job is because I was called to the bar. It wasn't just that I had a law degree, it was that I actually attempted to practise and there's the ability for me within my job to go back to practising if I needed to, like if our legal department needed my skills."

After completing his articles, Seaman landed his current position at RIM where he says he's much happier and has been employed at the company for nearly two years.
Martin Perelmuter
, president, Speakers' Spotlight
Sometimes the bad experiences can lead you to the right career, says Martin Perelmuter, president of Speakers' Spotlight, an agency that represents high-profile public speakers who participate in conferences and events around the world. After completing his BA in economics at age 20, he wasn't ready to start working full time, so he decided to go to law school. He articled at Goodmans LLP and was hired back as an associate. He stayed at the firm for about two years until he realized that he couldn't see himself practising law for the rest of his life. So in 1995, both he and his wife quit their jobs and started Speakers' Spotlight.

The decision wasn't an easy one to make. "The thing that I struggled with was I put all this time in school and I articled and I was hired back, and I was told that you can be a great lawyer if you keep working hard at it. So there's all these pressures, whether it's parents or friends or peer pressure or colleagues, that are telling you to just keep doing this because you're going to be successful," says Perelmuter. "I guess the question is what's the definition of success? And if it's compensation and prestige and things, then those needs can be met — especially in a larger law firm — but if the work isn't meaningful to you, at the end of the day you're not going to be happy. The thing that I learned is just understanding what makes me tick. I could have probably saved myself a lot of stress at the time."

Perelmuter says he learned a lot from his time at Goodmans and many of the skills he picked up have helped him succeed as an entrepreneur, such as critical thinking, organization, and discipline. He encourages law students to do an articling term if they can. "I think if someone absolutely knows they have no interest in practising law, they just want the degree and go on to do something else, [articling is] probably not necessary," he suggests. "But if you have even an inkling that this is something that you'd want to do, then I think that it's a great way to get exposure to what it's like."
Oded
Orgil
, regional associate vice president, Manulife Financial
Oded Orgil, regional AVP at Manulife Financial, also encourages graduates to practise law for at least a short period of time. He went to the University of Western Ontario Faculty of Law with the intention of becoming a lawyer, but only worked at a small litigation firm in Toronto for a year and a half. It was the early 1990s and the firm faced hard economic times due to the recession in Canada. A partner at the firm asked Orgil to step out of the firm and offered to help him start his own sole practice, but he decided to complete the Canadian Securities Course and look for something else.

Soon after, he was offered a job at Midland Walwyn Capital Inc. as a financial adviser. Along with his experience working with clients and knowledge of tax law, he also took advantage of the legal network he had built. "I felt there were a lot of young lawyers that I knew who had good cash flow who probably had a lot of debt — like I did — that I could talk to and relate and tell them, 'Here's a plan that you can put in place on how to build up your net worth over the long term because you're probably going to make good money working as a lawyer,'" he says.

Orgil handles legal issues on a daily basis, whether it's dealing with contracts, lawsuits, or corporate documentation. "I didn't realize how useful [my law degree] was until you get out into the business world and you use it in so many different facets of your life," he says.
Michelle
Dagnino
, youth advocate
Michelle Dagnino has also found other ways to utilize her law degree. A self-described "generational change expert and innovator," the former youth worker prides herself on being an advocate for young people. Recently, she took on the role of executive director of the Jane/Finch Community and Family Centre in Toronto, which she credits her legal background for her ability to get the position. "I think there's a lot of skills actually you take from both law school and from practice into other jobs. In particular, the ability to organize files — and it's one of the more tedious parts of practice but it's something that's actually been very helpful in other work that I've done — because it's a way of not only systematizing documents but that way you actually have to systematize your thoughts as well," explains Dagnino.

At only 29, Dagnino is also the principal of her own company, Michelle Dagnino & Associates, a consulting agency that assists non-profit organizations. She says maintaining her involvement with various volunteer organizations throughout her career was important and advises young lawyers to do the same. "If there's a particular area of work that you're thinking of getting into after law that's not legal-related or it's outside the scope of a traditional law practice, stay involved throughout law school. Even if you're practising in that field, make sure that you keep up to date, make sure that you keep your contacts and your network close to you because that's what's going to let you know what opportunities are out there," she suggests.

In striving to become a youth advocate, Dagnino got her LLB to improve her credentials. "As a young person myself, I felt that I had the skills to be a good advocate for other youth but was also meeting these barriers around [the idea that] young people don't have the capacity to be at decision-making tables. So I thought law school would help me gain the legitimacy that I needed to be an effective advocate," she explains.

Dagnino practised labour and employment law and human rights law as an associate at Cavalluzzo Hayes Shilton McIntyre & Cornish LLP for four years. Although it was a progressive type of law, she says she felt restricted in her capacity to advocate for the broader population when she had to handle a specific client base, so she left the firm. "For me, law was an incredibly useful background around gaining [advocacy] skills, but the right type of jobs are outside of your traditional legal career," she notes.
Mayo
Moran
, dean, University of Toronto Faculty of Law
University of Toronto Faculty of Law dean Mayo Moran pursued a path outside of the traditional legal career, and in fact never practised law. She taught high school in British Columbia before attending law school. "I knew I didn't want to keep teaching high school forever," says Moran. "I was pretty young when I started and I wanted to do something more intellectually challenging."

Moran loved law on an intellectual level and says she was influenced by some of her professors who recommended that she do some graduate work and become an academic. Once she obtained her LLB from McGill University, she completed her LLM at the University of Michigan and then her SJD at the University of Toronto while moving up the ranks in U of T's law faculty, eventually becoming dean in 2006. She is also the first woman to serve as dean of law at U of T.

She has come across numerous law students interested in alternative careers, mainly those seeking advice on how to go the academic route. "I think it's really, really important to pursue something that you really love because most of the time now if you want to get an academic job in the legal sphere you need to do a doctorate," Moran tells her students. "A doctorate is a long haul; it's many years, and I think in order to really get the most out of it you just really need to do something that you think is really intriguing and fantastic. You shouldn't do something if you're feeling ho-hum about it."

Moran says the faculty at U of T recognizes that many students want to do other things with their law degrees other than practise law and the school tries to facilitate that by educating students about the kinds of alternative careers that are out there.
Paula
Todd
, journalist
Paula Todd is a lawyer and journalism professor, former investigative reporter, editorial writer, and political columnist who has worked for CTV, TVO, the
Toronto
Star
, and
Law
Times
. She is also the author of the best-selling book,
A Quiet Courage: Inspiring Stories from All of Us
. She put down her thoughts on a life beyond law:
I never set out to be one of those lawyers with "a different job." But something happened to me on the way to the bar — I discovered a whole world of work that law complemented and yet often outshone. And it was a complete accident.

Unlike many of my university friends who lived at home, I was an out-of-town girl who needed a part-time job to cover costs. I wound up as an editor at York University's student newspaper, Excalibur, which led to a summer job as a reporter at the Toronto Star. How could you not fall in love with journalism while writing for Canada's largest daily newspaper?

Dog shows, the CNE, and stories about fortune-tellers led to regular assignments covering hard news and politics. By the time I got word Osgoode Hall was offering me a seat in their first-year class, I'd almost forgotten (my mother's) lifelong dream of my becoming a lawyer.

Meanwhile, editors at the Star went slack-jawed when I didn't jump at the rare offer of a full-time job. Fortunately for me, a clever boss advised: "I've never met anyone who complained about having too much education." The Star gave me part-time work to pay the bills as I finished my law degree, passed the bar admissions, and was called to the bar. If it sounds like a breeze, it wasn't. The hours were long and the reception to my "dual status" was often chilly.

Some of my reporter friends considered my legal education a distraction, even a betrayal of the cause. Today you may notice that lawyers and journalists don't always see eye to eye. Some law students were no more comfortable, making it clear to me that reporting "sullied" (as one insisted) my status as lawyer-in-training. Still, I loved the law and wasn't any more willing to give it up than I was the exciting, adrenalin-pumping assignments in a powerful newsroom.

I kept at it, sure that one day many people would have more than one profession. It was tough. And it still is. Law requires detail that journalism eschews.

Journalism needs an immediate clarity that lawyers are cautious of offering. But the tension between the two and the struggle to serve both masters is worth it. Ultimately, the law is a human expression of the desire for social order. Our ability to create and debate that order can be well served by the media.

Besides, I can't tell you how many law school friends have called me over the years desperate to escape the monotony of their practice. And journalists? It's the norm now, not the exception, to specialize first — in science, law, psychology — before grabbing a microphone or steno pad.

The law is an extraordinary calling and my love for the field has only grown. It is also, however, an incredible foundation for anything else you really want to do.