One of my biggest pet peeves is getting the e-mails from law firms with links to read their newsletters or articles only to click on the link and have a pdf begin to download. While I am not a client, I read an awful lot of law firm alerts, newsletters, articles, etc. And if I'm not on your law firm's mailing list, feel free to add me! But I digress. Back to the point, which is links to pdfs are not particularly user friendly. And they are particularly unfriendly to those using mobile devices.
Today I went to a Legal Marketing Association session on mobile best practices and in light of my above pet peeve, thought I would share some of what the panel had to say about marketing via mobile devices.
They provided some interesting stats: 85 per cent of all mobile phones will have browsers by this year; mobile internet use will surpass desktop use by 2014; and 74 per cent of in-house counsel, aged 30 to 39, prefer receiving client bulletins on their smartphones (this from a study for
Corporate Counsel
magazine). So those are some things to consider when creating a mobile marketing plan.
First of all mobile does not always mean apps. There are mobile-optimized web sites, which are essentially simple and easy to read via the browser on any type of mobile device, be it a BlackBerry, Android phone, iPad, or any variation thereof. Then there are apps, which are specific applications created for a specific platform so they will only work on a BlackBerry if they are created for a BlackBerry, or on an iPhone if created using the Apple operating system.
There is, however, no simple answer as to which is the best way to go. One of the ways to decide, according to Ameet Shah, managing partner at app developer
Five Mobile
, is to look at the analytics for your web site and see which devices people are using to access it. For now, statistics indicate that in corporate settings, the BlackBerry still leads the pack. The reality is that most people who use BlackBerrys don't have tons of apps on them. So think about who you are targeting and also what you are trying to get out there.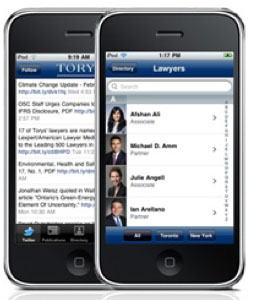 Once you know that, then the next decision is whether to create an app or a mobile-optimized web site. Cassels Brock LLP has an optimized web site, which allows for easy interaction from a mobile device without having to create an app. Torys LLP, on the other hand, has an
iPhone app
. Decisions here will depend on who your audience is, what you want to push out to them, and if you want to go to the trouble of having an app created (which does not always take a lot of money but can take a lot more time to plan). And the reality is that no matter which option you choose, you're going to have to pare down the content from what is up on your web site. As Shah noted: optimize for the device you're going to use and focus on the audience that you want have for your information.
And as John Gillies, the director of practice support at Cassels Brock pointed out: if you're going to create an app, it has to be a good one that people will use. Torys has a feature that allows for easily searching for a lawyer plus a handy option for a mobile phone: getting directions to their offices from wherever you happen to be. And most importantly, said Andrew Echenberg, president of
Panvista Media Corp
., which worked with
Ogilvy Renault LLP
on apps, once you launch an app or mobile site, make sure it is kept up to date and not left to go rusty, so to speak. (New) content is always king.
Going mobile obviously has more to it, these are just a few tips to get those marketing minds on the right track.