Restates commitment to implement United Nations Declaration on the Rights of Indigenous Peoples Act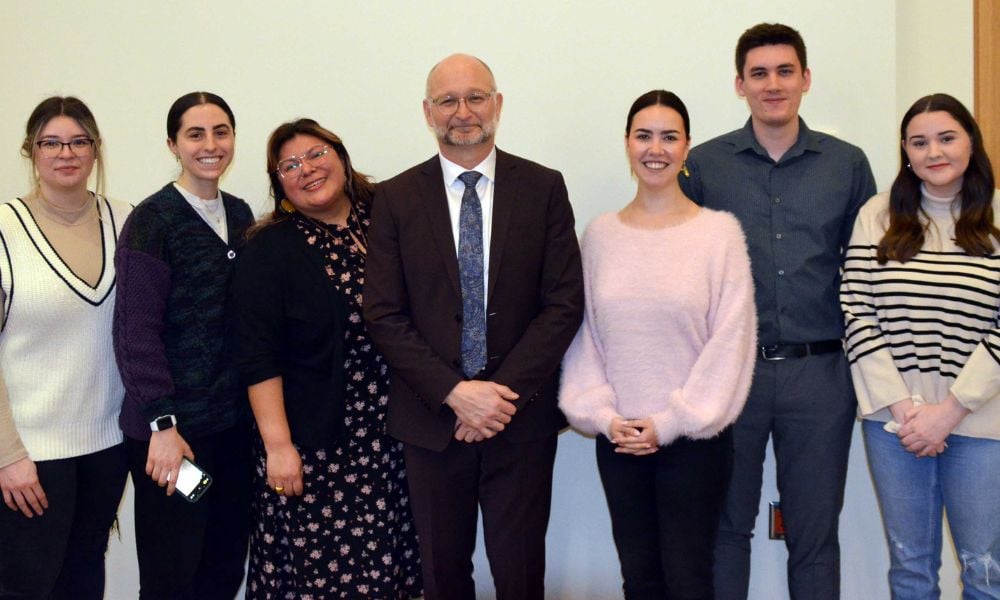 It is up to the next generation of lawyers to continue the work of reconciliation with Canada's Indigenous peoples, federal Justice Minister and Attorney General David Lametti told students at Osgoode Hall Law School.
"I think all of that is the future, and all of that is you," he told students at a presentation this week. "Derooting colonialism or stripping away the layers of colonialism will take time and will be a constant effort, but it can happen.
"That's my challenge to you," he said. "You will have to work with each other so claims of justice can be fulfilled."
Lametti urged Osgoode law students to seek opportunities to lead and impact Canadian society. A native of Port Colborne, Ont., who was elected to represent his Montreal riding in 2015, Lametti said he never expected to be nominated as a federal election candidate, much less win his seat.
"So, I would say to you, watch out for those doors as they open," he urged the students. "Keep an eye open for how you can lead because you can have a big impact once you get there."
The attorney general also restated the federal government's commitment to implementing its United Nations Declaration on the Rights of Indigenous Peoples Act, with its most recent step coming on March 20 with the release of a draft action plan.
"I think the declaration has the potential to be one of the single most transformational points in what I think could be the refounding of the country," said Lametti. "But in order to get there, it's going to take a great deal more work than has already been done and a stripping away of the layers of colonialism that have been imposed on Indigenous peoples."
He also vowed to continue supporting the work of Kimberly Murray, an Osgoode alumna and the federal government's special interlocutor for missing children and unmarked graves and burial sites associated with Indian residential schools.
Lametti, who was a law professor at McGill University before entering politics, said he is pushing ahead with work to create an independent Canadian criminal cases review commission. He hopes it will help correct the over-representation of Indigenous people and other marginalized Canadians in the justice system. Similar independent review commissions exist in the UK, Scotland, New Zealand and some US states.
In taking questions from the audience, Lametti agreed that the federal government's full implementation of the United Nations Declaration on the Rights of Indigenous Peoples (UNDRIP) would require adopting Indigenous legal systems as part of a multi-juridical framework.
"We have to recognize there are more than two legal systems in this country," he said. "I'm hoping we get to a point where we truly become legal pluralists and different people will be governed by different legal systems at the same time – and sometimes multiple legal systems at the same time."
He also expressed the federal government's commitment to investing more in Indigenous-led restorative justice initiatives and improving the nationwide reach and quality of Gladue sentencing reports, which Canadian courts can request before sentencing an Indigenous offender.
Recently, Lametti said after a meeting with provincial justice ministers earlier in March that Ottawa would move forward on "targeted reforms" to the Criminal Code to update Canada's bail system. Premiers, federal Conservatives and law enforcement leaders have pressured Ottawa since the beginning of the year to make bail more restrictive.
However, Lametti said the justice ministers agreed that any measures they pursue in the name of public safety must not undermine efforts to address the overrepresentation of Indigenous and Black people in the criminal justice system.