If you don't know what a physiatrist does, you may need a lawyer to handle your auto-accident claim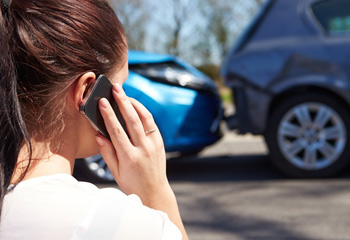 A physiatrist is a physical-injury and chronic-pain specialist and your lawyer may retain one to substantiate your claim for ongoing treatment costs following an accident.
Any insurance claim that goes beyond the scope of an ordinary fender bender can rapidly become an all-consuming torment for the claimant who attempts to handle it alone, says personal injury lawyer Fred Litwiniuk.
"Obviously, we can't go to your doctors' appointments for you," Litwiniuk says. "But we can handle a lot of the other burdens that come with having your life turned upside down by an auto-accident claim." These include filling out a seemingly endless number of complicated forms and attending various meetings with insurance adjusters who may downplay your injuries and undervalue your settlement.
Even seemingly simple property damage claims that don't involve an injury can become contentious in cases of diminished value. That's when there's a substantial difference between what you paid for your car and what the insurance company says it was worth at the time of the accident. If your vehicle has been customized, that can further complicate the assessment of its value and increase the differential between your invested cost and the amount of the settlement your insurance company is willing to pay.
"In Alberta, we have a tort system that allows claimants to file suit against the at-fault driver— normally represented by his or her insurance company—in situations where there's a substantial difference between your cost and the award you receive from your insurance company. Tort law aims to put you back into the same situation you were in before the accident (or as nearly as possible) and this normally takes the form of monetary compensation from the person who hit you.
"There's an argument that the differential settlement should come from your own insurance company," he adds. "Ideally, that should make things easier for you, the claimant. But regardless of who makes up the difference between the appraised value of your vehicle and what you actually paid for it, a full settlement is a lot more likely to happen if you're represented by a lawyer."
Where injuries are involved, the stakes rise dramatically for the claimant—and so does the complexity of the insurance system.
"Unfortunately, money is an inadequate substitute for loss of health, but that loss comes with a lot of expenses that can only be fully covered by a comprehensive settlement," Litwiniuk says. Not to mention, getting a full settlement is a complex undertaking. "Legislation and case law are hard to read and tough to follow for the average person, and it can be really difficult to understand what benefits you're entitled to receive."
In Alberta, he explains, there are three types of auto-insurance claims that may arise from an accident: property damage; accident benefits (also known as section B); and bodily injury claims. Accident benefits are typically (though not always) paid by your insurance company and cover certain treatment costs. Bodily injury deals with compensation for pain and suffering, past and future income loss and cost of care, and certain other expenses related to an accident, and is generally covered by the insurance company of the at-fault driver. Each type of claim carries its own set of actions, rules, and forms, with a different insurance adjuster assigned to each.
If you're injured in a car accident, you may very well need to pursue all three types of claims. Making this situation worse is the significant possibility that you and the at-fault driver may have the same insurance company. In Canada, a small number of very large companies insure most drivers. When dealing with a bodily-injury adjuster from your own insurance company, you may be unaware that the adjuster has the defendant's and the company's best interests at heart, not yours.
"People very quickly get overwhelmed," Litwiniuk remarks. "They're injured, they're confused by the system, they're financially strapped by out-of-pocket expenses and they're anxious about how all of this will be resolved.
"Their injuries are affecting their family, they're running around to all kinds of appointments, they're worried about what to say to the insurance company and they're wondering, 'Who's on my side?'" he says.
Still, according to Litwiniuk, many people hesitate to call a lawyer. They may be reluctant to start an adversarial process with the insurance company they've used for many years, they may be concerned about the costs of retaining a lawyer, or they may be worried about a protracted court battle.
"We always encourage people to make the call," Litwiniuk says. "We work on contingency, which means our fee is taken out of the settlement; we don't get paid until we win. In the meantime, we advance the money required to collect all of the evidence, including reports from physiatrists, therapists, psychologists and other experts to substantiate your case. And we make sure your claim includes everything you're entitled to for the past and the future, including medical expenses, lost wages, out-of-pocket-expenses, and so on.
"It's also important to realize that the vast majority of claims never end up in court," he adds. "In my experience, without an experienced injury lawyer working for you, the less likely it is that you'll receive a full and fair settlement."
If your client has been injured in Alberta, call on us. We've spent the last 43 years fighting for the injured, and we'll go the distance for your referral. Visit www.litcorefer.ca for details.