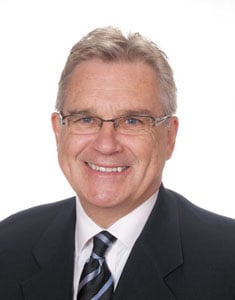 Chris Axworthy becomes the dean of law at Thompson Rivers University in Kamloops, B.C. — the first Canadian law school to open in 35 years — on May 1.
Canada's newest law school is now one step closer to opening its doors after naming its founding dean of law on Feb. 22.
Axworthy is currently the dean at Robson Hall law school at the University of Manitoba, and is a former attorney general of Saskatchewan.
Axworthy said he is excited about having the opportunity to create a new law school and that recruiting faculty and staff members and developing necessary infrastructures for the school will be his most significant challenges.
"It's a rare opportunity to build a law school from the ground up," he said. "It is particularly attractive to do so in a vibrant community like Kamloops with such a forward-looking and dynamic university as Thompson Rivers University with the support of the University of Calgary."
Axworthy did his undergraduate studies at the London Metropolitan University, graduating in 1970, and completed his graduate studies in law at McGill University. After working as a professor at the University of New Brunswick, Dalhousie University, and the University of Saskatchewan and as a member of parliament, he became dean of law at U of M in 2008.
"Dean Axworthy is the best man for the job," says Alastair Lucas, dean of law at U of C. "He was attorney general in Saskatchewan for 10 years during a turbulent time in that province. He is more than qualified to build a law school from the ground up."
John Sparks, general counsel and corporate secretary at TRU, says the school is pleased that Axworthy has assumed the responsibility.
"We are extraordinarily pleased that Chris Axworthy has accepted the position of founding dean," he says. "He has a great background and we are pleased that a man of his calibre will help build this program."
Sparks was a key component of the team that developed the program, and drafted the proposal the school needed to provide to the B.C government to go ahead with the program.
He says the program was developed to help TRU become a destination university, and that B.C's interior is in need of a law program to develop lawyers to replace the graying legal workforce across the Lower Mainland and eastern B.C.
Kamloops is located in B.C's southern interior, about 360 kilometres from Vancouver and has a population of about 85,000.
"We've noticed that the number of lawyers retiring is almost the same as the number of graduates from UBC and the University of Victoria," he says. "I hope our new program will help offset that and provide the province with an arsenal of graduates to practise law here."
TRU plans to open its law school's doors in September 2011, and will offer a three-year fully accredited Juris Doctor degree program that will partner with U of C. The partnership was finalized last week.
The two schools will work together to implement existing curriculum with appropriate content modified to accommodate the differences between B.C and Alberta legislation.
"This is a collaboration based on a curriculum licensing agreement between the University of Calgary and TRU," says Lucas. "Our faculties work well together because we are both smaller law schools and this partnership has increased opportunities for collaboration."
"The University of Calgary has always made a strong commitment to access to justice, and I think this partnership will only expand on that commitment. We now have a sister school at TRU that will continue that commitment."