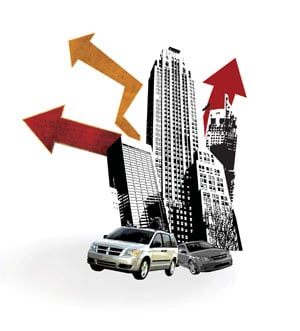 In the spring, General Motors of Canada Ltd. unveiled plans to invest $480 million for the next few years in its St. Catharines, Ont., production facility. It was a move that may have seemed improbable just a short time ago. After all, the company had teetered on the brink of a Companies' Creditors Arrangement Act filing a year earlier, while its U.S. parent was forced to enter Chapter 11 bankruptcy. If not for political will — and the hard work of massive teams of lawyers in an unprecedented restructuring process — those plans might not have gone ahead. But they did, securing an estimated 800 jobs.

Lately, General Motors has been rolling out a steady stream of good financial news in tandem with its shiny new autos, which themselves seem increasingly popular with Canadian consumers. Its most momentous announcement came April 21, when chairman and CEO Ed Whitacre reported the company had made its final payment of $5.8 billion — US$4.7 billion to the U.S. Treasury and Cdn$1.1 billion to Export Development Canada. "We appreciate the support the taxpayers have given GM, and our great new products are tangible results of that support," said Whitacre in announcing GM's early payback. The company also reported a first-quarter profit of US$865 million.

Chrysler Canada Inc., which appeared to be in a less dire financial position than GM in 2008, also seems to be swiftly extracting itself from taxpayer dependence. The company received a $1.2-billion bridge loan from the Canadian and Ontario governments in late 2008, followed by an eventual pledge of $3.8 billion. That's on top of $4 billion from the U.S. Treasury Department to Chrysler Group LLC, which was spun off when the company emerged from bankruptcy in 2009. In late May, the U.S. government announced it had received $1.9 billion from Chrysler, a higher payback than it had expected. Chrysler Canada earlier that month announced its highest sales results since June 2008, with April sales up 35 per cent from the same month in 2009.

While GM's Whitacre voiced his thanks to North American taxpayers for funding his company's comeback, he's likely just as appreciative of the team of lawyers who helped pull the trigger on the swift transformation. Leading the legal charge for the company's Canadian arm was vice president and general counsel Neil MacDonald. He views the GM restructuring as a shining example of lawyers leading the way for the rapid transformation of a company, recalling one conference call late in the process involving nearly 200 lawyers from political and auto centres across the United States and Canada. "I certainly haven't been involved in anything like this in any other deal," he says. "I can't imagine too many other lawyers have been. This was the single biggest in terms of volume of work, biggest in terms of the consequences, and biggest in terms of the emotional roller-coaster that I've ever been on. Certainly, I would suggest that would be an answer you would get from many lawyers."

MacDonald notes that the sheer volume of work that needed to be done presented a herculean task for in-house and outside counsel. "As you look at a restructuring, you look at every portion of your business, and so the in-house lawyers must know the business very well, then work with the outside counsel to help get you to where you need to be," says MacDonald. Not only were the lawyers faced with a back-breaking workload, but they also had to carry the burden of pressure from politicians, the public, GM employees, and other interested parties. As MacDonald notes, they were dark days.

"There was a lot of sacrifice, a lot of hard work, and I think the faith and support that we had from our stakeholders, including the governments, is paying these dividends," he says. "While there's some noise in the system still as we continue through the restructuring, I don't think there's any question that this was a very successful restructuring that preserved a great deal of wealth and opportunity to very many people."

Pierre Legault, assistant deputy minister of business and regulatory law at the Department of Justice, was in charge of managing the file for the government of Canada. That included co-ordination of legal efforts for various federal government departments, such as Export Development Canada and Industry Canada, and the Ontario government, in order to present a concise Canadian presence in negotiations with the U.S. government.

Legault says the file was particularly tough to manage due to the shortened timelines involved. A one-month deadline was set for a Chrysler deal, while GM had two months to get its house in order. Legault recalls working 55 hours straight as the Chrysler deadline approached. With both companies, U.S. President Barack Obama set a firm noon press conference to announce the outcome on deadline day. That meant an extension was out of the question. "That was our ultimate timeline or objective," says Legault. "There was no question that we could not go back and ask for more time. So that was the ultimate deadline, and we had to adjust to that."

Mark Warner, legal director of Ontario's Ministry of Economic Development and Trade, helped co-ordinate the province's restructuring efforts. Lawyers from Goodmans LLP, which acted as outside counsel for the Ontario government, assisted. The file flowed between Warner's ministry and the ministries of Finance and Revenue, but he acted as the overall lead. "My role was really to focus the legal analysis that we were getting from Goodmans, and co-ordinate that with the other ministries involved," says Warner. Outside lawyers were also pulled in at times to consult the province on labour issues. But the bulk of Warner's time was spent liaising with Legault's team to form the transactional document formalizing the loan agreement between the province and car companies.

Warner describes the mood surrounding the transactions as "very intense," and says all lawyers involved knew they were dealing with a historic transaction. It was clear early on that political concerns would take precedent, but it was up to the lawyers to ensure everything worked from a legal standpoint. It was a punishing task. "We worked very hard. I don't think I or any member of the team got a vacation last year. We worked through Christmas; we worked through Easter; we worked through Canada Day; we worked through Thanksgiving in Canada; we even worked through Thanksgiving in the U.S. as well," says Warner. He suggests "psychic payoffs" gave lawyers a jolt of adrenaline to fuel endless nights of work.

James Sinclair, legal director of the Ontario Ministry of Finance and the Ministry of Revenue, says he was consumed with legal issues surrounding the restructuring documents, pension issues, tax implications, and, most importantly, how the province's financial support would be funded and documented. He also sat in on technical meetings that dealt with pension matters. While confidentiality keeps Sinclair from discussing specific issues that most challenged his team, he notes there are always concerns about deficiencies in pension plans when a company faces insolvency. "Those are obviously of concern to the province," he says, adding that tax liabilities can also prove problematic. Such issues are compounded when dealing with large, multinational companies, as competing claims on assets from other jurisdictions may arise, notes Sinclair.

But lawyers working on behalf of Ontario's Finance and Revenue ministries were able to find a workable solution by avoiding the potentially debilitating urge for perfection. "I think the key to the restructuring here, and it's probably true in all restructurings, is figuring out what's possible in the circumstances, and work towards a result that reflects what the conclusion is relative to what's possible," says Sinclair. Andy Kent, McMillan LLP's CEO and chairman of debt products and restructuring, agrees that flexibility was key for his team of lawyers that supported Legault's federal government squad. He says the transactions had commercial aspects to them, but political influence meant they did not follow typical rules for a corporate deal. "Everything was up for reconsideration given the extraordinary circumstances, and you just had to be open-minded about what those things might be from a commercial legal perspective," says Kent.

GM's MacDonald points out that lawyers are often criticized for getting in the way of corporate transactions. At the end of the day, it may be premature to announce the GM restructuring an airtight success — a $750-million class action lawsuit by shuttered Canadian dealers looms — but he believes it should help dismiss the notion of lawyers as deal killers. "Without the lawyers' professionalism, without the lawyers' thinking about the various ramifications, we would never have gotten through this, and reached the point that we're at today," he says.