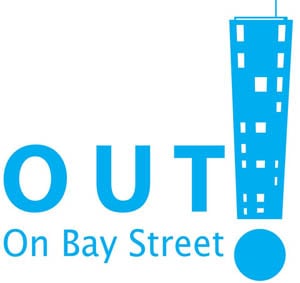 Before coming to law school, the image I had of Bay Street law firms was as clichéd as they come: cigar-smoking, old, white male partners sitting around their oak-panelled boardroom discussing golf and women.
It was an image informed by many Hollywood films, and in particular, the movie
Philadelphia
seemed to tell me that as a young gay man, the world of the corporate law firm was not for me. But all that quickly eviscerated when I actually did my homework on these firms, spoke to lawyers and students alike, and especially when I attended last year's Out on Bay Street conference.
Out on Bay Street is an annual conference held over two days at the end of September for LGBTQA law and business students. What began as a small event organized by five MBA students in 2007 has now grown into an event with nearly 200 students and dozens of businesses and law firms in attendance. With this in mind, I paid the nominal registration fee and set out to attend this event.
Bedecked in white pants, orange shirt, and bow tie, I figured I would kick up my sartorial skills — I mean, this
was
a gay conference. The first thing I noticed was the sheer number of participants from my school. Though by this point I had befriended a few of my LGBT classmates, I was surprised how many more of us there were. The feeling of belonging and inclusion was overwhelming. Though I believe my classmates and I formed the largest contingent of law students, there were many other registrants from all the law schools in the province.
As we mingled and made new friends, we were wined and dined, most notably at the gala dinner. Scott Brison, an openly gay Nova Scotia MP, was our keynote speaker. As we drank glasses of Merlot over the salad course, he cracked jokes about the parliamentary gym locker room and Jim Flaherty's stimulus package.
The evening ended with a closing speech from Out on Bay Street then-president Lucy Zhao. She broke down in tears as she described her mother's support, emphasized by a revelation the older woman had made earlier in the day, "Gay people, they're so successful!" Successful indeed. As we filed out of the hall, I knew I'd be attending next year's conference. I was hooked.
This year's conference is shaping up to be bigger than ever. I'm now head of the sponsorship team on the law side, and my colleague Justine Lindner and I try to attract as many law sponsors as possible. All the firms from last year are in attendance, as well as several new ones, and students will have the ability to chat with the recruitment directors of these firms at the career fair.
Four workshops addressing law-related skills will be held by representatives from our gold sponsors: Osler Hoskin Harcourt LLP, Heenan Blaikie LLP, McCarthy Tétrault LLP, and Blake Cassels & Graydon LLP. Our featured speakers include George Smitherman and Justice Harvey Brownstone of the Ontario Court of Justice, the first openly gay judge in Canada. We are also inaugurating our Leaders to be Proud of awards ceremony, held on the Thursday evening before the conference. The support of our sponsors this year has been unprecedented, especially from Fraser Milner Casgrain LLP, and we encourage all students, gay or straight, to attend.
I grew up being told I could achieve anything I set my mind to, and after coming out, that was not going to change. I dreamed of being a lawyer and now my goal is to work for one of Canada's leading law firms. Though there are small struggles to be won, the face of Bay Street has changed and diverse perspectives are now sought after and valued.
Out on Bay Street facilitates communication between employers and students, and our participants leave with the knowledge that being gay is not an impediment to working on Bay Street. I hope to see you all there!
Cameron Bryant, a student at Osgoode Hall Law School, is the director of strategic alliances, law at Out on Bay Street. This year's conference is being held from Sept. 30-Oct. 1 at the Marriott Downtown Eaton Centre in Toronto. Register online at
outonbayst.org
.