A recent Osgoode Hall Law grad is taking on what could be the largest defamation case in Canadian history.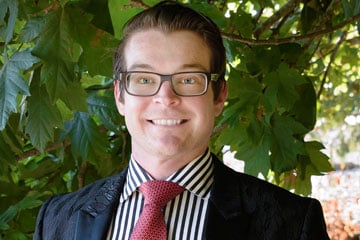 A recent Osgoode Hall Law grad is taking on what could be the largest defamation case in Canadian history.
Robert Hainsworth of Fleming & Associates in Powell River, British Columbia, admits for a three-month call he's got a pretty hefty file sitting on his desk.
Hainsworth was called to the bar in May of this year and earlier this month the former B.C. Liberal leader Gordon Wilson retained him to represent him in a $5 million defamation lawsuit against B.C. Premier John Horgan, Bruce Ralston, Minister of Jobs, Trade and Technology, and an NDP MP, Rachel Blaney.
Wilson was appointed by former premier Christy Clark in October 2013 to head up the province's Liquefied Natural Gas — Buy BC program developed within the Ministry of Jobs, Tourism, Skills Training and Labour. Wilson was employed by the LNG program for four years between October 2013 and August 2017 when he was fired.
The 14-page statement of claim filed Aug. 17 indicates that on Aug. 1 Horgan made comments in the form of false allegations to various media outlets including CBC Radio, that there was no written work produced to back up the $550,000 Wilson was paid while in the LNG role. Blaney also posted comments on the matter to Facebook. She later retracted the comments and apologized and said the comments were inaccurate. Horgan and Ralston also retracted their comments and apologized to Wilson.
The statement of claim filed in the Supreme Court of British Columbia says, "The Defendants, together and individually, undertook a campaign to destroy the Plaintiff's reputation from the position of authority and credibility granted to them by their offices."
It also claims Ralston and Horgan "initiated a premeditated campaign to damage the reputation of the Plaintiff."
For his part, the claim states that Wilson was "bound by the Privacy Act and unable to defend against the defamatory words of the Defendants as his work product is property of the government and contains confidential information."
The firm Hainsworth works for does a range of legal work including civil litigation, family law, personal injury, real estate and estates law. He says he enjoys being a litigator but has a varied practice in Powell River.
"Practically speaking, in a small town I do mostly whatever comes through the door," he says. "This dropped on my lap here and is certainly an interesting case."
Hainsworth met Wilson during the provincial election campaign in B.C. Wilson's son was running for MLA in the Powell River riding.
"He thought I might be a good choice to represent him in this matter as well," he says. "I think if we're successful in what we're claiming for damages it would be the highest in Canadian history."
While it is common practice in litigation, including defamation claims, to claim very high amounts as damages, Toronto lawyer Gil Zvulony says it is "completely another thing for those damages to be awarded by a court." Damages awards in defamation cases vary from case to case and largely turn on their own facts.
"To my knowledge, no court in Canada has ever awarded anything close to $5 million for defamation," says Zvulony. "One factor that will mitigate a significant damages award in this case is that it appears that the alleged defamatory statements have been retracted and the defendants have published a contemporaneous apology. On the other hand, if the plaintiff can prove the statements were made maliciously then that could increase the damages awarded. In any event, I think $5 million is highly unlikely to be awarded."
Hainsworth says the way they arrived at the $5 million figure was to look at Wilson's career on a "global scale."
"He had a long history of public service and additional as an employee of the government and an elected official. He's been in the public eye, built his reputation and it's that reputation that generates his income," he says.
"We looked at the damage that had been done and then took a forward looking approach and thought of the damage he will suffer in the future. Politicians and consultants of Mr. Wilson's standing do have a good revenue stream after they retire from public life so that's what we took into account when evaluating what happened," says Hainsworth.
Defamation and media lawyer Peter Downard, a partner with Fasken Martineau DuMoulin LLP, says the allegations made in the statement of claim are "very forceful" and the $5 million clamed "aligns with the nature of the plaintiff's allegations."
He also notes that there are a "number of authorities which afford elected politicians a qualified privilege when speaking to the media on subjects of public interest. Whether the defendants in this case went too far may well be explored in this case. If there is no successful defence the apologies made will in any event be certain to reduce the damages that might otherwise be awarded."
Downard points out that it's "still early days" and the numbers claimed are "rarely reflected in the judgment ultimately delivered at trial."
"It's unusual for an action like this to be brought in the face of what appear to be very clear apologies, but the plaintiff is entitled to proceed if he wants to do so," says Downard.
Hainsworth says he's open to exploring "all sorts of avenues of settlements throughout the litigation" but notes it "takes two sides to negotiate."
"Settlement is often a plausible resolution to a lot of files and I always maintain hope that will be a possibility here."