January 2008: Maj. Anthony Farris eats breakfast in a tent on a small base in Kandahar, Afghanistan. The tent looks like the ones in the TV show
M*A*S*H
— quite a contrast from the plush Halifax law office where the Nova Scotia-born lawyer articled.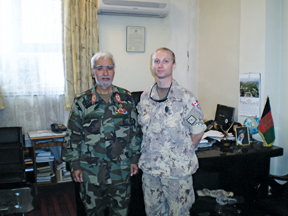 After breakfast, Farris heads to Camp Hero, an Afghan military base. Farris has been sent to Afghanistan by the Canadian Forces to mentor Afghan military lawyers. It's the first time a Canadian has served in this role. And it's not easy. Many Afghan military lawyers have no formal legal training. There's also a language barrier. Farris, who was called to the bar in 2002, must use a translator to speak to the lawyers. But he's determined. This is exactly what he signed up for.
You could say the military is in his blood. His grandfather fought in the Second World War. As a teenager in Kentville, N.S., Farris joined the cadets where he learned how to wear a uniform and how to march. At 17, he joined the army reserves. He used the money he earned to pay for his undergraduate degree. During the week, he studied psychology at Acadia University, and on weekends, he learned how to shoot rifles as part of an infantry unit.
In 1998, he enrolled at the University of New Brunswick's law school. He left the reserves to focus on his studies. In law school, Farris especially enjoyed classes on criminal and international law. After articling at a firm that didn't have a practice in either area, Farris began searching for somewhere he could pursue his areas of choice.
Enter the JAG — Office of the Judge Advocate General, the military's legal branch. Some JAG legal officers specialize in criminal law, acting as prosecutors when soldiers or officers break the law. Others work in international law, providing the Canadian Forces with advice on international treaties.
In January 2003, Farris became a JAG officer. At first, he worked in international law, advising the Forces on the implications of proposed additions to weapons treaties. His work brought him to meetings in Norway, Singapore, and the United Nations in Geneva.
In 2004, he was posted to Banja Luka, Bosnia. As brigade legal adviser, he helped the officer in charge of soldiers deal with any legal issues that arose. For Farris, the two-month deployment was "a little daunting." In Ottawa, he was surrounded by a team of lawyers he could confer with. In Bosnia, the young lawyer was on his own. "You are the one that people are turning to and if they need advice [quickly], you have to be prepared to give them an answer."
He gives an example. The Canadian Forces in Bosnia were involved in gathering intelligence, but locals wouldn't speak candidly to soldiers wearing uniforms. "So the question came to me, 'Can we send these people out dressed in regular clothing? Is that against the law?'" Farris searched through international treaties for the answer. The answer, well, that's privileged.
Back in Canada, Farris helped negotiate Status of Forces agreements, which set out the legal conditions for what will happen when Canadian troops are in another country, such as whether they can carry weapons. In August 2007, he was deployed again — this time to Afghanistan.
He was likely chosen to mentor Afghan military lawyers because "he's very personable. He listens to people when they are talking. . . . He's able to size them up fairly quickly and understand their needs and their abilities," says Lt.-Col. Bruce MacGregor, JAG's deputy director of military prosecutions.
To prepare, Farris gathered all the information he could about how Afghan society administers justice, learning that for thousands of years Afghan tribal justice emphasized revenge.
After landing in Afghanistan, Farris began building relationships with his Afghan colleagues. It took some time for the Afghan military lawyers — prosecutors and defence lawyers — to get used to his presence, says Farris. "This was brand new. They had never seen Canadian lawyers do this before."
Soon, he was meeting with 15 military lawyers every day to discuss their cases. A prosecutor might say, "'Okay, we've got someone who did something wrong yesterday. What do we do?'" The Canadian would then walk the lawyer through the process. "What's the offence? Is there enough evidence to support the charge? Okay there is. So now we charge him. . . ."
Since few of the Afghans had formal backgrounds in law, Farris often found himself teaching basics. For instance, he would explain to defence counsel, "if somebody is accused of a crime, they have the right to speak to a lawyer. They have the right to remain silent." Progress was slow, but evident. "As certain issues came up again and again, I found I could back away a little bit," he says. "The lawyers . . . would know how to deal with it."
Aside from working with lawyers, Farris also assisted judges. From time to time, he sat in on trials. Afterwards, he met with the judges to discuss the evidence presented and whether it would lead to a finding of guilt against a soldier.
After seven months in Afghanistan, Farris left 25 C weather and returned to Canada in chilly March. The cold weather was "a big adjustment." But Farris was energized by his experience overseas. As the first Canadian military lawyer to mentor Afghan military lawyers, "I was the one who was breaking ground," he says with a touch of pride. Since then, two other JAG lawyers have been sent to Afghanistan as mentors.
These days Farris no longer eats his meals in a tent, but his work is still fascinating. Soon after returning from Afghanistan, he became a military prosecutor in Ottawa. "Remember the movie A Few Good Men? Well, I'd be Kevin Bacon."
When an officer or soldier in the Canadian Forces is accused of committing a major offence, he or she is tried by court martial. Like a civilian criminal trial, a judge presides, a prosecutor is present, and the accused has the right to be represented by defence counsel. Before a charge is laid, investigators bring the evidence to the prosecutor to review. "We go through it and advise investigators as to whether a charge should be laid and if so, here's what we think the proper charge should be."
Across Canada, there are less than a dozen courtroom military prosecutors. "With such a small number, you are getting cases all the time," says Farris. "When one comes to you . . . you are the one who takes the case from start to finish. So you are on your feet in court." He knows he's getting much more courtroom experience than if he'd stayed in private practice. "I really enjoy it," he says. "It's a bit of a rush."
As a JAG legal officer, Farris found his dream job. "I've lucked out," he says of his work in criminal and international law. As a lawyer in the Canadian Forces "you are working as part of a team for something that is bigger than yourself."
Are you an associate with an interesting story to tell, or do you know someone who does? E-mail the editor at [email protected] and tell us about it.