Since writing my article last year for Canadian Lawyer on BlackBerry apps for lawyers I have been asked about what I think of the new BlackBerry Z10 and Q10 smartphones. In response, here is my 2013 update.
I still believe in BlackBerry as the original smartphone and with the 2013 release of the Z10 and Q10 models, BlackBerry continues to be a leading choice for lawyers. Statistics from the American Bar Association's 2013 Tech Survey show 31 per cent of the 87 per cent of American lawyers who use smartphones choose BlackBerry. When it comes to U.S. firms with over 500 lawyers, 57 per cent of lawyers use BlackBerry while only six per cent use Android.
Android Apps work on the Q10 and Z10:
Your BlackBerry is not limited to the BlackBerry app store. Although BlackBerry has well over 100,000 apps designed for the Q10 and Z10, your BlackBerry can port Android apps as well. Since BlackBerry has made it easy for developers to port their Android apps to your BlackBerry device, you can be certain more BlackBerry apps are on the way for your Q10 and Z10.
The Q10 keyboard:
There are very few smartphones available with a keyboard. The Q10's is a slick piece of technology, which allows seamless interaction between the keyboard and touchscreen. There are many lawyers, myself included, who regret not having a keyboard on other smartphones. Fortunately, the Q10 keyboard is sharp and responsive. You may also notice it will allow you to write entire articles and e-mails smoothly without the frustration that comes with touchscreen keyboards. You will type faster, more accurately, and without autocorrect bothering your every word. The keys are large enough for your thumbs and the keyboard feels open. The Q10 keyboard is a pleasure to use while you run apps, write e-mails, play Tetris, or browse the Internet.
Q10 keyboard shortcuts:
In addition, you can take advantage of keyboard shortcuts that will help you work more efficiently. For example, simply pull out your Q10 and start typing "li" for LinkedIn, or "text" for SMS, and just start typing. Hit "post" and there you go. Your browser also has keyboard shortcuts (the spacebar will scroll down a page) and many apps have built-in shortcuts.
BlackBerry 10 is a superior operating system:
The BlackBerry operating system is a pleasure to use. You can slide between your personal workspace and your business workspace with a slide of a button, known as BlackBerry Balance. Your work and personal life can therefore be separated, which is a great idea. In general, the BlackBerry operating system is full of customizable features yet is clean and comfortable to use.
Security:
BlackBerry has always boasted secure, encrypted e-mail and continues to tailor its software to corporate/legal use. Some common words of caution are always prudent, however: Keep your device and your apps updated and always keep your device password protected.
Specs and features:
Designed for professional use, the processor is fast, hosting a Dual-Core 1.5GHz speed. The Q10 display is 3.1", which is much larger than your BlackBerry Bold. The camera is amongst the best on the market with 5X zoom and 8 mega pixels. It has a standard 16 GB memory storage and can hold up to 64 GB. It only weighs 4.9 ounces, the same as an iPhone, but it feels durable and solid to hold and its shape offers better grip. Battery life is fantastic and you will be pleased to find the Q10 will serve your normal use beyond a full day.
I have used an Android and iPhone, but my choice is the BlackBerry Q10. It has excellent security features and a strong e-mail filter. It has a responsive keyboard for those that do lots of typing and an interactive touchscreen. It is slick and modern, yet is surprisingly rugged. I like that I can expand the memory up to 64 GB and I like the efficient technology. The battery life is impressive and should the worse happen the battery is replaceable. If I wanted, I could even have an extra battery for long trips without a power source. For these reasons, the BlackBerry Q10 is my smartphone of choice.
Click through to the next page for a detailed listing of useful apps for lawyers.
---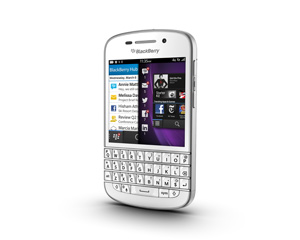 Although BlackBerry 10 has over 100,000 apps available and Android apps can be successfully ported over, BlackBerry 10 is an entirely new operating system. Many of your Bold apps, for example, will not necessarily be available for the BlackBerry 10. I have listed some brand new BlackBerry 10 apps below, followed by the apps available for older BlackBerry models. Older BlackBerry apps are being modified for the new BlackBerry 10s all the time, so keep checking for updates. (Indicated prices are of course subject to variation).

BlackBerry Q10 and Z10 apps for lawyers
Stocks: Real time updates on your favorite stocks. Can be viewed from the active frame. ($2.99)

Conqu: An effective, customizable task management app. (free)

Podcasts: You can organize and subscribe to podcasts from a number of sources. ($0.99)

MyAccountant: An income and expense tracker ($0.99)

ReadItNow!: Read web sites offline or mark for later viewing ($1.99)

IM+ Pro: Instant messages and social networks can be accessed from multiple sources from one platform. ($4.99)

SayIt: Your BlackBerry can be a voice-activated assistant. ($2.99)

Book Reader: An app to read e-books on your BlackBerry. ($0.99)

gNewsReader: Instead of visiting multiple sources, receive updates from multiple RSS feeds in one place. ($0.99)

Amazon Kindle: The Kindle app for BlackBerry has over a million books. (app free, books not)

BlackBerry Travel: Track and organize of all your flights, car rentals, hotels, and travel plans. (free)

PlayCloud 10:
Access and manage your files that are in the cloud from multiple sources including Google Drive, FTP, and others. ($1.99)
Hub++: This is an excellent notifications hub. You can customize all your notifications to alert you when and how you like. For example, e-mail can notify you depending on your choice of sender, subject line, and priority. You can also choose the type of notification sound, alert, or vibration. If you receive a lot of text messages and e-mails you can choose how notifications interrupt you.

Gadget Box: An app full of tools, including a unit converter, flashlight, compass, height estimator, a level, ruler, and protractor. ($1.99)

Luko LAN Remote: This app functions as a remote control for your PC. It allows you to view and access files on your BlackBerry over your office Wi-Fi network. If you are giving a presentation on your PC or want to check a file from the lunchroom, you can do this with your BlackBerry. It is useful for those that need to refer to a document constantly. ($2.99)

Clipman Clipboard Manager:
If you cut and paste a lot of text, this app will store the latest text so you do not need to keep cutting and pasting. You can manage and delete text as well. It is useful if you regularly paste the same things, such as an address or phone number. ($1.99)
Apps for lawyers using older BlackBerry models
Dictionary Apps
Beiks Bouvier's Law Dictionary: This legal dictionary sells for about US$19.95.

Black's for BlackBerry:
This puts the power of Black's Law Dictionary at your fingertips. It costs approximately US$50.
Apps for Daily Legal Practice
BigHand: This app allows you to record, edit, and (with the premium edition) send voice files or tasks to office based support. The basic version is free.

BlackBerry Enterprise Server Express:
This App allows you to wirelessly sync with your e-mail, calendar, and more. Once configured, the sync occurs automatically so a change to your desktop calendar or contact list will automatically transfer over to BlackBerry and vice versa. The program works with Microsoft Exchange, Windows Small Business Server, and IBM Lotus Domino. (free)
BlackBerry Protect: This app is designed to keep your information secure if your BlackBerry goes missing. If you're on an applicable consumer data plan (enterprise plans are not supported at this time), you can log into the web site and locate, lock, and wipe your smartphone from wherever you are. The program also allows you to back up your crucial data wirelessly and automatically, as often as you choose (daily, weekly, or monthly). (free)

Blueslate Converter:
The free version of this unit conversion calculator includes conversions for the following categories: area, length, time, volume, mass/weight, and temperature. (free)
Business Card Reader:
This app allows you to import contact information from business cards directly into your BlackBerry contacts by taking a photo of the card with your device camera. (US$9.99)
Caller ID Reader:
Reads your incoming caller's name aloud and can also help you screen your calls. (free)
Canadian Mortgage Calculator: This app helps you estimate the bi-weekly or monthly payments for a mortgage. (US$9.99)

Canadian Mortgage Calculator: The calculator calculates the payment amount for various payment frequency options as well as the interest incurred over the period of the mortgage. The user enters the mortgage amount, the interest rate, the amortization period, and the mortgage length. (free)

CardSnap: This app allows you to quickly and easily convert business cards into contacts on your BlackBerry by taking a picture of it with the device's camera. ($4.99)

DataBackup Free beta: Allows you to backup your device data to the device's SD card. As the name suggests, it's free.

Documents to Go: Some versions of BlackBerry come with a free version of this program, which allows you to view and edit Microsoft Office formats. The premium version of this program costs nearly US$70 and includes a PDF viewer.

Dragon for E-mail: This free program is an easy-to-use e-mail dictation application powered by Dragon NaturallySpeaking that allows you to easily speak and instantly see your e-mails by simply dictating directly within the BlackBerry e-mail.

MyFax:
This free App lets you send and receive faxes with your BlackBerry.
McKellar Slide Rule — Life Expectancy and Present Value Calculator:
The McKellar Slide Rule is actually two calculators in one — a life expectancy calculator, and a present value calculator. The life expectancy calculator will provide you with the remaining life expectancy of a Canadian of a given age and gender. (free)
QR Code Scanner Pro:
Turns your phone into a QR code scanner. (free)
Remote Print:
This app allows you to wirelessly print from your device. It also lets you print from your device wirelessly to your PC. (US$4.99)
RDM+ Remote Desktop for Mobiles:
This app allows you to remotely access your desktop via your BlackBerry. With this program, you can do many of the things you would normally do sitting in front of your computer. (US$39.99)
Wi Fi File Transfer:
Transfer files directly between your BlackBerry and your PC or Mac on the same Wi-Fi network. (US$4.99).
Useful apps
BuddyGuard: This app allows you to remotely access and control your BlackBerry using commands sent by SMS or e-mail messages. With BuddyGuard Free you can lock your BlackBerry or play a tone to help you find a misplaced device.

CanPages: This app lets you use your BlackBerry to find businesses (including photos and videos), restaurants, entertainment, people, maps, directions, and traffic conditions. It features voice search. The business listings are from the yellow pages section of the Canpages directory and residential listings are from the white pages. (free)

DriveSafely: DriveSafely 2.0 speaks text (SMS) and e-mail messages aloud so you can concentrate on the road. (free). You can upgrade to DriveSafely Pro which also allows you to send text responses by voice and use other voice commands such as replaying the message or calling back the sender.

Garmin Mobile:
This app works with your device's GPS and provides spoken turn-by-turn directions to millions of destinations. It also provides you with up-to-date weather information. ($99)
Google Maps: This free program offers much of what you get with the desktop version, including satellite views, turn-by-turn directions, and local business searching. It also adds a GPS enabled, location-based search component for use with your BlackBerry.

iSpeech Translator: Allows you to speak or type any phrase and listen to the corresponding translation in your choice of language. Translations are supported in Catalan, Danish, Dutch, English, Finnish, French, German, Italian, Japanese, Korean, Norwegian, Polish, Portuguese, Russian, Simplified Chinese, Spanish, Swedish, and Traditional Chinese. (free)

One Touch Flashlight: This app employs BlackBerry video light, not the dim, LED screen light, delivering more light. (free)

PDF Scanner: Take a picture (or more) with your phone, convert it into a PDF document, and send it via e-mail in an instant. (free)

Photo Translator: Take a picture of the text and instantly translate. Photo Translator supports English, French, Italian, German, Spanish, Czech, Dutch, Greek, Chinese, Japanese, Korean, and many other languages. ($4.99)

Quick Pull: This free app offers the same functionality as pulling your battery to reset your device. It can also be scheduled to do so at pre-determined times.

Smart Contact Share: This app allows you to send your choice of contact information in text or vCard format via BBM, text, Bluetooth, NFC, and any app that is able to share contacts.

Trafficnet — Traffic Canada: Get traffic updates including collisions, construction, road closures, events, traffic flow and volume information, border delays, and highway traffic cameras. (free)

Vlingo: Allows you to use voice recognition to control your device. (free)

WeatherBug:
This app lets you stay informed with live local weather, severe weather alerts, including in-depth forecasts, camera views, detailed radar maps, and international weather. (free)
Apps for staying connected
Canadian Business Search: This app allows you to speak your search for nearby businesses. (free)

Canadian Yellow Pages Business Finder and Canada 411 People Finder:
Now you can have Yellow Pages and the 411 People finder at your fingertips. (free)

Facebook: Allows you to sync your device with your Facebook account. (free)

Twitter: Allows you to tweet right from your BlackBerry. (free)